Look after your clothes for long-lasting wear.
How we can contribute
to sustainability.
Look after your clothes for long-lasting wear.
TO PROTECT OUR PLANET
Did you know that the way we care for clothes during their lifecycle from production through wear has a large impact on the environment? For instance, home washing accounts for one quarter* of the water used across the lifecycle of an item of clothing. So, it is good for the environment to take care of your clothes until the end of their lifecycle. Proper care not only conserves power and water, but it also reduces clothing consumption and waste.
Here we introduce the correct way to care for your clothes to make them last longer, some power and water-saving tips, and how much each step in the washing process impacts the global environment. *Source: Japan's Ministry of the Environment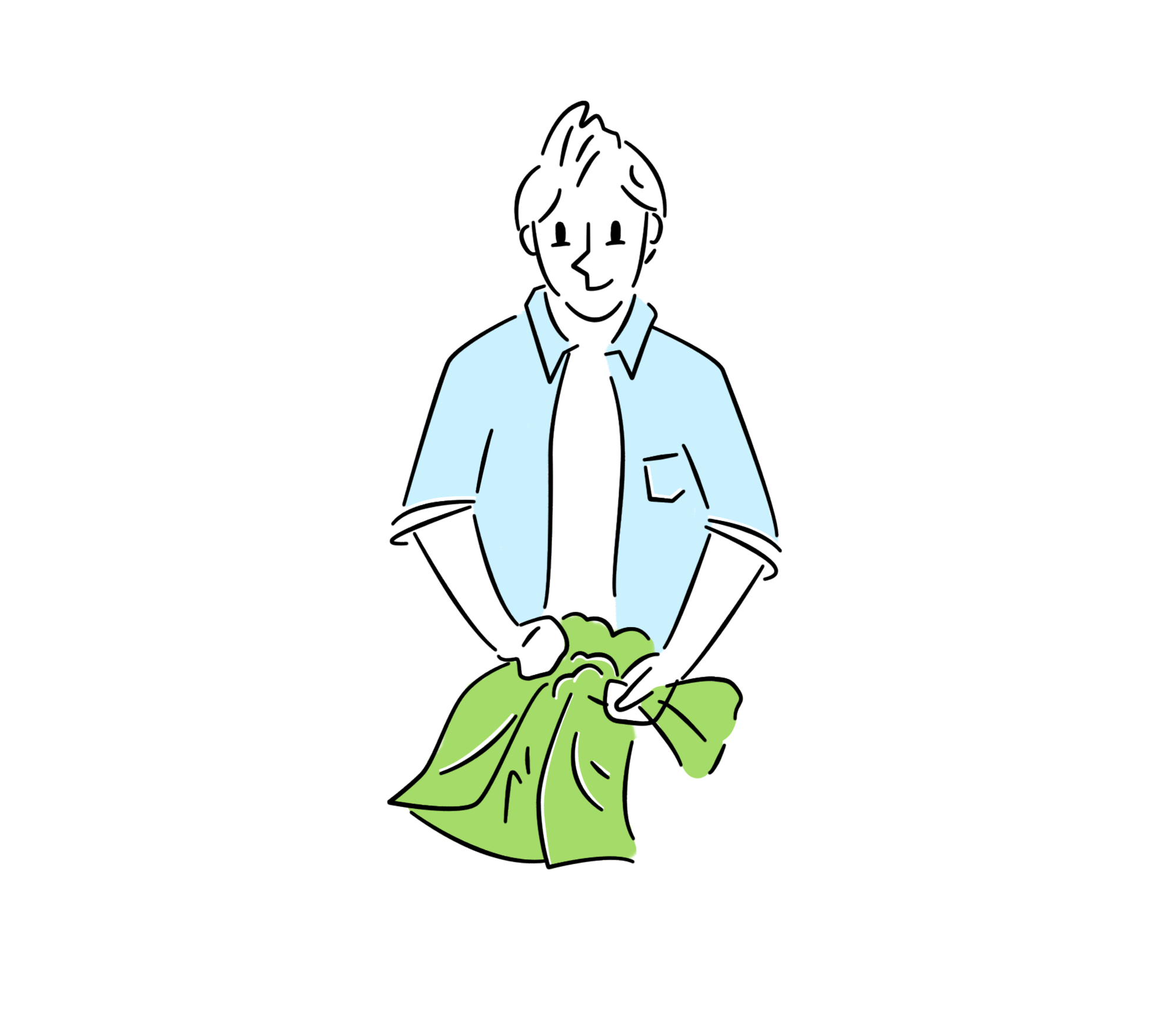 How Often Should You Wash
Wash at appropriate intervals. You can also refresh your clothes by brushing them or washing parts of them and hanging them out to dry. (From a hygiene perspective, we recommend frequent washing of clothing that comes into direct contact with the skin.)
In reality, many people wash clothes more often than is necessary. With the exception of innerwear, T-shirts and other items that directly touch the skin, if you reduce the number of times you wash clothes just once, you will actively reduce the amount of power used and extend the life of your clothing. *Source: Clevercare
WATER SAVING
-100L
You can save 60-100L of water by skipping just one wash.
*Source: Fast Retailing investigation
Type of Washing Machine
Choose washing machines with a high energy-saving performance.
You can judge the energy-saving performance of a washing machine by perusing catalogs, instruction manuals, and energy-saving labels, etc. Drum-type washing machines have a high water-saving performance and are more effective at preventing microfibers from falling out and contaminating the water. *Source: Clevercare
POWER SAVING
-70%
Using a washing machine with a high energy-saving performance can reduce power consumption by 47 - 70%*. You can also save water if your washing machine has a sensor function that determines the appropriate amount of water to use for each wash.
*Source: Fast Retailing investigation (*A comparison of power consumed (WH) in the washing and drying process for machines of the same rated capacity.)
MICROFIBER
-70%
Research suggests that drum-type washing machines can reduce the emission of microfibers by approximately 70%.
*Source: The Microfibre Consortium
Using Laundry Nets
Try a gentle wash using a laundry net.
Washing clothes in a laundry net can reduce friction and help your clothes last longer. It is also an effective way of reducing microfiber contamination.
*Source: The Microfibre Consortium
The Best Temperature
Select the lowest possible temperature when washing clothes in a washing machine.
Try switching from lukewarm to cold water for any clothes with labels that suggest washing in low temperatures of 40℃ or below or 30℃ or below. You can get clothes clean even at low temperatures if you choose the right detergent.
*Source: Clevercare
POWER SAVING
-50%
You can halve the amount of water used by lowering the temperature setting on your washing machine to 40℃, 30℃ or lower as indicated on the washing label.
*Source: Clevercare
Rinsing
Save water and shorten wash time by reducing the rinse cycle.
Using a detergent that only requires one rinse and setting the machine to a single rinse cycle will save water and time.
*Source: Kao Lifestyle Research (Kurashi no Kenkyu) website
WATER SAVING
-57L
You can save approximately 4-57L of water using just one rinse in a fully automatic vertical machine and 11-33Lin a drum-type machine.
*Source: Kao (March 2013 investigation)
Drying
Hang your washing out to dry naturally rather than use a dryer.
This will keep your clothes in better condition and lasting longer than if you use a dryer.Drying clothes naturally doesn't require any electricity so you save power too. (If the washing label recommends drying in the shade, turn the garment inside out and hang in a place out of direct sunlight.)
POWER SAVING
-2500Wh
You can reduce the amount of power each time by 550~2500WH by not using a dryer.
*Source: Fast Retailing investigation
After you've looked after your clothes well, and worn them for a long time, why not recycle them.
Please bring any items of UNIQLO clothing that you no longer wear into one of our stores.
We will make sure they prove useful in the next location and stage of their lifecycle.