FIND YOUR SUSTAINABILITY MODE
Sustainability
We hear that word a lot lately, but how do we get started?

What can we do
in our daily lives to make a difference?
To solve those doubts,
UNIQLO ambassadors and others
are experiencing UNIQLO's new clothes-making processes,
taking part in various activities designed to create a better future,
and standing ready to think about our earth, our society, and our people
together with you.
Sustainability is no longer someone else's problem.
So, please watch these movies.
And find your sustainability mode, today.
Vol.5 Shingo Kunieda in Sustainability Mode
What is "SPOGOMI"?
At the UNIQLO Asakusa Store professional wheelchair tennis player Shingo Kunieda participated in "SPOGOMI," an event that turns garbage collection into a sport-like activity and everyone can enjoy while wearing matching clothes. Kunieda was completely drawn into the fun. As we look out over our clean streets, let's think about the significance of the initiative and what we can do today for the future of the earth.
Vol.4 Haruka Ayase in Sustainability Mode
Come JOIN us!
JOIN: THE POWER OF CLOTHING is a new project launched by UNIQLO in which shoppers make donations through their purchases. To find out more about the project, actress Haruka Ayase drops by a UNIQLO store. There, she learns about the serious environmental issue of ocean garbage and reflects on what actions she can take for the sake of our planet's future.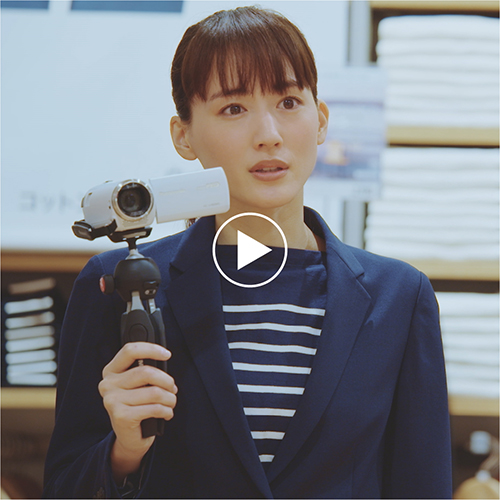 Vol.3 Kei Nishikori in Sustainability Mode
How can we help the future, now?
Professional tennis player Kei Nishikori appeared at this event to teach future generations about important issues through tennis. He shared some techniques with potential future tennis stars, learned some things about sustainability, and explored ideas together with the children. The children could spend some precious time with Kei, and we were able to teach them about the importance of understanding problems occurring globally, and taking determined action to achieve dreams.
Vol.2 Haruka Ayase in Sustainability Mode
The Impressive Spinning of Recycled Down!
Haruka Ayase's second report on UNIQLO's sustainability activities. Haruka paid a visit to UNIQLO's Ariake head office to unlock the secrets of our down recycling technology that has attracted great attention since its launch in 2020. She only had to put her arm through the sleeve to be captivated by the supreme finish and the updated design of our recycled down jackets.
Vol.1 Haruka Ayase in Sustainability Mode
What are UNIQLO clothes all about?
Haruka Ayase's first report on UNIQLO's sustainability activities. Take an inside look at the site where UNIQLO+ was developed together with UNIQLO TEAM SWEDEN, and see how amazed Haruka was by the new sense of comfort inspired by the addition of functional beauty, sustainability, and other new values.