Knit
Calendar
Knits aren't only for the autumn and winter, they work throughout the year. With so many colours and designs, you can find a favourite knit for every season.
1

JanuarySoufflé Yarn Cable
Crew Neck
Jumper
Ring in the new year with a timeless cable knit. The wavy rope patterns date back to the jumpers Irish women made with love for their seafaring husbands. Updating traditional knit patterns, this jumper uses rich green yarn as soft as a soufflé.
2

FebruaryPremium
Lambswool
Crew Neck
Jumper
Of all the natural fabrics, lambswool's cosy warmth makes it the perfect fit for a cold winter day. This crewneck, a hit with kids and adults alike, gets cosier with every wear. Thanks to a roomy neckline, it fits great over shirts and turtlenecks.
3

MarchJacquard
Crew Neck
Jumper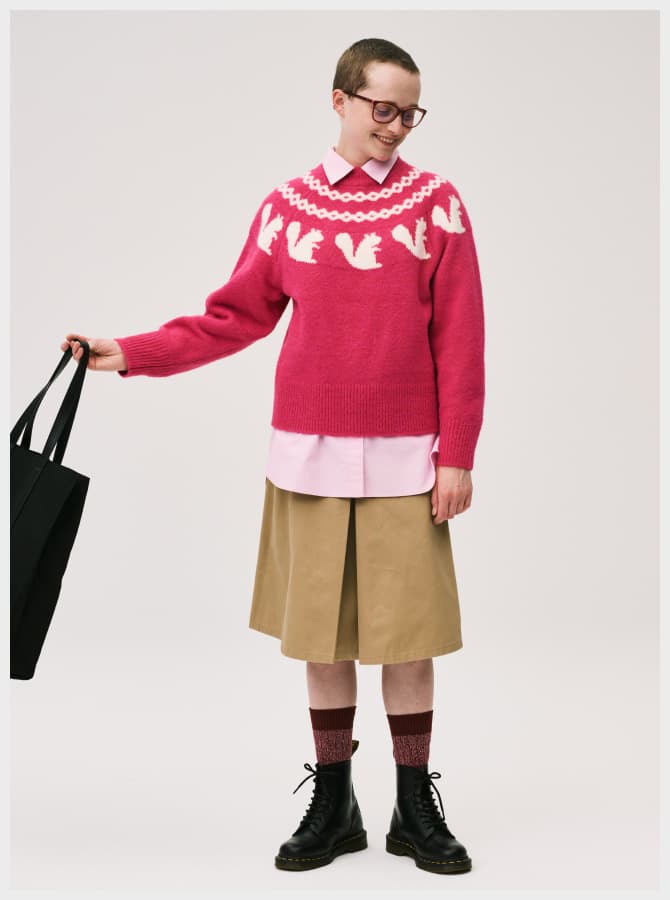 Squirrels adorn this brilliant pink jumper like something from a fairytale. The knee-length box pleat skirt, which almost looks like a pair of culottes, pairs with a spring-like pink Oxford shirt.
Jacquard Crew Neck Jumper DKK 399.00
Oxford Shirt DKK 399.00
Cotton Midi Skirt DKK 449.00
HEATTECH Anti-Odour Socks DKK 79.00
JW ANDERSON Tote Bag (launches early November) DKK 399.00
4

AprilWashable
Milano Ribbed
Crew Neck
Jumper
This Milano knit jumper uses a blend of cotton, rayon and recycled polyester for a perfect fit. You can wear it like a sweatshirt or freshen it up with a pair of trousers and sneakers. The machine-washable fabric holds its shape and keeps care simple.
5

MayExtra Fine Merino
Ribbed Polo
Cardigan
Merino wool is beloved as a versatile option no matter the season. This autumn, UNIQLO offers the trademark rib knit in a polo cardigan. The gentle sheen of these bright red and camel jumpers gives this duo a touch of elegance. The relaxed fit follows the lines of the body.
6

June3D Knit
Soufflé Yarn
Cardigan
Spend your time at home relaxing in a breezy dolman sleeve bolero top. The unbothersome "soufflé" yarn is soft against the skin. Thanks to the advanced 3D knit technology, this jumper fits like it was made for you. Since there aren't any seams, it adapts to your shape.
7

JulyExtra Fine Merino
Crew Neck
Cardigan
Thin cardigans are a favourite of European summer styles. Superfine fibres measuring 19.5 microns, thinner than a human hair, give Merino wool superior colour and sheen. Tossed over a plain white T-shirt, this bright blue cardigan instantly creates a nonchalant Parisienne mood.
8

AugustPremium
Lambswool
V Neck Vest
Try this loose-fitting V-neck in an all-brown summer outfit. This silky-smooth update to the lambswool jumper goes perfectly with a cool AIRism Cotton tee. Wide chinos and sandals dress it down, for a relaxed Boy Scout look complete with a neckerchief.
Premium Lambswool V Neck Vest 399 DKK
Uniqlo U Wide Fit Chino Trousers 449 DKK
9

SeptemberPointelle
V Neck Vest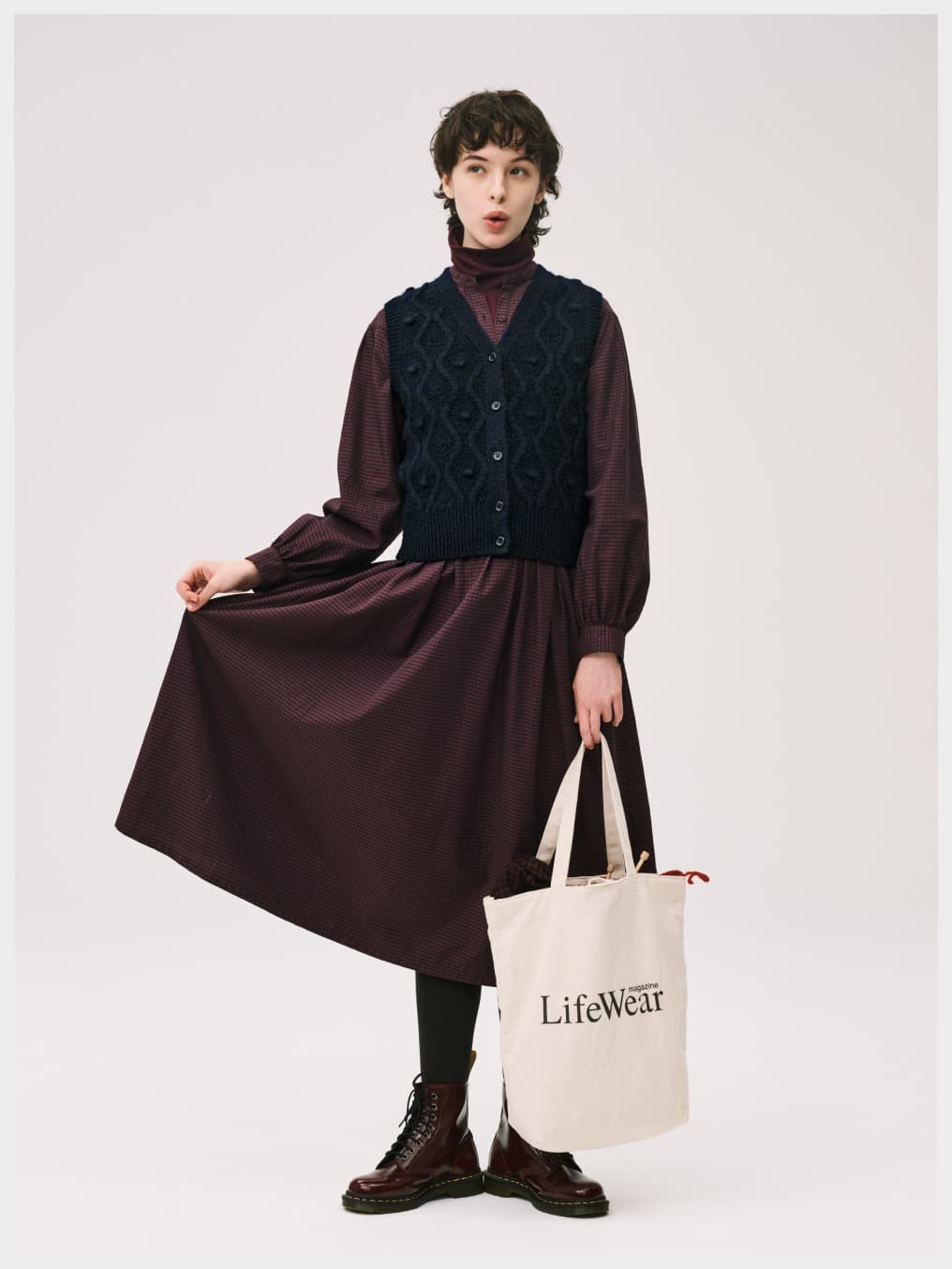 This knit vest has a nostalgic feel, like something you might pull out of your grandmother's closet. The eyelets of the pointelle knit are balanced off by warmer popcorn stitches. With an expressive vest like this, you'll be ready for the knitting club.
10

OctoberCashmere
Turtleneck
Jumper
Cashmere is renowned for having the elegance of merino and the warmth of lambswool. This season's turtlenecks, in classic ecru and a brand-new burgundy, make quite the pair. Cashmere has a special warmth, like an old friendship.
(R)
Uniqlo U Denim Shirt Jacket (launches early October) 649 DKK
Uniqlo U Denim Straight Leg Trousers 449 DKK
UNIQLO : C Side Gore Short Boots (launches mid-September) 449 DKK
11

NovemberPremium
Lambswool
Striped Jumper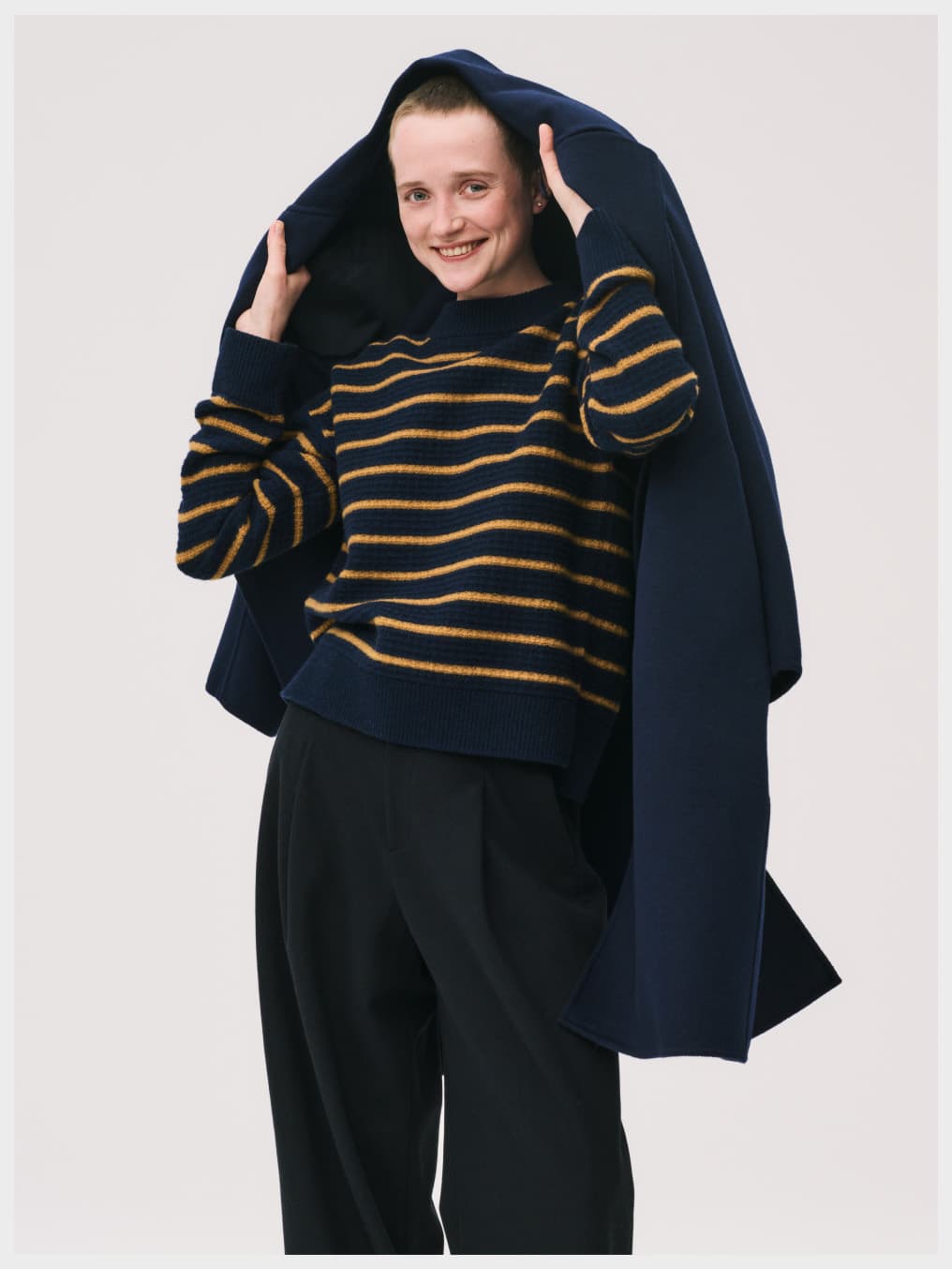 Fluffy and warm, this lambswool jumper is the centerpiece to a navy-heavy French casual style. What really makes this waffle-like knit shine is the accent of the thin stripes. Don't miss the side slits and the slightly longer back.
Premium Lambswool Striped Jumper DKK 399.00
Brushed Jersey Pleated Wide Leg Trousers DKK 399.00
Comptoir des Cotonniers Double Face Wrap Coat (launches mid-October) 1099 DKK
12

DecemberPremium
Lambswool
Argyle Jumper
The holidays are time for interesting jumpers. As fun as ugly ones can be, sometimes a classic style wins the day. Consider blending tartan check with argyle, for a Scottish trad experiment. These outfits work because of how they play with patterns.