Hello,
Ichiro
Interview with Ichiro Suzuki
Baseball superstar Ichiro has left an indelible mark on the game. Turning fifty this year, he shared some thoughts on baseball, fashion and what comes next.
"Hey everyone!"
When the legendary Ichiro stepped out onto the ballfield to say hello, the children could barely contain their excitement. On this day, Ichiro was practising with the Hirotani Orions, a youth softball team in Yabu, Hyogo Prefecture. It all began with a letter he received through ICHIRO POST, the programme that he started last year with UNIQLO to help kids all over Japan fulfill their dreams.
"To play a game," wrote the captain of the team, "we need to have ten players. But our team is small, so if somebody can't come, the game is off. I really feel the pressure as a captain."
Ichiro feels their pain. Hoping to help these kids grow and excel, he started visiting teams. For two hours, the team gets to run bases, play catch, and practise batting and fielding alongside a baseball legend. "If these kids come away with a stronger sense of what makes baseball fun, we've done our job," says Ichiro. Since retiring, he's pivoted to cultivating the next generation.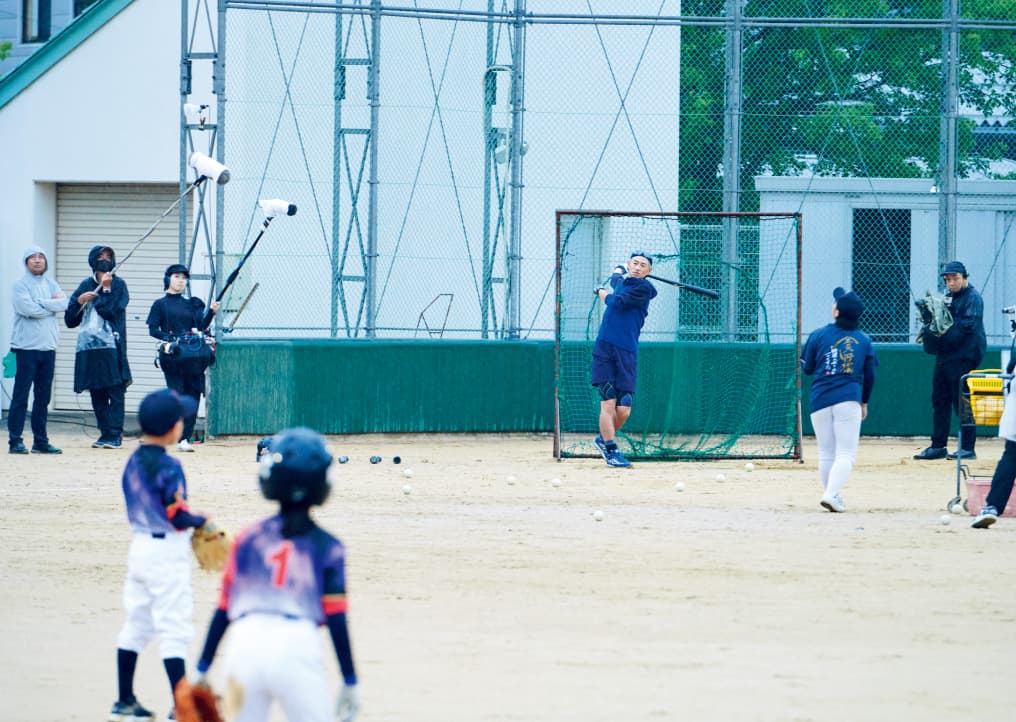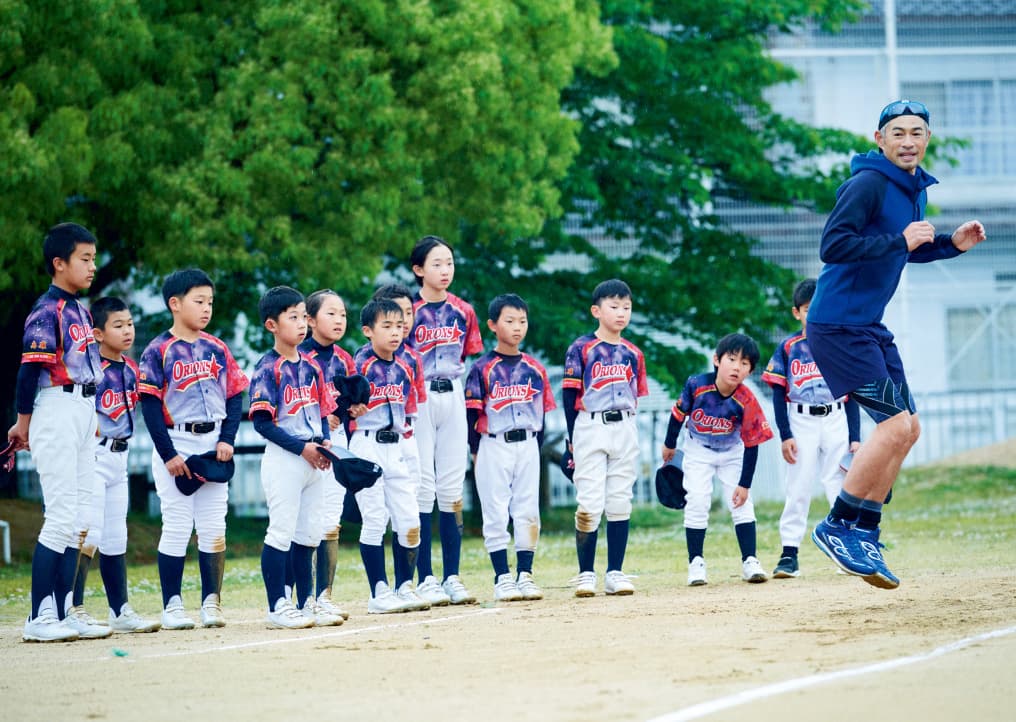 Ichiro takes the bat. The clean crack of the ball is a testament to his impeccable form. "All about the basics," he says. Below, he switches gears to offer the kids tips on baserunning and fielding.
Q1. Tell us an essential feature of your morning routine.

During my playing days, having a YUNKER energy drink one hour before game time was a fundamental part of my routine. I started that in the summer of 1994 and continued it for my entire career. Now, it's one of the first things I do when I get up each morning.

Q2. Is there a person you would like to meet, or someone whom you greatly admire?

The very first person who comes to mind is my former manager, Akira Ohgi.

Q3. What do you do to take your mind off things?

I use golf as a form of stress relief, but I keep getting worse at it, to the point that I turn to baseball to release the stress I get from golf.

Q4. If you could come back as something other than a baseball player, what would it be?

I think it would be intriguing to come back as something completely different than myself. A cicada would be fascinating. They spend most of their time in the ground until maturity when they emerge and then they're gone within a week. That's an interesting way to live.

Q5. What's your relationship to the internet?

I like to check the scores of Japanese high school baseball, Japanese pro baseball, and grand sumo. I also use it for checking stock prices and currency exchange rates. I spend a lot of time on YouTube watching car videos, too.

Q6. Your words have inspired many people. Is there someone whose words have deeply impacted you, Ichiro?

The kids I've worked with have inspired me with their letters and words. They give me the energy to keep giving things my best.

Q7. Did you write any letters as a child?

Writing is not my strong point. I don't have a talent for it. This is different from writing letters, but I've been writing greeting cards on New Year's since I was a little kid.

Q8. Last November, you teamed up with UNIQLO for the educational project "ICHIRO POST," turning your focus to the next generation. What motivated you to get involved with this?

After retiring as an active player, I started working with high schoolers on the ball field, which got me interested in working with kids even earlier in their development. Just as I was brainstorming ideas, UNIQLO got in touch, and we discovered that we shared the goal of cultivating the next generation.

Q9. What are your hopes for the kids you've had a chance to meet through baseball?

It's great to see these kids discovering a love for baseball. While each of them has a different skill level, I'm hopeful they'll come to realise that the time they're devoting to improving their skills will ultimately help them as they become adults, no matter what they do with their lives. I think the day will come when they'll realise just how fortunate they were to have discovered something they like so much at a young age.

Q10. What motivated you to go to Yabu City in Hyogo Prefecture to visit the Hirotani Orions?

The team wrote me a letter. I could feel the severity of their situation. Because their team was so small, an injury to just one player could leave them shorthanded and unable to play a game. I wanted to do something to improve their situation.

Q11. You led Team Japan to championships at the 2006 and 2009 World Baseball Classics. What can strong leadership add to an already solid team?

A leader can't simply be appointed. In my view, the role needs to evolve naturally. A team that can produce good leadership is one that has a good chance of winning.

Q12. Japan won the WBC again in 2023. How did you feel watching their performance?

At the first round of games in 2006, the stands at Tokyo Dome were empty. Fast forward to 2023 and it didn't matter who the opponent was, Tokyo Dome was sold out for every game. I was touched to see that. It made me happy to think the tournament had evolved into something of that significance.

Q13. Do you have a fashion horror story?

Too many! One that comes to mind is from the Winter of 1999. I had an opportunity to meet the Japanese prime minister in person. Back then, I wasn't accustomed to wearing suits or ties, so even for award ceremonies and events, I was of the mind that proper attire was whatever made me comfortable. I wore a jacket to the meeting, but instead of a dress shirt, I had on just turtleneck sweater.

Q14. What kind of person do you find fashionable?

I find the very idea of being "fashionable" uncool. When someone has a strong personal style, I tend to think, "Wow, this person is so unique."

Q15. What do you think are the characteristics that give a style of clothing staying power?

High quality, simple design. That's what it comes down to. I only have a few things that I've worn year after year. There just aren't many other choices for long-lasting, wearability.

Q16. Next year, UNIQLO celebrates its 40th anniversary. How do you see UNIQLO?

A brand that has appeal for every Japanese person. That's how I see it; there isn't anyone who isn't right for UNIQLO. They have something for everyone. I think that's a key part of UNIQLO's success.

Q17. This October, you'll be turning fifty. What dreams and challenges do you still have for yourself?

Growing up, all I wanted was to be a professional baseball player. On March 21, 2019, I was able to retire in a way that I never could have dreamed of. With such a storybook ending, I couldn't possibly think about resuming my professional career. While my dreams today are less clear than they were when I was young, I hope that I can challenge preconceptions of how long a person can be active as an athlete. I also want to help the kids I get to work with to develop into the best they can be.
Looking as gallant as he did in his years on the field, Ichiro runs the bases. Back home in Seattle, he never skips a morning training session. His outfit was specially prepared by UNIQLO. He was particular about the DRY Stretch Hoodie and the athletic shorts both being navy and having just the right fit.
What's "ICHIRO POST" ?
Last November, Ichiro and UNIQLO created a way for kids at schools all over Japan to write to him directly about the things they care about the most. Letters can be dropped into ICHIRO POST bins at stores or sent via the online portal. Responses to select letters will be featured on the website. You might even get a visit from the legend himself!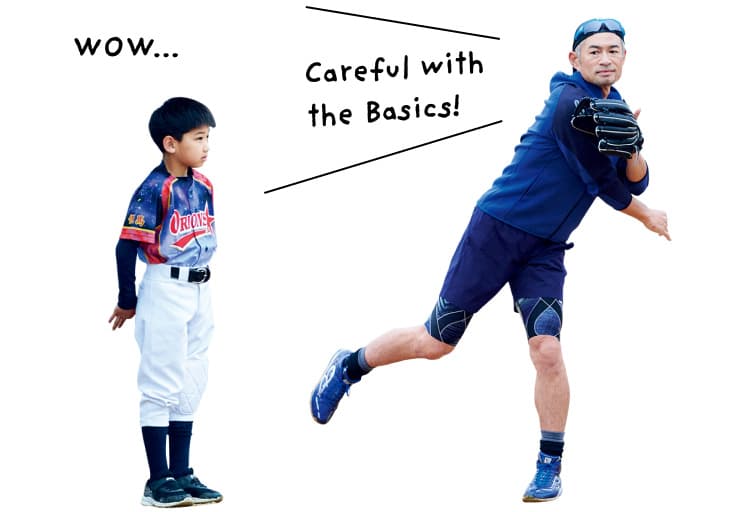 Ichiro Suzuki

Special assistant to the chairman, Seattle Mariners

Born in 1973 in Aichi Prefecture, Ichiro joined the then Orix BlueWave in 1992. In 1994, he set the Japanese single-season record for hits with 210. During the 2000 offseason, he switched over to the Seattle Mariners and chalked up a number of legendary feats, including the MLB record for most hits in a single season. Ichiro retired from pro baseball in 2019. Today, he works for the Mariners as an instructor and special assistant to the chairman.