Taste of
the Town
Sampling the local cuisine gives you a taste of the culture.
Here's another easy recipe from a city UNIQLO calls home.
Episode 03:
Steam Pot Chicken
Country: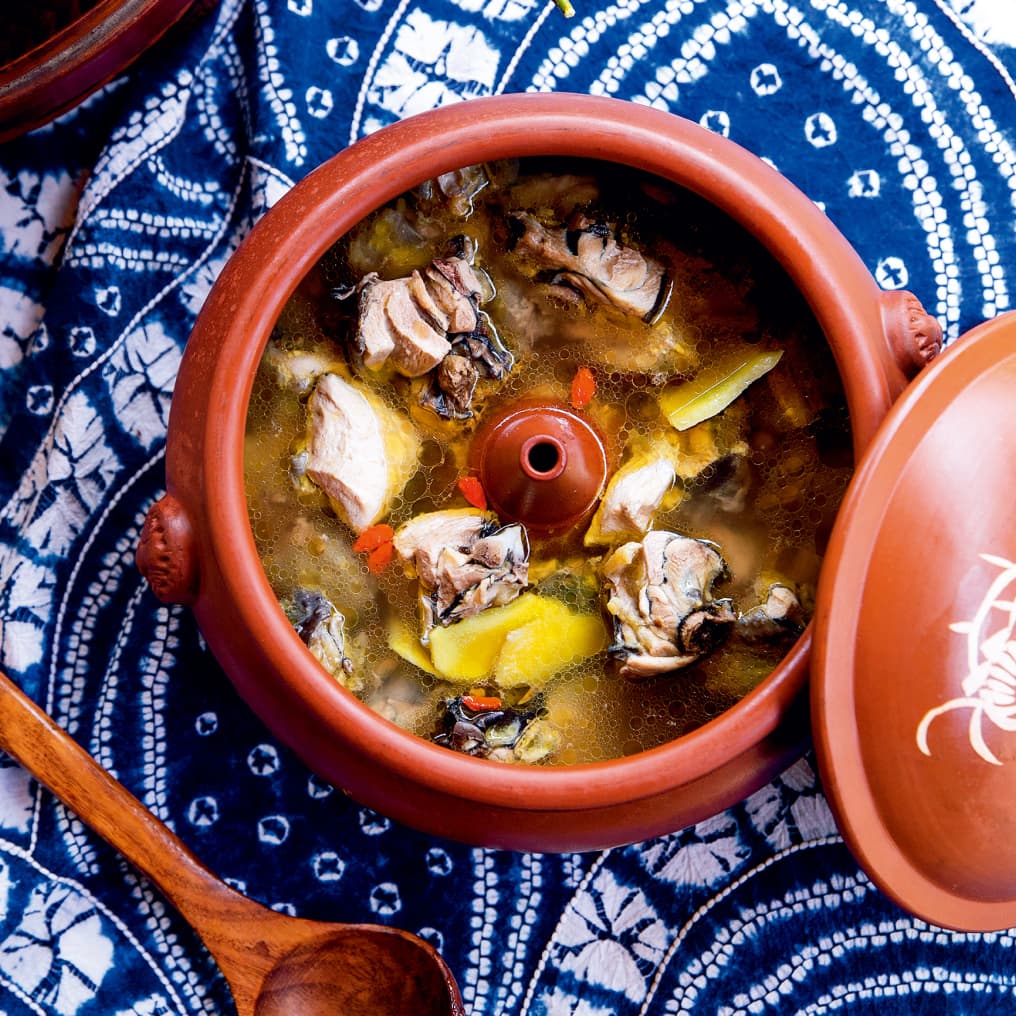 Qi guo ji—steam pot chicken—is Yunnan soul food. As the "qi" (steam, vapor) in the name suggests, the steam is used to cook the chicken meat. For this issue, we've asked Meng Na, up-and-coming chef of local favorite Granny's Kitchen, to share a qi guo ji recipe. The traditional method involves using a qi guo steamer crock, which has a cone-shaped spout in the middle. This allows for the meat to be steamed in its own juices, without adding any water, while retaining all the natural flavors. The result is a nutritious dish.
Steaming requires at least thirty minutes, though if time permits, you can let it simmer for as long as 1 hour and cook up a hearty stock. In Yunnan, some recipes call for medicinal herbs like notoginseng, tianma, and shi hu (dendrobium) or exotic mushrooms and a variety of chicken that has black skin and bones. Don't fret, though, if you can't find a qi guo or traditional ingredients. What matters most is using fresh chicken and taking your time to neatly prepare things. One sip of the chicken and goji berry broth is worth a thousand words about the depth and breadth of Yunnan cuisine.
Ingredients (serves 3-4)
Chicken: 800g (black-bone, or any local poultry)
Ginger: 5 slices
Goji berries: 6-7 slices
Shi hu (dendrobium): 2 sticks (optional)
Salt and seasoning to taste
Wash the deboned chicken well and cut into bite-size pieces (leaving the bones in is also okay). Thinly slice the ginger. Wash the shi hu and set aside.
Place chicken, ginger and shi hu in a qi guo steamer pot and cover without adding water. No qi guo? A clay or iron pot or tajine can be used instead, though less broth will result.
Fill a large pot with water. Place the crock inside and steam for at least 30-60 minutes, starting the clock once steam appears. If the liquid in the steamer is depleted, you can add a small amount of water.
Add salt, pepper, goji berries and shi hu, if available, to the steamer.
Serve this nutritious, delightful taste of Yunnan while the chicken is still warm.
Meng Na
Chef
Born in Baoshan, Yunnan. Known for using local ingredients in innovative cuisine, Meng Na's restaurant Lao Guan serves fresh updates on classic comfort food.
Uniqlo U Crew Neck 3/4 Sleeved T-Shirt
Shirring Skirt
Granny's Canteen
Shop 18, No.53-62, Wenhua Lane
The dining space is complemented by a cafe corner and a grocery shop. Between the seasonal dishes, rich with local Yunnan flavor, and the delicious house-made spirits, you'll never want to leave.
UNIQLO Kunming Baidaxintiandi
F3, Baidaxintiandi, No.2 Dongfeng West Road, Kunming, Yunnan Province, China
UNIQLO is located on the third floor of the Baidaxintiandi shopping complex at the center of Kunming's busiest pedestrian mall. Attractions like Cuihu Lake, Yuantong Temple, Yunnan Provincial Museum, and the brilliant Jinma Biji Archways are only a stroll away from, forming a string of must-see spots.
Photography by Jia Rui, Fang Zheng (UNIQLO store)
Photography by Jia Rui, Fang Zheng (UNIQLO store)
Coordination by Li Chen
Text by Liu Ye