Unique
Clothing
Episode:

05

Item:

HEATTECH
Unique clothing changes the rules. And changing the rules changes our lives.
Here's another story of a masterpiece, manufactured by UNIQLO to this day.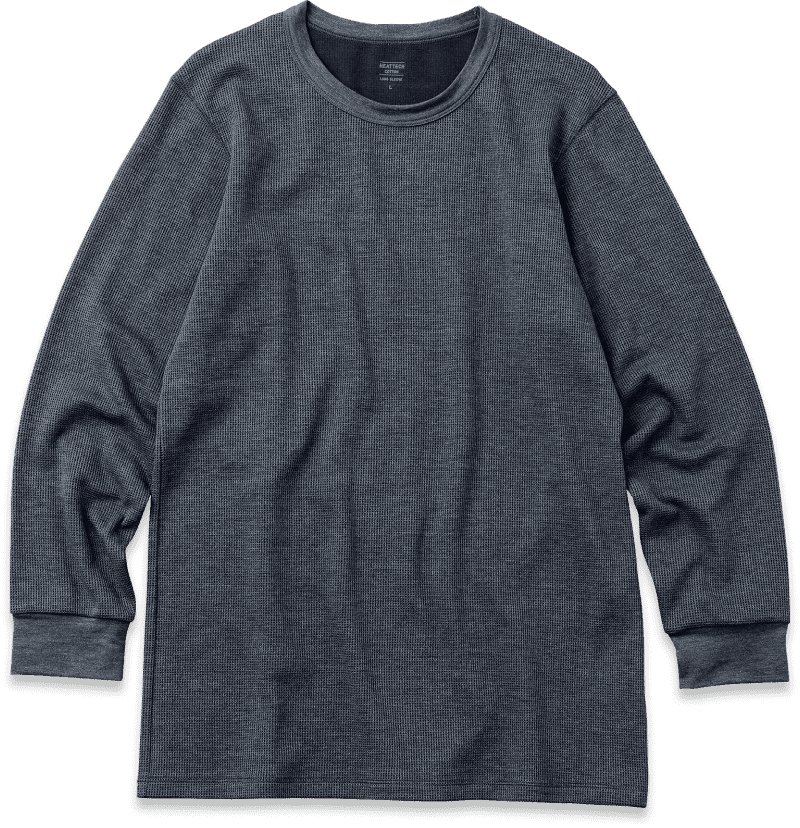 HEATTECH Cotton Waffle Crew Neck T-Shirt
Crew neck made from casual waffle knit fabric. Works great as a base layer or worn on its own. The inner surface is 100% cotton for a gentle feel.
HEATTECH Fleece Turtleneck T-Shirt
HEATTECH brilliantly combines moisture-wicking technology with the warmth and comfort of fleece. This turtleneck has a relaxed shoulder line and comes in a variety of colours.
HEATTECH Fleece Turtleneck T-Shirt 199 DKK
HEATTECH is a winter standard all over the world. In a sense, it speaks to the history of clothes, which is a history of fashion as well as functionality. One of clothing's biggest roles, of course, is keeping us warm. For ages, people relied on wools and furs, which eventually gave way to nylon or polyester insulated using down. Until recently, winter jackets tended to be thick and bulky. HEATTECH's mission is to make winter clothing comfortable and light.
To make concerns about cold weather a thing of the past, the world needs warm clothing that's both affordable and accessible. That's why we've partnered with Toray Industries, the world's premier textile innovator. Upending the idea that polyester isn't warm enough for autumn and winter innerwear, HEATTECH has been on sale now for almost twenty years. Let's take a look at the craft behind its creation.
Photography by Yoshio Kato
HEATTECH: Twenty Years of Warmth
Rayon, acrylic, polyester and polyurethane, four fibres with unique properties, can be blended into a fabric having multiple functions. We've made the fabric softer and thinner while keeping the air pocket structure.
Closeups of original weave and today's weave show a reduction in napping. This yields a smoother texture.
Believe it or not, HEATTECH was conceived as a summer fabric. Debuting in Summer 2003 as men's innerwear, it was originally a technical base layer made using a new synthetic moisture-wicking, quick-drying fabric from Toray Industries. Entering a market where 100% cotton innerwear was the norm, this synthetic alternative was a ground-breaking success. Pretty soon, we noticed a demand for a warm and soft winter version that wouldn't feel sticky when you sweat. Thus began our design partnership with Toray Industries.
To ensure a natural fit, the fabric needed to be supple and stretchy, so that you barely noticed that you had it on. The first round of prototypes somehow didn't feel right. Our curiosity led us to examine an experimental sample that Toray had sent over. The texture was exactly what we had in mind. A blend of micro acrylic and rayon, this fabric is the predecessor of the HEATTECH that we know today.
One of the big problems involved the dyeing process. The fabric blends four different fibres, each of which has a different absorption rate, resulting in a mix of tones. To solve this problem, engineers from Toray and designers from UNIQLO worked together on a variety of trials. Conventionally, creating fibres, weaving the yarn, and dyeing happen during separate processes. To solve this complex problem, we combined these steps in various ways. Through repeated testing we developed dyes and dyeing methods especially for HEATTECH. Our labours soon bore fruit and went into mass production ahead of the 2006 winter season. It took about a year and a half to resolve the colour problem and develop scalable technologies.
The four different kinds of fibres of HEATTECH each contribute special characteristics: rayon, which creates heat by absorbing moisture; polyurethane, which has superior stretchability and elasticity; acrylic, which includes more air for space higher heat retention; and quick-drying polyester, for swiftly dispersing moisture. The polyurethane and polyester take the form of individual strands, while the acrylic and rayon are incorporated as a blended fibre that has heat-generating and insulating properties, HEATTECH's greatest feature. Woven into yarn, these three strands make the fabric comfortable and warm.
So, how does HEATTECH warm itself up? The answer is the moisture that our body is perpetually releasing. The rayon fibres catch the moisture and convert kinetic energy into heat. This creates warm air, which the acrylic keeps close to the skin. HEATTECH uses micro acrylic fibres one-tenth the thickness of a human hair, forming a structure of insulating pockets that holds the warm air where you need it most. It's the same as how a down jacket holds heat in the air pockets between feathers, only at a microscopic scale, in between strands of yarn on the inside of the fabric. That's how it can be warm and thin at the same time.
We're seeing a demand for all kinds of products. That's why HEATTECH is constantly evolving. Over the past twenty years, the fibres have gotten thinner and more even. Opting for micro acrylic has allowed for increased softness and a thinner fabric while keeping the air pocket structure. Today, we've added two additional varieties of "extra warm" and "ultra warm" HEATTECH, for use in a wider variety of situations and environments.
History of HEATTECH
2003

First men's item goes on sale. Based around DRY technology, it was originally marketed as a moisture-wicking men's innerwear item for winter. The idea of heat-generating, insulating innerwear was revolutionary, but the feel and texture still required adjustment.

2004

First women's item goes on sale. Men's and women's items with antimicrobial and deodorising dry technology released as "HEATTECH Plus."

2006

Thinner, smoother women's items released, replacing the hollow cotton yarn with micro acrylic, for added softness. Enter HEATTECH, a material combining four fibres, including micro acrylic and rayon, previously said to be impossible to combine.

2008

HEATTECH goes on sale outside Japan. The men's material, like the women's, swaps out the hollow cotton for micro acrylic.
2013

"Extra Warm" HEATTECH goes on sale.

2016

"Ultra Warm" (1.5x warmer than "Extra Warm") is launched. The moisturising agent is changed to argan oil, increasing smoothness.

2017

HEATTECH sales exceed a cumulative total of 1 billion items.

2021

HEATTECH Cotton (Extra Warm) debuts featuring 100% cotton lining.

2022

High-design seamless rib and waffle HEATTECH introduced, meant for wearing as a top.

2023

HEATTECH celebrates twenty years.
HEATTECH Crew Neck T-Shirt 2003
HEATTECH Plus Crew Neck T-Shirt 2006
HEATTECH Extra Warm Crew Neck T-Shirt 2013
HEATTECH Ultra Warm Crew Neck T-Shirt 2016
Photography by Yoshio Kato
A unique process, from fibre to stitching
HEATTECH is produced at five facilities in China, India, Indonesia, Vietnam, and Bangladesh. Our Bangladesh facility is the only of these that undertakes every stage of production. From spinning yarns to packing clothes for shipment globally, the process involves multiple quality inspections. Due to the nature of the fabric, all sewing is done by hand, with machines used as necessary.
Thus, HEATTECH combines the latest technology with a hand-crafted sensibility. While originally for innerwear, the fabric has found new life in everyday fashion. HEATTECH is here to help you be yourself, no matter the weather. This winter, keep the warmth close at hand.
1. Our factory in Bangladesh manufactures HEATTECH fabric, sews it into products, and ships it off. In the step pictured, four-fibre yarn is used to make the fabric on a circular knitting machine. The machines require periodic care.
2. Yarn is covered until use, ensuring a pristine product.
3. This factory is sized to house filtration equipment required for manufacturing. We strive for an immaculate environment.

1. Our factory in Bangladesh manufactures HEATTECH fabric, sews it into products, and ships it off. In the step pictured, four-fibre yarn is used to make the fabric on a circular knitting machine. The machines require periodic care.
2. Yarn is covered until use, ensuring a pristine product.
3. This factory is sized to house filtration equipment required for manufacturing. We strive for an immaculate environment.
Photography by Jingu OokI
Photography by Jingu OokI
Manufacturing warmth by hand
1. Natural cloth woven on circular knitting machines is dyed, dried, and finished. Woven fabrics are rolled to prevent crease marks using a special storage method.
2. Achieving a uniform hue in all four fibres of the yarn requires proprietary dyes and dyeing methods.
3. Dyed fabric is treated in a finishing step to ensure consistency, then staged in a controlled area to allow it to relax.
4. Quality is ensured through repeated testing. At an inspection station, items are checked for frays or tears.
5. Large quantities of fabric are cut using an automated CAM cutting machine.
6. Small lots are cut by hand. Afterwards, each piece is checked for irregularities.
7. HEATTECH fabric is thin, supple and stretchy. Each stage of the sewing process is done by hand. Workers make delicate adjustments to machines depending on the item and its region of sale.
8. HEATTECH products are folded by hand.
9. Packaged items are subjected to a final inspection step, after which shipments are sorted by tag data and shipped worldwide.
Photography by Jingu OokI
HEATTECH is embodying new possibilities from innerwear to outerwear and beyond
The inner surface is 100% cotton for a gentle feel. A slightly shorter sleeve makes this an inconspicuous layering piece that works great on its own.
This extra warm seamless sweater does away with the side stitch. A super stretchy ribbed weave gently conforms to the body.
Princesse tam tam HEATTECH Seamless Ribbed Turtleneck T-Shirt (launches mid-November) 249 DKK
Uniqlo U Curved Jeans (launches early October) 449 DKK
Innerwear or outerwear, either works! HEATTECH is evolving into a growing lineup of items that work as layers, or on their own. There's also an array of knit hats, scarves, gloves and socks to keep you comfortable from head to toe. Responding to the moment, the new HEATTECH adapts to any social scene.
Photography by Yuki Kumagai
Styling by Toshihiro Oku
Hair by Kazuhiro Naka
Makeup by Asami Taguchi
Text by Yoshinao Yamada
Editing by UNIQLO