To celebrate Disney 100, the 2023 UT Grand Prix (UTGP) set up four categories honoring four of its brands: Disney, Pixar, Marvel, and Star Wars™. This special collection is based on the winning designs, which were just some of the more than 10,000 submissions we received. We asked the winners to share a few words.
WHAT IS UTGP?
The UTGP, a design competition started in 2005, invites people to use the T-shirt as a canvas for unleashing their creativity. Anyone of any age, gender, or nationality can enter, whether they are professional artists or not—the competition serves to support talented, imaginative people around the world. The theme for the 2023 competition was Disney100: MAGIC FOR ALL concept. The winning designs chosen from more than 10,000 submissions were printed on T-shirts that are now available around the world.
GRAND PRIZE Hiroyuki Morita Japan
I drew Wolverine from Marvel's X-Men. To be honest, I just wanted to draw something that would really grab your attention on a T-shrit. Normally, I'm a character designer and illustrator working between Osaka and Tokyo. The style I applied to this illustration is actually one that I gave up on about 10 years ago when I felt I couldn't do anything new with it anymore. I dragged it out of the closet because I felt it was perfect for Marvel. To make sure the design would stand out, I used white for the T-shirt base, avoided adding any text, and just let my pen rip. These characters—not just Wolverine but also Disney Mickey Mouse and Donald Duck—are so well designed that you can't just study them and hope to replicate what makes them great. That's why I tried to avoid looking at any images of Wolverine and just drew the character as I saw him in my head. Of course, some aspects of my illustration may be different from the actual Wolverine, but I hope those aspects add flavor to the design. When I found out I won, I actually pumped my fist! For the first time in years, too. I just turned 46, and I've never been overseas in my life. That's why I'm really looking forward to attending the awards ceremony at The Walt Disney Company headquarters in California!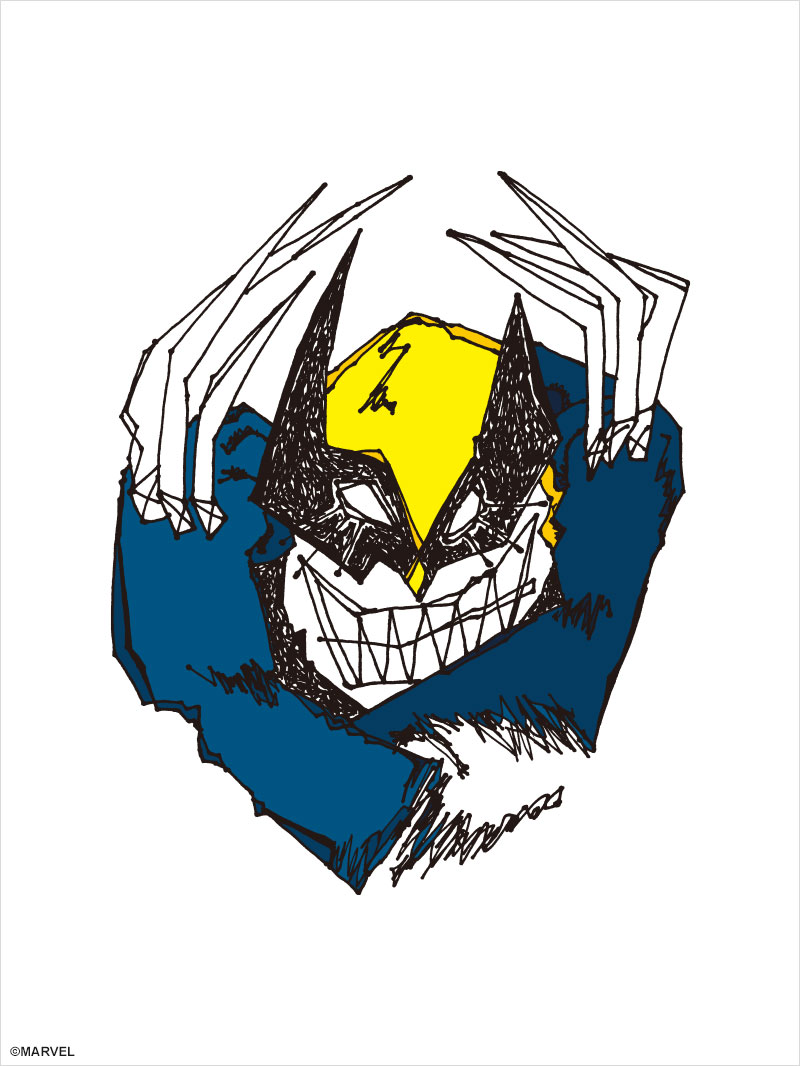 DISNEY PRIZE Psychkennedy Taiwan
There is nothing quite like the image of Flash in Disney's Zootopia among all the Disney animation characters. This sloth is normally slow, lazy, and inflexible—but he has this crazy side. While he lacks energy at work, he drives like lightning after work! Sometimes, he seems to be behind the times. It doesn't matter! If you are able to follow your dance steps and swing with your heart, you can "keep your vibe lowkey"—and that's why I added those words to the design. For this design, I combined the dynamic, vivid emotions and body movements of American comics with the rich lights and shadows of oil painting. I had Flash wear a vintage Coke hat and carry a big boom box to show he's content despite not keeping up with the times. This marvelous idea occurred to me while I was taking a shower. Immediately after getting out of the bathroom, I grabbed my iPad and started sketching! Making the impossible happen is what design is for me. In this case, I tried turning a fleeting fantasy into a real design. As soon as I received the email about me winning the contest, I read the content of it over and over again, fearing that I had missed something!
PIXAR PRIZE Kaede Matsumoto Japan
This was the first time in my life to enter a competition, so I was nervous from beginning to end. I fell in love with Ducky and Bunny from Disney and Pixar's Toy Story 4 the minute I saw them. Their colors, designs, forms, adorable faces, and the acerbic personalities that completely clash with their images: I love all of it. They embody everything that I consider cute, and that's why I wanted to create a design featuring the two characters that I would want to wear. The theme of the design is "going on an adventure with Ducky and Bunny." In the movie, the two are stuck hanging from a toy rack and have to see the same scenery every day. The design is my wish that the two get to see so much more of the world. Throughout my life, I've gained and lost many interests, but two interests that have never gone away are drawing and Pixar. I was 3 years old when the first Toy Story came out. It's a movie that I find to be cute and kind-hearted and full of adventure, no matter how many times I watch it. With Toy Story 4, I began to see and feel things in a way I hadn't with the previous movies; it was as if the movies were growing up alongside me. That's why it's very special for me. I still can't believe that I won this prize—like, surely this is some kind of a prank. If I see someone wearing this T-shirt, I might instinctively call out to them as if knew them!
STAR WARS PRIZE Jim Chen-Hsiang Hu Taiwan
I wanted to explore the collective identity of being an Imperial stormtrooper in a slightly mature tone. The stormtrooper in the design sits alone in a clean yet monotonous locker room—the only place where they are allowed to remove their helmets. The focus of the composition is on the illuminated, clean helmet—the symbol of the stormtroopers' collective identity. It's a very personal work, but I do hope other people are able to get something out of it as well. When I first watched Star Wars, it was around the 2000s—namely episodes I, II, and III. Science fiction was still a new concept to me, as was adventuring in a world like that. Me and my classmates used to swing broomsticks as if they were lightsabers during cleaning time at school. Back then, we all wanted to be the world-saving heroes—the Jedi. As time went by, I developed my own interpretations on the stormtroopers' collective identity, and that makes me appreciate the series much more. The design is a pencil drawing with a sense of realism, which gives it a similar quality as a monochrome documentary photograph. It took 8 days to complete. Most of my friends are saying they cannot wait to put the T-shirt on, and that makes winning feel even better!
MARVEL PRIZE Ryota Makishita Japan
I chose the Hulk as my motif because I like him—of course—and also because I'm not a very detail-oriented artist. I thought the iconic and eye-catching form of the Hulk would match my style better. I used Illustrator for the whole design, in which I tried to bring out the Hulk's sensitivity, straightforwardness, and strength. I used only straight lines and applied a cutout-like border to make it look like a piece cut from a sheet of color film. What I enjoy about design is thinking about how I can make the recipient of the design happy. For me, it's like choosing a birthday present. A while ago, when I was still living in Ishikawa, my sister who was living in Tokyo came home with a UT, which at the time was packaged in a bottle-like container. I thought it was so stylish that I didn't know whether to wear the T-shirt or display the bottle in my room! That could very well be one of my formative events. I love all the movies in the Marvel Cinematic Universe, and I'm always looking forward to the latest one. I want to find out what happens to the Hulk next!
MAGIC FOR ALL PRIZE Athalia Sugiarto Indonesia
I live in the outskirts of Jakarta, and I grow flowers in my garden because I love flowers. They give me a sense of beauty in nature and a feeling of joy and happiness. Of all the characters in Disney, I chose Minnie Mouse because Minnie Mouse also loves flowers, as shown in many Disney movies. The title of the design is "Minnie's Garden." I wanted to give shape to Minnie Mouse's love for flowers, so I created a flower garden in the form of Minnie Mouse's silhouette. First, I hand-drew flowers and leaves in many different shapes. Then I vectorized them on the computer and added colors to each element. I chose a bright color palette representing some of Minnie Mouse's friends. The last step was to arrange the flowers into the shape of Minnie Mouse. I grew up reading Disney comics and watching almost every Disney movie multiple times. I particularly like the classic characters because they always bring back childhood memories. I am also a big fan of UT! It is the first brand that comes to mind whenever I think about T-shirts, especially graphic T-Shirts. I like that UT depicts well-known characters in unique ways you would not find elsewhere.
PROFILE
Judges|The submissions were assessed by some top creatives at The Walt Disney Company, including Helen Pak, senior vice president of Disney Parks, Experiences, and Products; Stephane Kardos, head of the Global Character Art Team; and illustrator Jerrod Maruyama. Joining them was UT Creative Director Kosuke Kawamura, who is also an artist.
PROFILE
What is MAGIC FOR ALL?
This project combines the dreams and magic of Disney, the action of Marvel, the sense of adventure of Star Wars™, and the creativity of Pixar with the LifeWear philosophy of UNIQLO. Since its start in 2015, the project has led to T-shirt releases and unique events across the world.
Release dates and prices may vary. Some items might be limited to certain stores or countries of sale or may be sold out.
©Disney ©Disney/Pixar ©& ™ Lucasfilm Ltd. ©MARVEL