Each year, UNIQLO hosts the UT GRAND PRIX – a design competition using the simple and timeless t-shirt as an art medium to express creativity. For the most recent competition – UTGP 2020 – participants designed t-shirts based on the theme: DRAW YOUR WORLD, and UNIQLO worked with New York City's MoMA (The Museum of Modern Art), inviting prominent artists, to join the project as contest judges.

UTGP 2020 winners were announced in late February, with winning designs on sale soon after. The last year's winner was Isabel Santos of the Philippines, selected for her work entitled, A Fortune in Jewels Kept in Your Safe. Isabel is the first UTGP winner from the Philippines, and the infoPLAZA team caught up with her to ask about her experience in the UTGP.
──A Fortune in Jewels Kept in Your Safe was one of several ideas you submitted, but also one of your favorite works. Could you tell us why it is one of your favorites?
I find the subject of women very interesting, in realistic or comic style. The idea of bringing what I broke apart (cutouts) to order (into grids) fascinated me. I like rearranging what looks normal and everyday to something a bit unusual. I like the effect of heads in a grid especially without hair to the viewer. You can't stop looking.
── A Fortune in Jewels Kept in Your Safe: it's a fascinating and creative title on its own. Could you tell us the inspiration for that and how does it relate to the design?
I was reading Gabriel Garcia-Marquez's Love in the Time of Cholera. There was a line in there that I fixated on when I was working on the show. It was about choosing certain things as reality. Here, there is an emphasis on taking away the inessential, a separation of parts to bring focus to what is meant to be seen. The result is an attempt at communicating my own version of events. I think the meaning morphed into this work being my jewels that gave me this fortune.
── The theme of the UTGP this time was Draw Your World. How is this piece symbolic to you? In what way does the design show us your world?
All my artworks are an extension of myself or a result of my experiences and interests. They are basically me "drawing my world". Pieces of me are always in my works.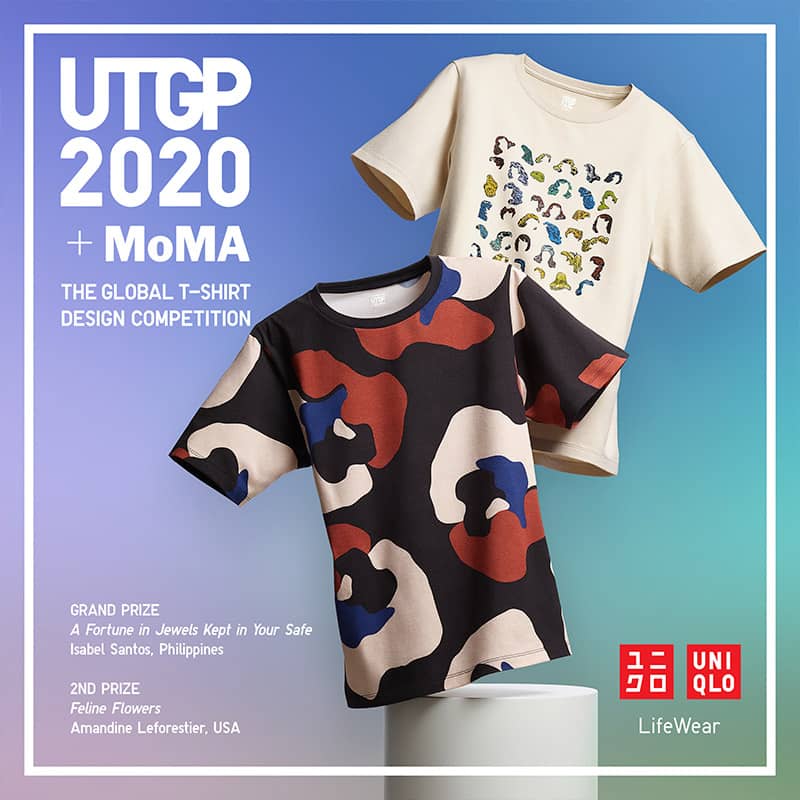 Main visual of UTGP2020
──How does it feel to win the UT Grand Prix?
Sometimes I still do not believe it! It's such a big deal to me. I think also knowing who the judges are now makes it a bigger deal! It's such an assurance that maybe I'm good enough. But also, it feels unfinished because I didn't get to celebrate at MoMA, like originally planned (due to coronavirus). I didn't get to meet people from UNIQLO, who were so kind, the MoMA, and the judges. A selfie with Lawrence Weiner is still a goal.
──You are the first Filipino to win the UT Grand Prix. Your work was selected above thousands of entrants. Do you have any wisdom for other artists in the Philippines or for young artists more generally?
My advice to everyone is try and try. This isn't the first or only time I applied to anything. I was far from winning or being accepted all the time. Rejection is normal. Don't let it stop you. Of course, try to learn things from every experience.
──You've said how you are interested in UNIQLO efforts to make art more accessible to people who love it or are moved by it. Has any UNIQLO collaboration or program stood out for you?
Mostly I buy from the MoMA collaborations. So I have shirts from Warhol, Basquiat, and Weiner. Collabs with designers are a favorite too because I often can't afford the original. Examples like Hana Tajima, JW Anderson, marimekko and Lemaire.
Of course, my favorite is Roger Federer's.
──Speaking of access, what's the best way for UNIQLO team members in the Philippines or elsewhere to access some of your other work?
If you want to see some of my old works, I am currently updating my website isabelsantos.studio I am also always posting works in progress on my instagram: @somethingstarwars
──Do you think that winning the UTGP prize made an impact on your career? How did/does change your career ?
Yes, it definitely did! I think the collaboration with MoMA made it extra special for me, too, as an artist. The win exposed me to more people, and I appreciate that it has reached a local audience beyond the art scene, too.
I come from a family of artists, and my grandfather is well-established, particularly in the Philippines. This understandably affects all of our careers with preconceived notions and links them with his, whether for good or bad. Winning the UTGP has validated my work on a personal level, where I can see that it has been judged on its own merit and not the reputation that can possibly be attached to it, via my family.
──Finally, a philosophical one. Why do you do art? When it's all boiled down, what is it specifically that drives you to devote your time and energy to art?
I think art is important for the maker and the viewer. As an artist, I can escape. It's not that it's always a fun time creating art, especially when you do it as a living. But during this time of COVID, studio time gave me a break from all the madness of the world. As a viewer, I personally like looking at artworks because of how it makes me feel. Sometimes I get choked up looking at my favorite pieces. I like that art can be a sign of the time it was made in. It's an artifact.