Using a single T-shirt as a piece of canvas, the UT GRAND PRIX (UTGP) is an open design competition based on the free expression of creativity. Sponsored by UNIQLO and started in 2005, the theme of this year's competition is "Peanuts," the comic strip well known for one of its most iconic characters, Snoopy. Along with providing an overview of the UTGP itself, we spoke with Yusuke Hanai, one of the winners from the inaugural competition.
(From an article of Bijutu Techo /Text and Photos by Ryohei Nakajima)
The UTGP was started by UNIQLO in 2005 (for the first three years until 2008, it was held under the name UNIQLO CREATIVE AWARD). The design competition, in which participants use a single T-shirt as a canvas to freely express their ideas with graphics and messages, has started to accept entries for this year as well. The purpose of the competition, which is open to everyone regardless of occupation, age, gender, or nationality, is to discover talent from around the world.

For the first three years, the competition was held under the name of UNIQLO CREATIVE AWARD, and multiple entries were selected for prizes without being ranked. The designs were then commercialized as T-shirts. A cash prize was given as a supplementary award, and the grand prize winner was also given funds to support their activities overseas, etc. From the fourth time the competition was held in 2008, the name was changed to UTGP, and the management and operation of the competition has been steadily improved over the many years since. One of the major features of the UTGP is that eminent, globally-active artists such as Tadao Ando, Yayoi Kusama, Juergen Teller, and David Bowie have served as judges.

Initially, there was no set theme for the competition. However, after becoming UTGP and taking into account the completeness of the commercialized collection, themes, such as Disney, Coca-Cola, Nintendo, and Pokemon were set based on social trends and companies carefully selected for collaboration. In 2020, the theme Draw Your world was set in collaboration with the Museum of Modern Art (MOMA) in New York. The judges were Sarah Morris, Lawrence Weiner, and Paula Scher, and original T-shirts designed by the three were also commercialized.

Main visual of UTGP2020
Winners from overseas are invited to the award ceremony together with their families so they can share the joy of holding the annually redesigned trophies and medals and the festive mood of the event, which eliminates boundaries between participants, organizers, and judges. UTGP is a great way to discover talent and share its value with society through UT T-shirts. Under the slogan "WEAR YOUR WORLD," there is great significance and value in UT continuing to hold this competition, which, through T-shirts, promotes the message, "Wearing = Self-expression." We spoke with Yusuke Hanai, a winner at the first UNIQLO CREATIVE AWARD held in 2005, who is now active internationally as an artist.
T-shirts are one way to express your feelings
In 2005, you won a prize at the UNIQLO CREATIVE AWARD 2005, the predecessor of the UTGP. Please tell us about that time, such as what prompted you to apply.

I studied at an art school in the US from 2003 to 2004, and after returning to Japan, was looking for a job in the creative field but couldn't find anything. So, while working part-time at a sign shop, I looked at a publication called "Open Recruitment," and applied to various open calls. I found the UNIQLO CREATIVE AWARD listed in the magazine, and since I had done some T-shirt design previously, I decided to apply.

What kind of opportunity did you have to design T-shirts before applying?

When I was a high school student I started surfing. When I was in my early twenties, I helped some of my older colleagues build a bar in the Kamakura area where local surfers would gather. We dug the holes for the foundations and built the walls. etc. It was a DIY project done together with friends. At that time, we needed a sign and a menu. Since I was the one who could draw the best, I drew a sign right away. I borrowed a Mac from a friend to make the menu. After the bar opened, I designed event flyers and T-shirts. That made me think that this kind of work (design) was interesting. So, I saved up the money I was earning at the bar and went to San Francisco to study.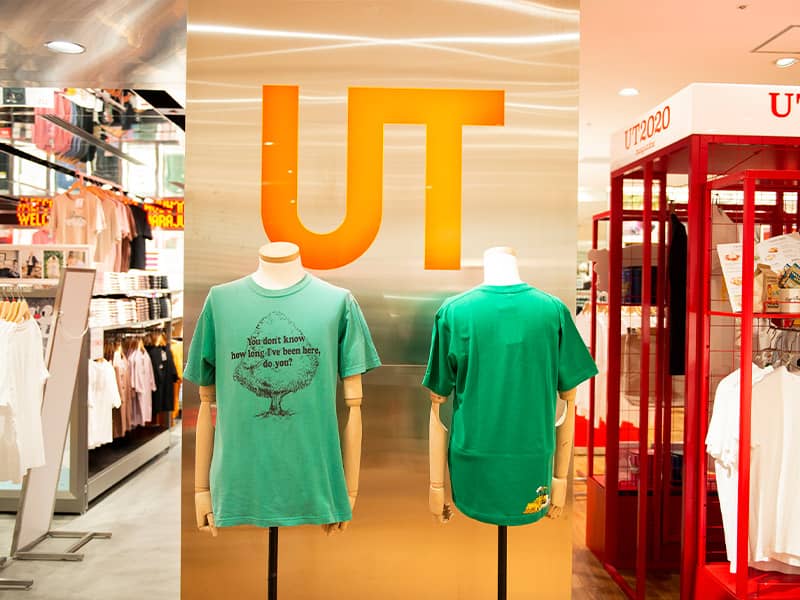 A UT designed by Hanai (owned by Yusuke Hanai)
After returning to Japan, how did you come up with the design you used to apply to the UNIQLO CREATIVE AWARD?

Firstly, I think T-shirts are a way for the wearer to express their feelings. People will not wear a T-shirt that is printed with a message they do not agree with. They also won't choose one that has a musician or artist on it they don't like. So, I chose a green fabric, and then designed a graphic of a bulldozer tearing up the ground as it headed toward a tree,with the tree saying, "You don't know how long I've been here, do you?" I wanted to convey a message about nature, as I have always wanted to reduce the environmental impact of the things that I am involved with.
A UT designed by Hanai (owned by Yusuke Hanai)
These days, there are things like the SDGs and environmental awareness is increasing, it feels like you were ahead of the curve in 2005.

When I surf, I don't want to enter an ocean full of garbage, and I can see how the ocean is changing. The sandy beaches are clearly getting smaller, the seawater temperature is not going down, seaweed is not growing at all, and no matter how much garbage you pick up, it doesn't disappear. When you go down to the sea a lot, you realize all this.

From your designs, one can sense the potential of T-shirts as a medium to express messages.

The impact of T-shirts is such that they are used for advertising, so I think they can be used to communicate messages about environmental issues. I think about that possibility when I am designing them.

How did you feel when you actually won a prize and your T-shirt was commercialized?

As I spoke about earlier, I had previously made T-shirts at the bar I worked at, but the only people who bought them were customers I knew. So, after I won the award and the T-shirt was commercialized, it made me happy that someone I didn't know would buy a T-shirt I designed. They were on display at the stores, so I went to several stores just to look at them [laughs]. Also, a design magazine contacted me about doing an interview and they featured my past work. From that all kinds of things started to happen, such as an acquaintance who saw the article offering me a job.
Yusuke Hanai
How did you go about establishing your own style from that point?

When I first started creating the sign at the bar, I was talking with my friends about how I felt about the illustrations from surfing magazines of the 60s, and record jackets and posters from that time. There was a guy called Rick Griffin who originally drew illustrations for surf magazines, and then moved on to psychedelic culture and drew posters for the Grateful Dead. In the beginning, I liked that culture, and imitated that in my work. But, when I started working on my own, I knew I couldn't simply imitate any more. So, I started thinking about how to create originality, and am still thinking about it today [laughs].

It seems that you have already developed your own style, but it also feels like you are updating the original part of it.

Basically, I get bored easily. When I am creating something, and it turns out as I hoped, I feel good. When I finish it, I feel like I have "done it" and accomplished something. After a while though, I get embarrassed to look at it. When I am doing work for a client, after I have submitted it, I often think, "I should have done it a little bit more like this," etc. Or, I might worry about the color of a work after it has been exhibited. Recently, I have been working on canvas more than doing work for clients. And the way I paint has changed in many ways. I used to paint solid colors, but have grown tired of that, and have now started using color more vigorously.

After you had won a UNIQLO CREATIVE AWARD, the UT line was launched, and its scale is growing increasingly larger. What do you think is the most interesting aspect of UT?

Firstly, the quality has improved dramatically since I applied. I got a Barry McGee T-shirt a little while ago, and I really thought about it at that time. Recently, my daughter drew a picture of a swan. It was so cute that I actually ordered it using UTme! I could choose the body I wanted to print on, and presto, I was able to make a cute T-shirt.
Yusuke Hanai
This year's UTGP has already opened for applicants. Do you have any messages you would like to share with creators and artists who are applying?

In my day, I was desperate to find a way to get my work presented and known to the world. Nowadays, uploading to social media is a good way. However, if you like creating, I think it's important to find various opportunities and to keep moving forward. The scale of the UNIQLO CREATIVE AWARD back then was completely different. If you win the Grand Prize at the UTGP now, the response should be tremendous.
Main visual of UTGP2022
In closing, could you please share with us your goals as an artist?

It's difficult to say, I am not really aiming for anything that high [laughs]. I have loved painting since I was a child, and so I am just happy that I have been able to put food on the table doing that to date. I am quite happy if I am able to influence someone, even if just a little, by what I paint, or if I can convey even a little bit of what I am thinking.
I want to have whatever I am involved with impact the environment as little as possible, so I haven't done much client work lately that involves the mass production of products. However, if something can be mass produced using recycled or organic materials, I think it would send a message and share environmental awareness with many people, and it would be a step toward making thinking about the environment commonplace in the world, so I would like to consider such possibilities.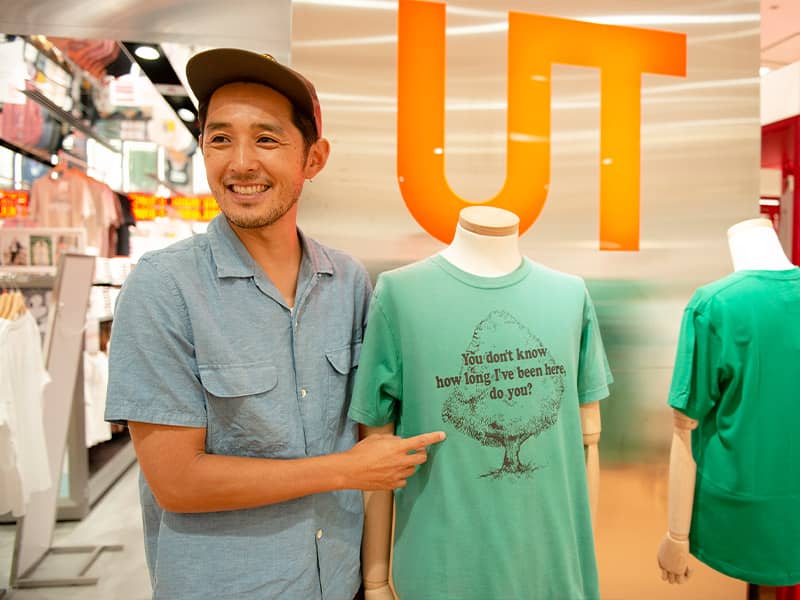 Yusuke Hanai
PROFILE
Yusuke Hanai was born in Japan in 1978. At the age of 17 Yusuke gained a new found passion in art after discovering the Grateful Dead album cover artwork of legendary artist Rick Griffin. In an effort to capture the spirit of Rick Griffin, Jack Kerouac and the '60's counter-culture movement of San Francisco, Yusuke left Japan for the United States in 2003 to study illustration at the Academy of Art College, San Francisco. Yusuke's artistic breakthrough occurred at the '06 Green Room Festival in Yokohama Japan when Laguna Beach based Wil Pennartz, owner/curator of The Surf Gallery was so impressed with Yusuke's sign painting that he invited him to participate in '07 The Happening in New York City. Expanding his illustration and fine art vision beyond his nostalgic roots, Yusuke continues to capture the hearts of many people worldwide. His artistic works have been exhibited in Australia, Brazil, California, London, New York, Paris, and Tokyo. Yusuke is currently living in Japan, where he continues his artistic endeavors as an illustrator/fine artist.