Started in 2005, UT Grand Prix (UTGP) is a design competition that invites people to freely express their creativity using a T-shirt as their canvas. In this year's UTGP, which is the 17th, artists from around the world freely drew their own Peanuts-themed creations with the full cooperation of Peanuts Worldwide, Charles M. Schulz Creative Associates, and the Charles M. Schulz Museum. A total of approximately 14,000 entries were received. Four of the award-winning artists participated in the UTGP Award Ceremony held at the Snoopy Museum in Minami-Machida, Tokyo on April 13. We interviewed them immediately after they received their awards.
Jean Forsyth Schulz (wife of Peanuts creator Charles M. Schulz), Paige Braddock (Chief Creative Officer at Charles M. Schulz Creative Associates), and Gina Huntsinger (Director, Charles M. Schulz Museum) participated in the ceremony live online.
PROFILE
Grand prize winner. Kazuhiko Okushita. Kazuhiko graduated from the Graduate School of Film and New Media, Tokyo University of the Arts with a major in animation. His work, Akai Ito (Red Thread), which he created in 2009, won numerous competitions. He also won the Good Design Award for the opening video of TV Asahi's "News Station," something he has been in charge of since 2011. Subsequently he has been involved in many projects, including TV commercials, music videos, illustrations, painting exhibition/sales, and live paintings.
This award gave me the courage to step out into new fields
This magnificent Grand Prize-winning entry, with its simple but unforgettable drawing of Snoopy created by leveraging the stripe pattern of the T-shirt, was highly praised by judge Jean Forsyth Schulz (see above), who said, "This design works well because it employs Snoopy's iconic silhouette in an interesting and fresh way. We appreciate how the character has been abstracted to suit the design, but is still immediately recognizable."
"In design, I always try to achieve the maximum effect from minimal adaptations. This was my first time designing a T-shirt, and I took on the challenge of drawing Snoopy using only the stripes of the T-shirt's pattern," said Kazuhiko.
In fact, art using stripes is Kazuhiko's signatures style. Although Kazuhiko has long been at the forefront of the design world, such as in advertising, this was the first time for him to design a T-shirt and he won the grand prize. After taking on this new challenge in your long career and achieving such a prestigious result, what are you felling now?
"Until now, I have focused my work mainly on graphic arts and have not had the opportunity to challenge myself in other fields. Receiving the grand prize this time has made me think I may be able to do things I have never tried before, and it provided me with the confidence and courage needed to take a step forward and dive into new worlds. I believe winning this grand prize will be a great source of emotional support for me in my future endeavors. I grew up wearing mainly UT from a young age, so I think I have now been able to appropriately give something back."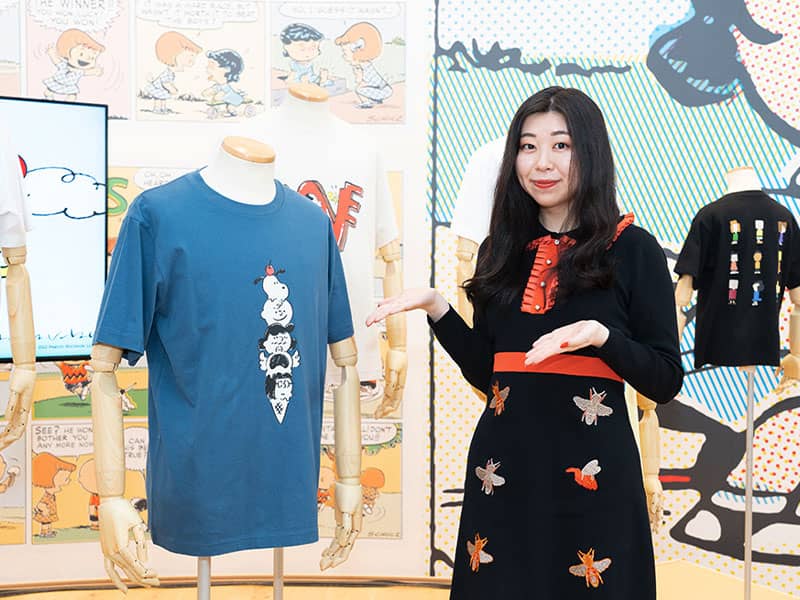 PROFILE
Second prize. Benio Tanaka. Born and raised in Japan, Benio graduated from Nihon University College of Art. She is a designer and loves dogs.
Remarks from my art school professor inspired me to take on this challenge
Second prize-winner Benio Tanaka's work is an art creation appropriate for summer, and weaves in the overflowing cuteness and humor that is the essence of Peanuts. In fact, "This design was chosen because it has a light-hearted humor that is very true to Peanuts. Each character is represented in a way that fans will recognize and enjoy. The design is very strong, and would work nicely on a t-shirt." said judges Paige Braddock (see above) and Gina Huntsinger (see above), commenting warmly.
"I've loved Snoopy since I was child. This was a meaningful production for me as I was able to draw my favorite character with my own hands, which made me truly happy," said Benio.
When she was at art school, a seminar instructor told him to "enter as many competitions as possible." This time it certainly paid off.
"I have been drawing ever since I was a young child and could hold a pencil. I went to art school and the instructors taught me the importance of competition. I learned about the UTGP after seeing UTGP T-shirts worn around the city. I thought to myself, 'I want to enter that contest too! I missed this chance, so the next time for sure.' So I am very happy that I was able to enter this time and win a prize. For me, drawing is life itself. I am looking forward to seeing my drawing on T-shirts, and I hope to continue to draw the pictures that I love."
PROFILE
Third prize. Teppei Koda. Born in Tokyo in 1986. Teppei works in design and direction mainly for advertising.
It is an irreplaceable joy to see my art become a part of people's lives
Third-place winner Teppei Koda received high praise for his depiction of a scene that often appears in Peanuts, Snoopy searching for a snack. Judge Paige Braddock (see above) commented, "The use of color is bold and elegant, and infuses the artist's sensibility into the characters." We asked Teppei what he likes about Peanuts.
"I like the freedom of the Peanuts characters. They are unashamedly living live according to their true-to-life personalities, and I am encouraged by the cuteness of their single-minded flirtations."
Teppei said he had been entering the contest since it first started 17 years ago.
"In 2005, I had just entered University. I have been entering the UTGP contest since then, and I am deeply moved to have won an award this time. I was able to receive an award from a contest that was collaboration between two brands everyone knows, Peanuts and UNIQLO, and I am not hesitant to show my work anywhere."
Teppei's drawing of Charlie Brown and Snoopy conveys the inseparable bond of love that binds the two together. We asked him what he thought about his work becoming a T-shirt.
"I usually do work for clients centered on advertising, but this time I was able to draw as freely as I desired because the work was for entry into a contest open to the public. Having my design made into a T-shirt makes me feel as if a part of myself is traveling around the world. What kind of children in what kind of countries with what kinds of feelings with select and wear this T-shirt? It is hard to imagine, but I am really excited. To think that children around the world will wear this T-shirt is a truly invaluable experience and an unforgettable memory."
PROFILE
The Roger Federer Prize. Tom Inomata, Representative, Design Studio sizawa. Tomoaki was born in 1991 in Saitama Prefecture. He is involved in a wide range of work centered on design.
He was also a prize winner in 2015. "This time as well, I will be happy if someone somewhere loves the design for as long as possible"
Since the creator of Peanuts, Charles M. Schulz, was a big tennis fan, Peanuts Worldwide hurriedly made a passionate call to professional tennis player Roger Federer (UNIQLO Global Brand Ambassador) to serve as a judge. Roger made the following comment on the design he selected. "I like this design the best because it has a sense of freshness of clouds on a blue sky. I always liked my t-shirts to tell a story even from far away and this achieves it with a happy vibe that people from all around the world can understand."
We asked the creator of the selected design, Tom Inomata, to elaborate. What was the concept behind the design?
"Since Peanuts is a globally known creation, I wanted to incorporate a sense into the design that would resonate with people all over the world. I think we have all had the experience at some point in our lives of seeing clouds in the sky that look like food or animals. I thought it would be cute if there was a cloud floating in the sky that looked like Snoopy. I also wanted to convey a message that people should look up once in a while in these very trying times. When I designed Snoopy this time, I thought once again that, as expected, the character's form is not lost at all by making slight adjustments. I feel Snoopy is a true masterpiece."
This is the second time for Tomoaki to win a UTGP prize.
"For the most part, I am normally engaged in design work. However, I do not draw from scratch because I start production when the art materials I am to use have already been decided upon. In particular, I never draw characters. In that sense, I believe I received a very valuable opportunity this time and submitted the art as soon as I came up with the idea. Thankfully, I also won a prize in 2015, and around town I still see people wearing the T-shirt that was commercialized with my design at that time. For this T-shirt as well, I will be happy if someone somewhere loves the design for as long as possible."
For this year's UTGP, the judges prepared special commemorative gifts just for the winners. Right: Three pieces of art hand-drawn by judge Paige Braddock (Chief Creative Officer at Charles M. Schulz Creative Associates). The drawings were made using the same pen used by Charles M. Schulz. Left: The T-shirt that won the Roger Federer Award was autographed by UNIQLO Global Brand Ambassador Roger Federer.
The theme for this year's UTGP was a very simple one, Peanuts, and various artists were able to freely express their creativity.
Peanuts creator Charles M. Schulz is famous for the many memorable philosophical messages he left in his work.
"It's hard for people to comprehend that someone can be born a cartoonist, but I believe I was."
As is the case with Schulz, we sincerely hope that the talents of the award-winning artists will transcend time and borders and be loved by people all over the world.
Starting in late May, a total of 11 prize-winning designs, including these four, will be available for purchase as graphic T-shirts only through the UT collection.
©2022 PEANUTS Worldwide LLC