UT Grand Prix (UTGP) is UNIQLO's design competition that uses the T-shirt as a creative medium and invites all to freely express their creativity through illustrations and messages. The theme of the 2022 competition is PEANUTS. Next year marks the 100th anniversary of the birth of Charles M. Schulz, the man behind the comic strip that has continued to captivate audiences throughout the world. To better understand Mr. Schulz who never ceased drawing in a creative career spanning five decades, we visited the Snoopy Museum in Machida, Tokyo.
The real Charles M. Schulz
PEANUTS told the stories of Snoopy, a beagle with a rascally charm, Charlie Brown, his awkward but good-natured owner, and other characters with equally rich personalities in their suburban town. The comic strip began its serial run in 1950 when it appeared in seven U.S. newspapers, and it continued with creator Charles M. Schulz drawing without break until he announced he was putting his pen down due to illness in 1999. The serialized comic became a global phenomenon, and its proportional popularity spawned animated shows, diverse character goods, amusement park attractions, and events and even turned the characters into corporate advertising icons.

UTGP 2022 invites all, regardless of age, nationality, race, gender, or even experience, to draw inspiration from the still beloved PEANUTS strip and freely express their creativity on the creative medium called the T-shirt. When we started the entry period, we asked Daisuke Kusakari, the Creative Director of Snoopy Museum, to share notable stories about PEANUTS and Charles M. Schulz.
The Charles M. Schulz Gallery, a permanent exhibit at Snoopy Museum, exhibits photos from Mr. Schulz's life as well as illustrations. It's a great way to learn about the events that led to the creation of PEANUTS as well as the growth of its popularity.
1. What enabled PEANUTS to become the timeless classic that's loved the world over?
PEANUTS began its serial run on October 2, 1950 in seven U.S. newspapers. Even now, after 70 years, its run continues in 75 countries, in 21 languages, and 2,200 newspapers. These incredible figures are testimony to its enduring popularity. As mentioned above, why does PEANUTS remain so popular throughout the world?

Kusakari: "It's impossible to give a single, simple answer because there are many factors. Nonetheless, the art style has something to do with the timeless, universal appeal. The original comic was drawn in black and white and with simple, yet warm lines. Plus, the characters never become boring to the readers because the more you get to know them the more you make new discoveries about them. They're fun and engaging because they're different in their own ways. They have depth. They're not always adorable. They can be cynical, or even a little mean, at times. And they're richly drawn with many expressions and many actions."
2. Why did Charles M. Schulz decide to become a cartoonist?
Mr. Schulz loved sports, which are often the subject of PEANUTS. When he was a boy, he even aspired to become a professional golfer, but why did he decide to become a cartoonist instead?

Kusakari: "Mr. Schulz excelled at drawing, even when he was a child. His father, who ran a barber shop, subscribed to two St. Paul newspapers and Mr. Schulz apparently loved to read the comics that were serialized in them. Mr. Schulz excelled at golf, although he was adept at several sports. Nonetheless, he liked drawing above all. He was complimented for his drawings by his art teacher while in high school, and he even enrolled at an Art School that specialized in all kinds of commercial art, with cartooning being one component of the curriculum. While he was learning in the art school, World War II began. He took sketchbooks to even the US Army camps and drew likenesses of his friends. Even now, you'll find letters that his friends sent to their families adorned with his drawings. After the war, he corrected drawings at the art school previously studied. Nonetheless, he steadily continued on his path to becoming a cartoonist, regularly showing his cartoons to his colleagues and receiving feedback. The rest we know. He was a rarity in that he chose to be and was a cartoonist his entire life. He was fortunate in that regard."
3. Where did he draw inspiration from?
Mr.Shultz and his dog Spike in the picture.
Mr. Schulz continuously drew 17,897 days' worth of strips for about 50 years until 1999, when he announced his retirement immediately prior to his passing. He accomplished this great feat without drawing assistants, doing everything, including the collection of resources, by himself. Where did he find the inspiration for penning this prodigious number of stories? Did he ever run out of ideas?

Kusakari: "Apparently, Mr. Schulz could only draw what he himself had experienced. For example, things that he'd experienced as a child. He apparently observed people's actions in great detail, and these were regular people whom he encountered in everyday life, like when he went to a supermarket or went to an arena to watch ice hockey. He often said that he himself was Charlie Brown, but there's also a little bit of Mr. Schulz in many of the characters. Furthermore, many personality traits and qualities of his friends are reflected in the characters. He's even said that the names of some characters came from actual friends. All characters were Mr. Schulz in some ways and his friends in others, so that's perhaps why the strip feels so grounded in reality."
4. Why did Charles M. Schulz continue to draw children?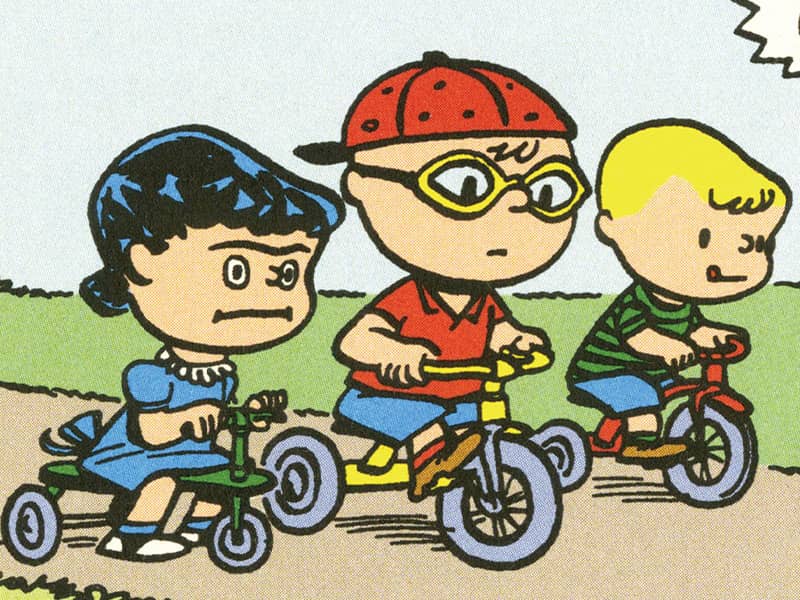 The human characters of Mr. Schulz's PEANUTS were only Charlie Brown and other children. But there is one panel in which adults are prominently shown. In this story, Lucy is amongst adults when she's entering a golf tournament. It is a rare instance of adults (only their legs) appearing. PEANUTS was serialized in regular newspapers that only adults would read. Why then did Mr. Schulz feature only children in the comic strip?
The original picture currently on display at the exhibition "Sports is a Friend of Life" currently being held at Snoopy Museum.
Kusakari: "Mr. Schulz drew cartoons based on children as they gave him good ideas and he probably concluded that it would be funny if children talked about grownup topics, fell in love, and did other adult things. Yet he had dreams of drawing an adult adventure strip for quite a time after PEANUTS began, Mr. Schulz started another strip in which adults appear, but this strip wasn't particularly well received."
5. What was Mr. Schulz truly trying to say?
What messages did Mr. Schulz incorporate into his long-running serial? Was there or were there common themes? Mr. Kusakari shared his thoughts on the intrinsic theme that everyone tends to overlook in PEANUTS.

Kusakari: PEANUTS is filled with characters who are not particularly talented or exceptional other than having flaws of some form or other. Charlie Brown leads a Little League baseball team that has won only one time, and he can't find the courage to talk to the girl whom he likes. But no one is perfect. Everyone is sure to have flaws or weaknesses of some sort. Mr. Schulz was probably trying to send a message of encouragement to people by portraying people as they really are. That tends to be overlooked, but it's important to remember that PEANUTS is not merely a comic strip of jokes and funny situations. Mr. Schulz knew that newspapers were delivered every morning and their role ended when they were read through. He understood that a serialized comic strip didn't require difficult themes. He probably wanted his readers to get a chuckle out of a joke that had a good punchline and thereby feel a little better on the mornings they were feeling blue from the trouble of going to work."
The judging committee of UTGP 2022 naturally includes members of the PEANUTS family
Mr. Schulz's career is clearly filled with episodes that demonstrated his utmost devotion to the comic strip. While he did everything related to the artwork himself, he was surrounded by a supportive cast of family and friends as well as secretaries and many others who were integral to the big growth of the PEANUTS business.
Mr. and Mrs. Schulz wearing tennis motif T Shirts.
©Alyce Sheehan. Courtesy of the Charles M. Schulz Museum and Research Center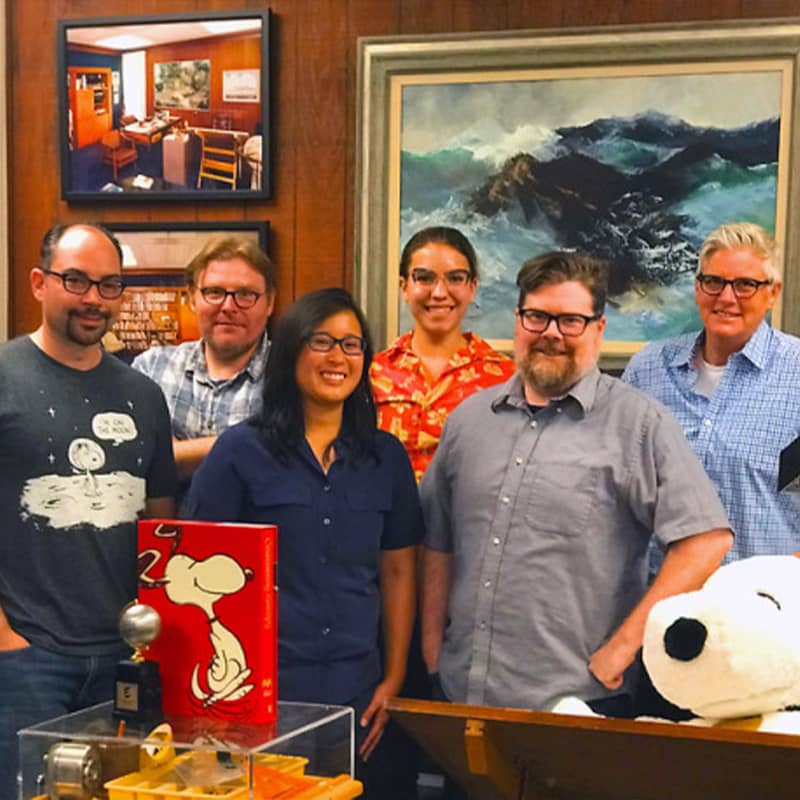 PEANUTS Studio's team
The entries of UTGP 2022 will be judged by members of the PEANUTS Family who anonymously supported Mr. Schulz's creative endeavor. The designs that are singled out for their excellence through a rigorous judging process will be turned into merchandise and offered at UNIQLO stores throughout the world as part of the UT line's new collection. There are plans to additionally award the valuable learning experience at the PEANUTS Studio to the top winners. Many of the past winners of the UTGP work even now in the world of design. UNIQLO would be delighted if UTGP 2022 can similarly become the first step in the illustrious careers of promising designers. Look forward to the beloved PEANUTS in ways you've never seen before!
Snoopy Museum (3-1-1 Tsuruma, Machida, Tokyo)
Snoopy Museum is the world's only official satellite museum of Charles M. Schulz Museum in California, USA. The currently showing exhibit is "The Sporting Life".
PROFILE
PEANUTS: Charles M. Schulz first brought the PEANUTS gang to the world in 1950 when it debuted in seven newspapers. Charlie Brown, Snoopy, and others of the PEANUTS gang have since become pop culture fixtures. PEANUTS continues to reach and captivate audiences throughout the world through TV shows and specials that are delightedly watched on Apple TV+, a diverse range of merchandise, amusement park attractions, cultural events, and social media, as well as through the original serials that are carried by traditional print media and contemporary online media. In 2018, PEANUTS formed a multi-year partnership with NASA and the Space Act Agreement, a program that is designed to foster enthusiasm for space exploration and STEM (science, technology, engineering and mathematics) in the next generation of children.


Daisuke Kusakari: President of Bluesheep and producer. Creative Director of Snoopy Museum; producer of Play! Museum. Established Bluesheep in 2015 after working for some time at Asahi Shimbun's Cultural Projects Department. His works include producing exhibitions and books, planning and operating museums and more.
©2021 Peanuts Worldwide LLC