A Global Event Series of
Art + Tennis + Culture
For the Next Generation.
Around the World with Roger Federer is a global event series exploring the intersection of art, tennis, culture, and philanthropy, uniting all sorts of people in the name of global community and the next generation.
NEW YORK CITY
AUGUST 8, 2023
SHANGHAI
OCTOBER 18, 2023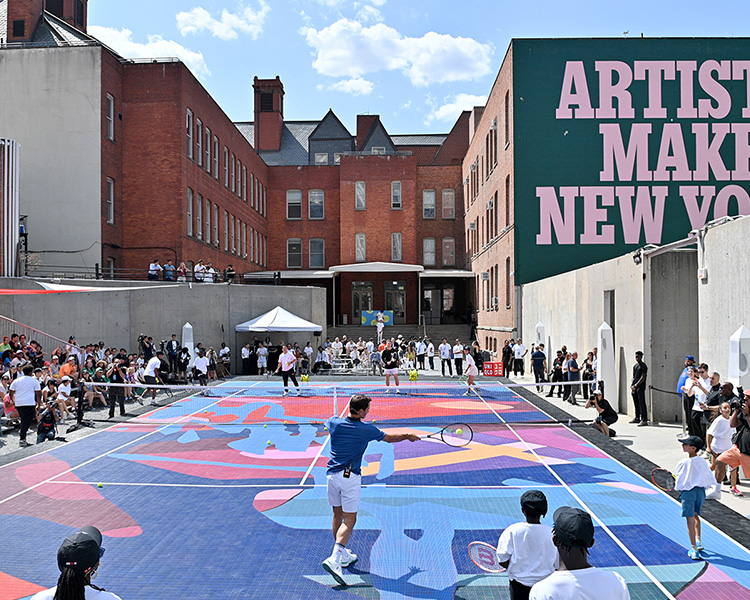 "Around the World brings together everything that I'm passionate about, art, culture, kids, tennis, and travel—you name it."
- Roger Federer
A Perfect Day of Tennis, Art, and Culture in NYC
"Around the World with Roger Federer" kicked off on a beautiful day in New York in the summer of 2023. Spirits were running high at MoMA PS1 in the heart of Queens, and on a tennis court designed with artwork by KAWS, vibrant colors and dynamic shapes seemed to channel the energy of the young players in attendance from the Kings County Tennis League—a program founded to spark the potential of kids living in and around Brooklyn public housing.

Roger Federer spent the day coaching them in the fundamentals of tennis—from the serve toss to the slice backhand and more. It was a thrill to see Roger unleash the beauty of his form, and it was clearly a lot of fun to hit balls with the maestro himself.
"It was important for me, once I became more famous, to become more of a role model."
- Roger Federer
The event also featured live painting by Brooklyn-based artist Hisham Akira Bharoocha, who created a mural on which the kids were invited to paint and add their own artistic touch. The mural was donated to the Kings County Tennis League as a gift to the city. Afterwards, UNIQLO hosted a Q&A with Roger Federer and the kids in attendance.

For the launch of a global effort to nurture a new generation of talent in major cities around the world, this was just the beginning. Stay tuned for more.
"I feel I have a special bond to the city of Shanghai. To be here, to work with these children, to see them play, is just wonderful." - Roger Federer
Federer returns to Shanghai—the city he loves, loves him back.
When Roger Federer returned to Shanghai, this time it wasn't about facing the competition and bringing home the trophy. It was about connecting with fans, with young players, with the people of Shanghai, and giving them a little bit of himself.

It was a beautiful, warm day at the historic Tian Hou Palace when Roger took the court. He was trading groundstrokes with the young players of the next generation, giving his advice, sharing his stories. All in attendance basked in the love of tennis and camaraderie that permeated the entire event.

Talented tennis juniors from Juss Sports got one-on-one attention from Roger, with coaching help from Chinese tennis great Wu Di. The court and its surroundings, designed by next generation artist Cheng Peng, captured Shanghai's palpable energy and passion for tennis. Her designs were a perfect backdrop for Roger, the young athletes, and many excited onlookers.
"The event here in Shanghai was amazing. Great group of kids, playing so well—they should be proud. And of course, great fans providing a great vibe too." - Roger Federer
Later in the day, acclaimed Shanghai cross media artist Zhu Jingyi did a live calligraphy demonstration, which was co-signed by Roger himself—a display of his deep love and respect for this iconic world city. For Roger, Shanghai is a land of history, culture, great food, and inspiring art.

The tennis fans of China have long been tremendous supporters of Roger Federer. This day was an opportunity for Roger to connect with this community, thank them for their years of passion, and hand down some secrets straight from the maestro himself.

Stay tuned for more tennis, art and culture, as Around The World With Roger Federer continues to circle the globe.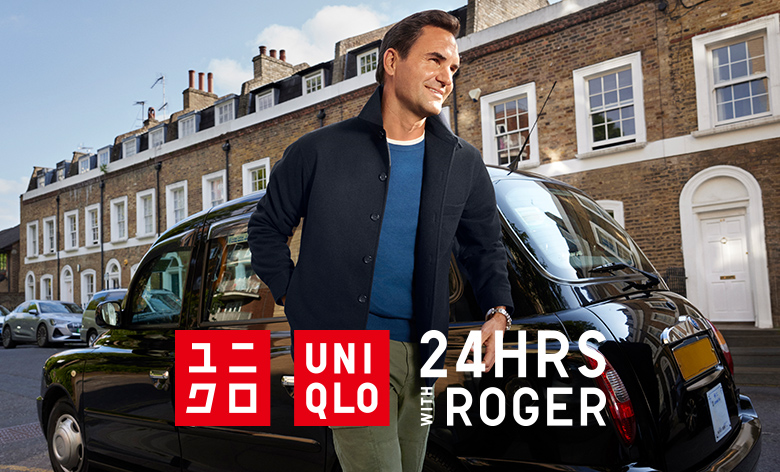 24 Hours with Roger
As a tennis pro, Roger traveled the world—but there was never time! Now he's back in a new video series, exploring some of his very favorite cities, 24 hours at a time.