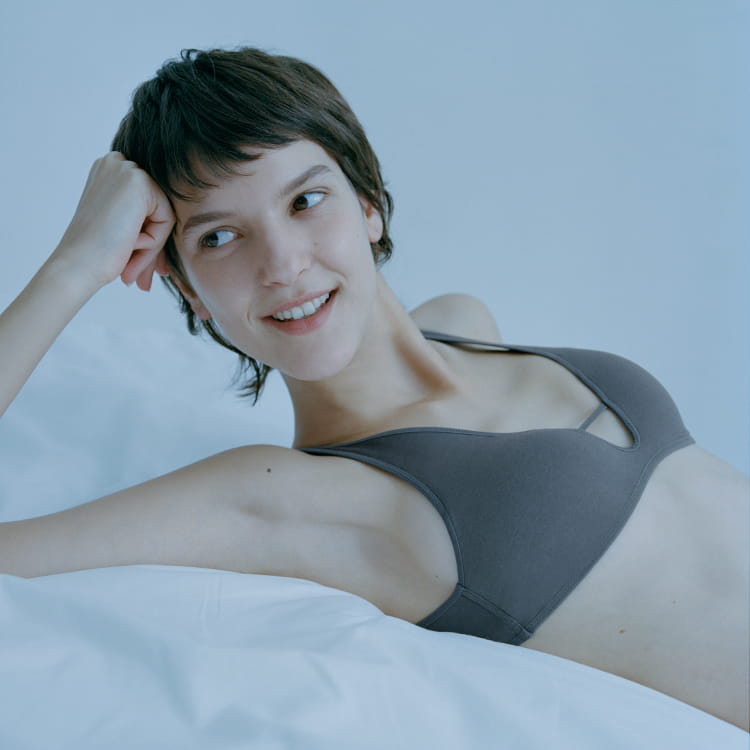 Clothes with comfort and beauty even in winter, when there is a temperature difference between the outside air and heating.
The 3D Knit Turtleneck Sweater that gently enhances the curves
A turtleneck like no other, this seamless 3D knit ribbed turtleneck sweater wraps the body's curves in soft comfort. Enjoy the beauty of the smooth curved sleeves and flowing hem, and ease into the day with a pair of gentle AIRism cotton shorts.
Items from this look
A beautiful colour palette that illuminates the skin
Discover the beauty of a warm grey colour that illuminates all skin tones. Choose a relaxing bra and shorts in a chic sheer mesh, or enjoy the touch of soft AIRism cotton, both in the collection's signature hue.
Items from this look
A bra slip that doubles as a dress
Discover the effortless grace of a bra slip that can be worn by itself or under a dress. Design details include a flattering neckline and gently-flowing silhouette, made from elegant grey AIRism cotton.
Items from this look
A beautiful bratop that stays dry all winter
Blending Mame Kurogouchi's design with UNIQLO's technology, this collection is filled with elegant items made for ultimate winter comfort. The design team worked diligently to create pieces like the AIRism Cotton Bra T-Shirt – a stylish top equipped with built-in bra cups, which can be worn under a sweater or on its own. Made from smooth AIRism cotton, the top stay dry and comfortable, even when indoor temperatures rise.
Items from this look
3D knit items wrap the body in soft comfort
UNIQLO's leading 3D knit technology makes possible a knit cardigan and ribbed pants that wrap the body in smooth, seamless material. Open and wear as a long cardigan or button up to wear as a dress, enjoying the neckline and curved sleeves with the elegant Mame Kurogouchi touch. Wear with seamless knitted pants that skim softly over curves and enhance the figure. Delicate design meets UNIQLO technology to create an ensemble that delights all winter long.
Items from this look
A relaxing bra that brings comfort and support throughout winter
When relaxing at home, enjoy the beauty and easy comfort of a wireless bra with an intricately designed silhouette and full support. UNIQLO and Mame Karugouchi have worked to develop specialised bra cups that maintain their shape, with additional support provided by a single horizontal strap at the centre. Choose from soft AIRism or stylish mesh that illuminates the skin, and let this bra lift your spirits while keeping you comfortable and supported.
Items from this look