UNIQLO UT PEACE FOR ALL.
100% OF PROCEEDS WILL HELP PEOPLE
AROUND THE WORLD.
JOIN THE MOVEMENT.
The world needs peace now more than ever. With just a simple T-shirt, we can help make the world a better place. Introducing the UNIQLO UT PEACE FOR ALL project: an ongoing collection of T-shirts designed by world-renowned leaders in art, design, literature, science, and sports. 100% of profits* will go towards international organizations that aid those affected by poverty, discrimination, violence, conflict, and natural disasters. By wearing these T-shirts, we can share our hope for world peace and a future where everyone can live in safety.
*UNIQLO parent company Fast Retailing Co ., Ltd. will donate all profits ( no less than 20% of the selling price ) equally among UNHCR, Save the Children Japan and Plan International.
How Donations Work
All the proceeds from the charity T-shirts purchased will be donated to international organizations to support victims of poverty, discrimination, violence, conflict, and war.



Charity T-Shirts
Well-known people who agree with the idea of "taking action in the name of global peace" have participated voluntarily in the project by designing a UT graphic T-shirt that embodies their individual call for peace. The charity T-shirts will be available for purchase at UNIQLO stores and online from Friday, June 17, 2022.
$19.90 each
Project support members
JONATHAN ANDERSON / TADAO ANDO* / INES DE LA FRESSANGE* / AYUMU HIRANO / REI INAMOTO / KOSUKE KAWAMURA / SHINGO KUNIEDA / CHRISTOPHE LEMAIRE / HARUKI MURAKAMI* / KEI NISHIKORI / GORDON REID / KASHIWA SATO* / ADAM SCOTT / HANA TAJIMA / SHINYA YAMANAKA*
titles omitted / T-shirts designed by the people noted with an asterisk will be released on June 17, while all other designs will be released thereafter.
Tadao Ando
"The Earth is One"
In today's increasingly fragmented world, we need to reacquaint ourselves with the fact that we all live together on one single planet. That is why I have used this particular message. To achieve "The Earth is One," it is vital that each one of us thinks very carefully about what we, as individuals, can do for society.
Tadao Ando
Urbanist, Architect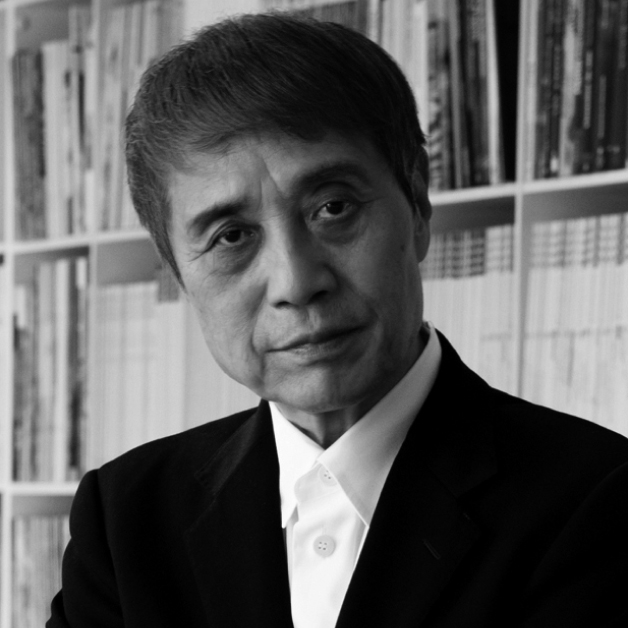 Tadao Ando founded Tadao Ando Architect & Associates in 1969, and became a professor at the University of Tokyo in 1997 and professor emeritus in 2003. His many works include Japan Pavilion for Expo '92, Church of the Light, Osaka Prefectural Chikatsu Asuka Museum, Awaji Yumebutai, Hyogo Prefectural Museum of Art, Modern Art Museum of Fort Worth, Punta della Dogana, and Bourse de Commerce.
INES DE LA FRESSANGE
"Peace for All"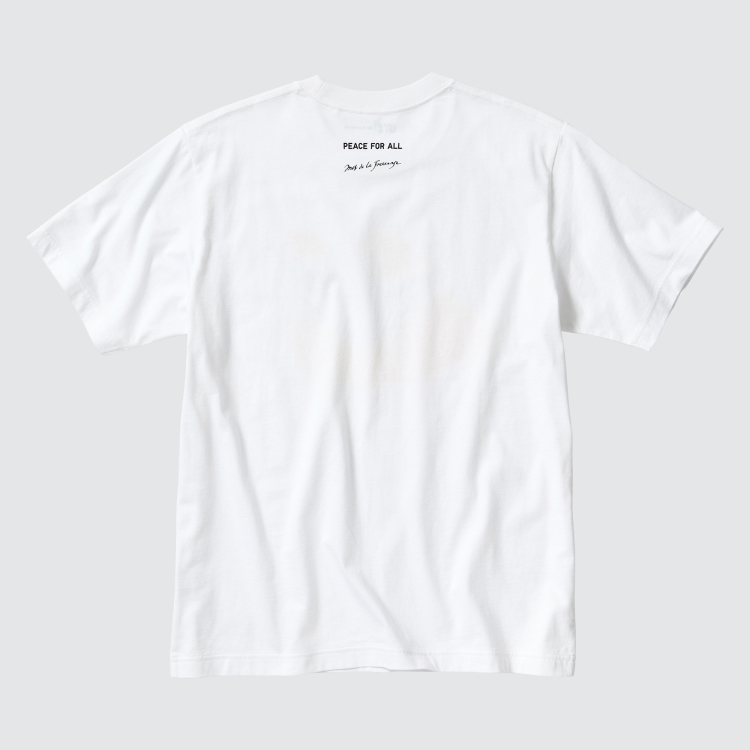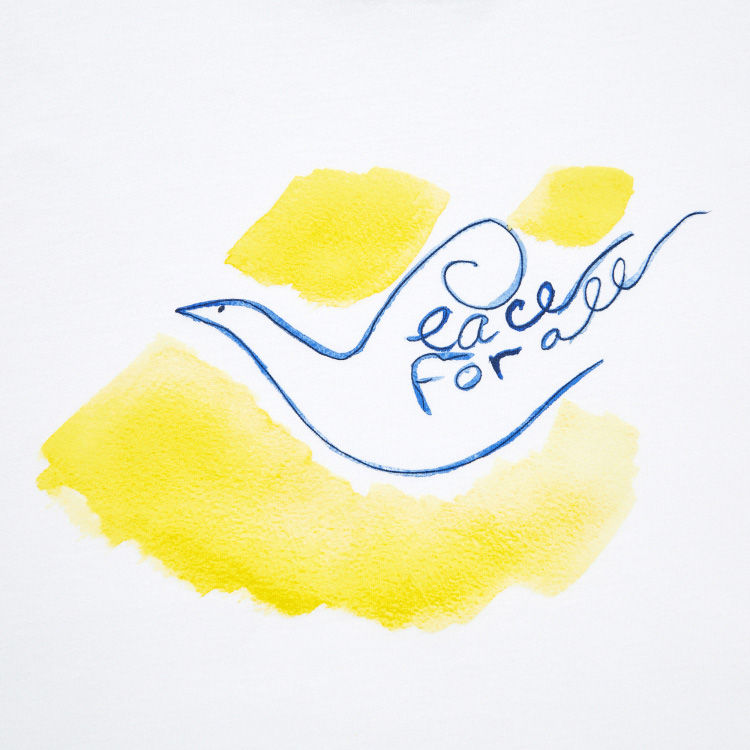 Today designers and fashion brands must be generous and think firmly about the world and about humanity. I believe people will enjoy participating in this new and ongoing commitment and expressing their views about peace in such a pacific way.
INES DE LA FRESSANGE
Model and designer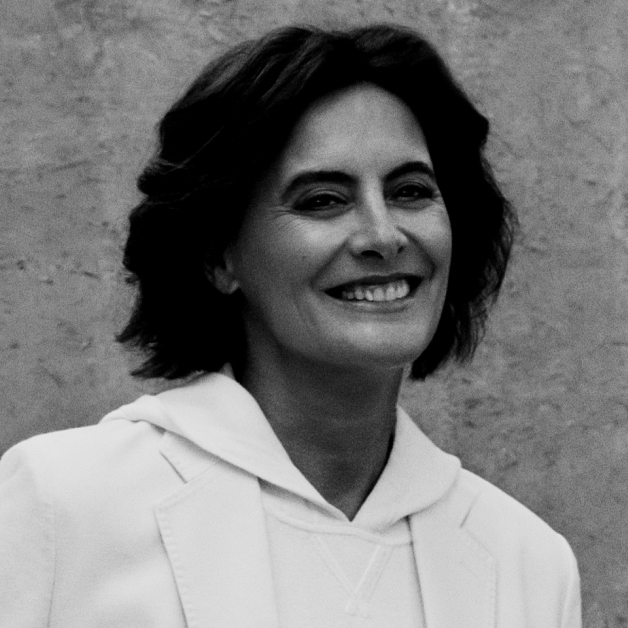 Ines de la Fressange started modeling and quickly became part of the famous and worldly known top models, walking for the biggest high fashion houses from age 17. She is a style icon and beloved muse. In 2013, she reestablished her own brand as an art director, embodying modern "Parisian chic."
Haruki Murakami
"Save humans, save cats"
I just wanted to be of some use (maybe not much, but still...) I think it would be nice to create a world in which people, and cats, can live in peace.
Haruki Murakami
Novelist
Haruki Murakami was born in 1949 in Kyoto Prefecture. Debuting in 1979 with Hear the Wind Sing, Murakami's major works include Norwegian Wood, Kafka on the Shore, and 1Q84. His work has been translated into different languages all over the world and received multiple prizes, including the Franz Kafka Prize. He has also translated many of the books that influenced him the most, including The Great Gatsby and Catcher in the Rye. He has seen Harper more times than any other movie, and also loves the novel it was based on.
Kashiwa Sato
"PEACE FOR ALL"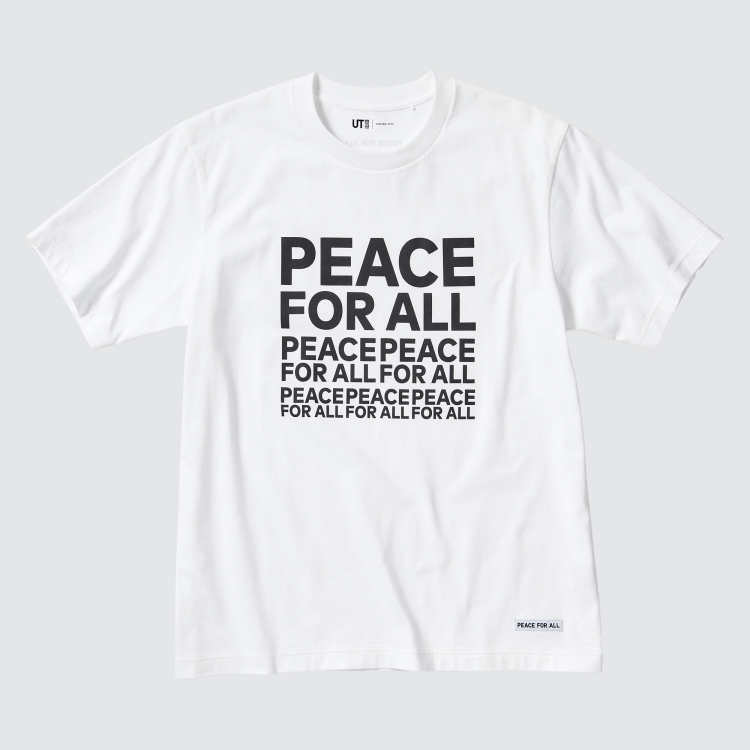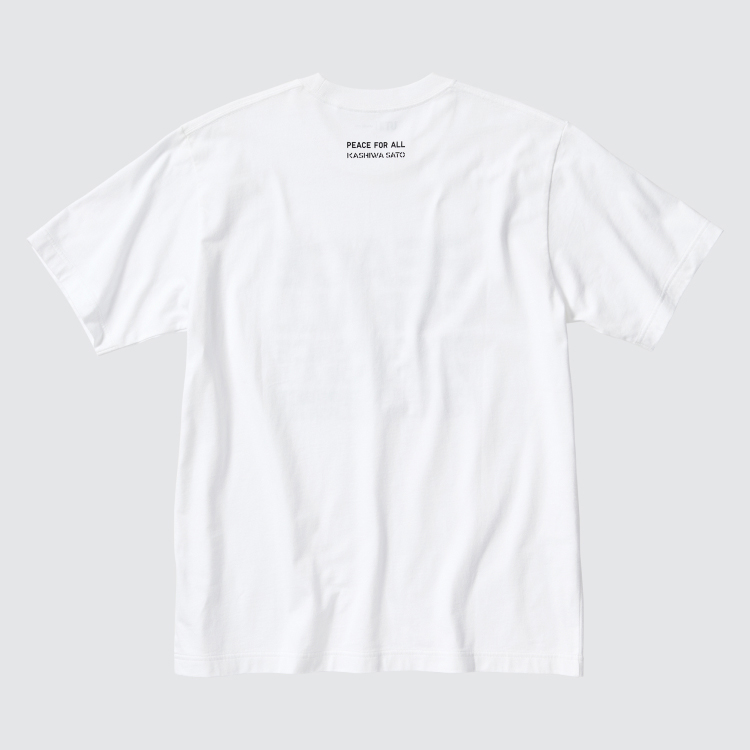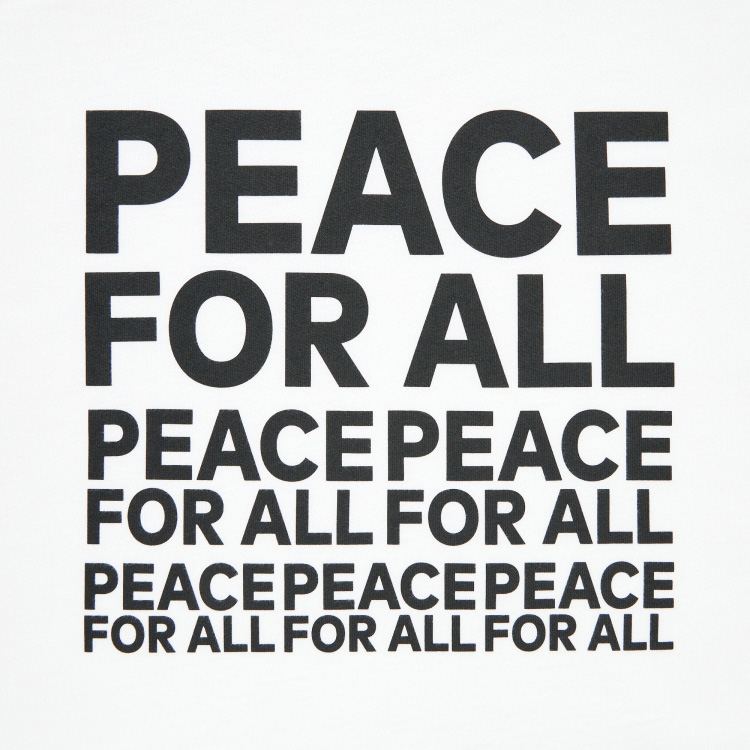 I designed my T-shirt to convey the concept of PEACE, straight and simple. The repeated call for PEACE FOR ALL represents the feelings and voices of many people worldwide. It expresses a strong and heartfelt desire for a peaceful world.
Kashiwa Sato
Creative Director
Kashiwa Sato is the Creative Director and CEO of SAMURAI INC. As a comprehensive "total producer" for brand strategies, he collaborates with a number of leading companies on different projects. He produced the launch of UNIQLO's UT brand in 2007.
Shinya Yamanaka
"Humanity must progress."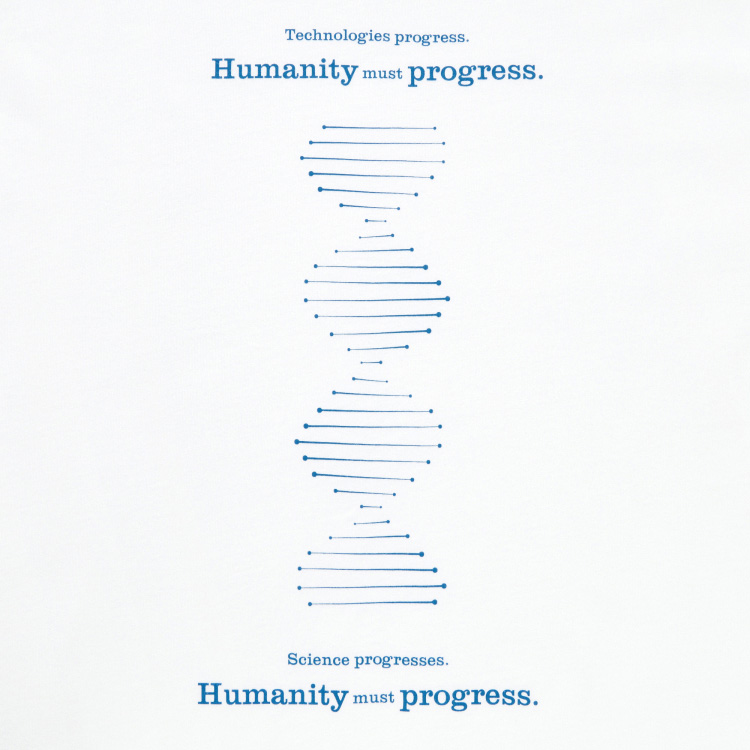 I took part because I wanted to do something useful as an individual in addition to promoting research as a physician-scientist. The ability of science and technology to change the world for the better is entirely dependent on the people who use it. So I added the message "Humanity must progress."
Shinya Yamanaka
Physician-Scientist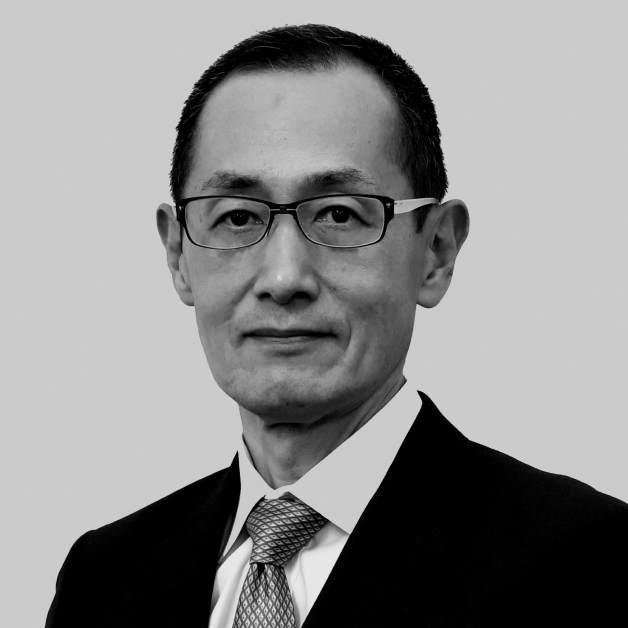 Dr. Shinya Yamanaka was awarded the Nobel Prize for Physiology or Medicine in 2012 for successfully generating induced pluripotent stem (iPS) cells from skin cells. He is a professor at the Center for iPS Cell Research and Application (CiRA) at Kyoto University, the Representative Director of the CiRA Foundation, and a Senior Investigator at the Gladstone Institutes in the United States.
Donation Recipients
All the proceeds from the charity T-shirts purchased will be donated to international organizations to support victims of poverty, discrimination, violence, conflict, and war.

UNHCR
UNHCR, the UN Refugee Agency, leads international action to protect people forced to flee because of conflict and persecution. They deliver life-saving assistance like shelter, food, and water; help safeguard fundamental human rights; and develop solutions that ensure people have a safe place to call home where they can build a better future.

Save the Children
Save the Children is an international NGO that works to make children's rights to survival, development, protection, and participation a reality worldwide. It was established in the UK in 1919 and is currently at work in approximately 120 countries.

Plan International Inc.
Plan International Inc. is an independent development and humanitarian organization that advances children's rights and equality for girls. They believe in the power and potential of every child. But this is often suppressed by poverty, violence, exclusion, and discrimination. And, it's girls who are most affected. Working together with children, young people, our supporters and partners, they strive for a just world, tackling the root causes of the challenges facing girls and all vulnerable children.
Changing our future through the power of clothing
CLOTHING SUPPORT

We donate clothing collected from customers through recycling activities to refugees in need. Working with UNHCR, NPO, and NGOs worldwide, we confirm necessary volumes, clothing types, and delivery routes, and ensure the right people are in the right place to conduct effective needs-appropriate clothing support initiatives.

DISASTER RECOVERY ASSISTANCE

After natural disasters in Japan and elsewhere around the world, UNIQLO leverages its store network to provide clothing and financial support to people in affected areas as swiftly as possible.

MAKING THE WORLD BETTER FOR FUTURE GENERATIONS

We also leverage our worldwide network to provide learning opportunities so children can fulfill their potential.

Diversity and Inclusion

Countless individuals work with us to create clothing that contributes to better living worldwide for everyone. We embrace differences and respect individuality in our commitment to building teams in which all members can excel.
PEACE FOR ALL