What if a single T-shirt had the power to spread peace?
What if a single T-shirt had the power to spread peace?
"It's time for action, in the name of world peace." Major figures who share this vision with UNIQLO have volunteered to design T-shirts embodying their peaceful wishes. All proceeds will be donated to international organisations supporting those affected by violence, discrimination, armed conflict, and poverty. The PEACE FOR ALL project is powered by each and every one of you who wear these T-shirts. Our wish is for a world in which all people can feel safe in their daily lives.
UNIQLO will continue to broaden this initiative, working with people all around the world.
*UNIQLO parent company Fast Retailing Co., Ltd. will donate an amount equivalent to all profits (no less than 20% of the selling price) equally among UNHCR, Save the Children Japan, and Plan International Inc. This sales promotion is conducted by Fast Retailing, a parent company of UNIQLO Japan.
The concept
Available from Thursday December 7th 2023
Jean-Michel Basquiat (artist) and Christopher Makos (photographer)
Cristina de Middel, Magnum Photos
Fundraising report
The total amount of funds raised from sales of T-shirts globally through the PEACE FOR ALL charity project from June 17th, 2022 - August 31st, 2023.
We would like to express our sincere gratitude to everyone who purchased a T-shirt, and to those who participated in the fundraising activities.
Total funds raised from sales of T-shirts
JPY 697,281,900
(US$ 4.77 million)
Charity organisations
All profits* from the charity T-shirts purchased will be donated to international organisations to support victims of poverty, discrimination, violence, conflict, and war.

UNHCR
UNHCR, the UN Refugee Agency, leads international action to protect people forced to flee because of conflict and persecution. They deliver life-saving assistance like shelter, food and water; help safeguard fundamental human rights; and develop solutions that ensure people have a safe place to call home where they can build a better future.
Your generous donations have supported a variety of programs.
Thanks to your kind donations, UNHCR, the UN Refugee Agency, has provided lifesaving humanitarian support to millions of forcibly displaced people in Ukraine, several neighboring countries and beyond. UNHCR is also helping Rohingya women refugees in Bangladesh rebuild their lives by learning essential livelihood skills.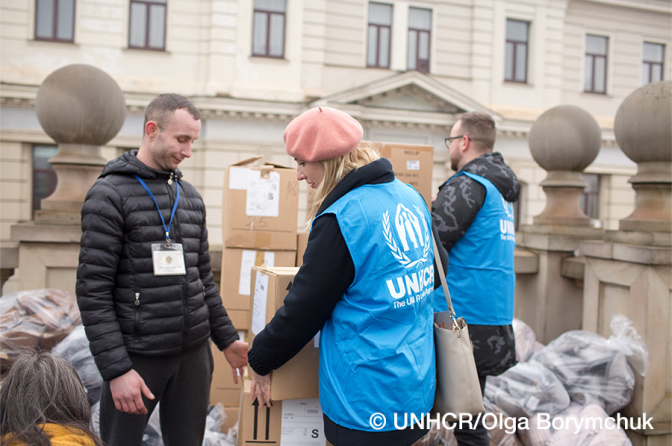 Emergency support for forcibly displaced people
Emergency relief for people forced to flee in Ukraine and neighboring countries.
Supporting the livelihood of female refugees in Bangladesh
Promoting self-reliance through the development of sewing skills and the production of sanitary products.
Save the Children
Save the Children is an international NGO that works to make children's rights to survival, development, protection and participation a reality worldwide. It was established in the UK in 1919 and is currently at work in approximately 120 countries.
Your generous donations have supported a variety of programs.
Your donations can help children grow up safe and healthy in some of the world's toughest places to be a child, such as Ukraine and other conflict-affected regions.
Emergency assistance and relief
Providing aid to countries like Ukraine facing humanitarian crises.
Educational support in Lebanon
Educational support for displaced Syrian children and vulnerable Lebanese children in North Lebanon.

Plan International
Plan International is an independent development and humanitarian organisation that aims to advance children's rights and equality for girls in more than 75 countries. They strive for a just world; working together with children, young people, their supporters, and partners.
Your generous donations have supported a variety of programs.
Donations go toward protecting girls and young women from harmful practices like child marriage, early marriage and forced marriage, and toward realising a world where girls are respected, rather than exploited, and can make their own decisions about their life. Projects in relation to eliminating child early and forced marriage is going to be implemented in Vietnam by Plan International.
Preventing child early and forced marriage (CEFM) in Vietnam
To improve the condition of boarding schools and increase the capacity for youths, parents, and teachers to protect adolescents and youths, especially girls from CEFM.
Changing our future through the power of clothing
CLOTHING SUPPORT

We donate clothing collected from customers through recycling activities to refugee camps, and other places where people are in need of clothing. Working with UNHCR, NPO and NGOs worldwide, we confirm necessary volumes, clothing types, and delivery routes, and ensure the right people are in the right place to conduct effective needs-appropriate clothing support initiatives.

DISASTER RECOVERY ASSISTANCE

After natural disasters occur in Japan and elsewhere around the world, UNIQLO leverage our store network to provide clothing and financial support to people in affected areas as swiftly as possible.

MAKING THE WORLD BETTER FOR FUTURE GENERATIONS

We also leverage our worldwide network to provide learning opportunities so children can fulfill their potential.

DIVERSITY & INCLUSION

We embrace differences and respect individuality in our commitment to building teams in which all members can excel.
PEACE FOR ALL