JEANS GUIDE
UNIQLO JEANS:
DENIM EVERYDAY.
UNIQLO jeans are designed for daily wear, no matter what's on your schedule.
ALL PRODUCTS
SKINNY FIT
ULTRA STRETCH JEANS
Our super stretchy jeans provide a flattering fit and an amazing level of comfort you might not expect from a skinny cut.
$49.90
PRODUCT FEATURES
Carefully crafted buttons and a subtle stitching color create a polished look.

The high position of the back pocket has a flattering effect.
ULTRA STRETCH COLOR JEANS
Stylish jeans made from fabric specially chosen to produce stunning colors. Our stretch satin fabric has excellent stretch and rebound for an incredibly comfortable fit.
$49.90
PRODUCT FEATURES
The removable drawstring means they can be worn without a belt for a relaxed look.

Now with even greater stretch.
SLIM FIT
SLIM FIT JEANS
Our straight-leg jeans let you enjoy that distinctive well-worn coloring right from the start.
$49.90
PRODUCT FEATURES
Details like buttons and stitching are meticulously designed to complement the vintage-style denim.

High knee position and a sleek, straight cut from knee to hem.
SELVEDGE SLIM FIT JEANS
Featuring trademark "red-ear" stitching, our selvedge denim is stretchy for a comfortable fit.
$49.90
EZY JEANS
The look of jeans with the comfort of sweats. Ultra-stretchy fabric keeps you comfortable for all-day wear.
$49.90
CRAFTSMANSHIP AND SUSTAINABILITY
Next generation jeans: Good for people and planet
UNIQLO JEANS
DYEING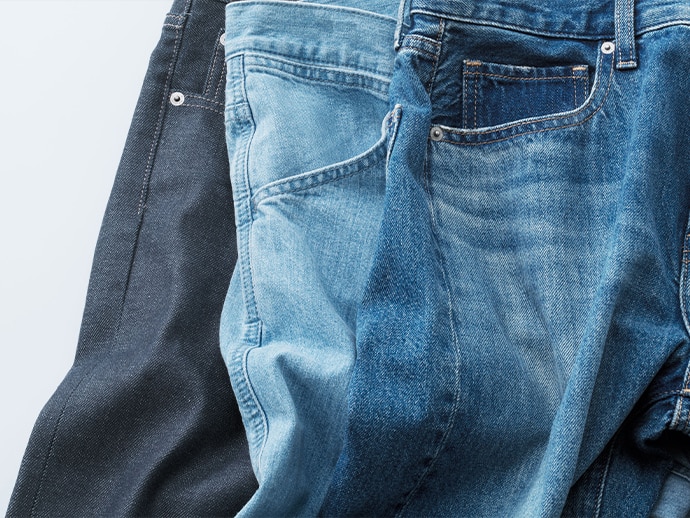 100 YEAR HISTORY OF BLUE
Denim is synonymous with casual wear that originated in the U.S. and continues to be a well-loved staple across generations. It plays a central role in UNIQLO's lineup of pants, jackets, and specially designed items made in collaboration with well-known brands. Many of our popular styles such as selvedge denim are made by Kaihara, a denim manufacturer in Hiroshima, who has been our partner since 1998.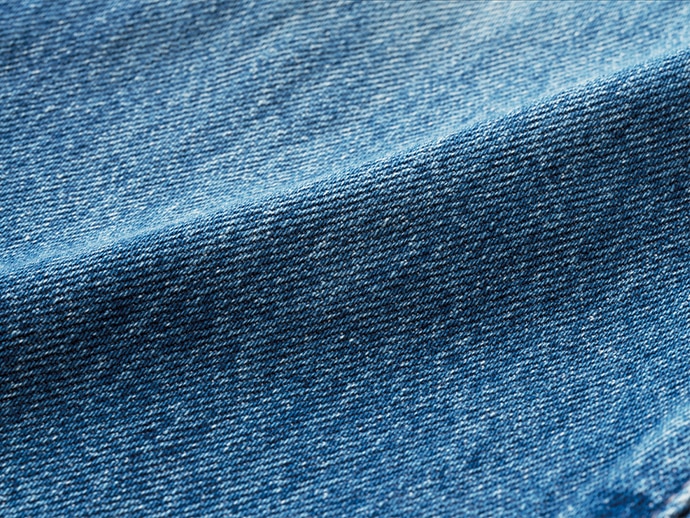 CREATED WITH OUR WORLD-RENOWNED PARTNER KAIHARA.
Kaihara has been working with Uniqlo since 1998. Established in 1893, Kaihara is Japan's top manufacturer that expertly handles every step of the denim production process in-house, from spinning to dyeing to processing. The name "Kaihara denim" has become a global standard of excellence and they receive frequent collaboration requests from famous designer brands. Uniqlo and Kaihara have jointly developed fabric and created a wide variety of denim products together.
EXCLUSIVE KAIHARA TECHNOLOGY CREATES A CHARACTER LIKE NO OTHER.
Kaihara is especially known for their inimitable, premium dyeing technology. The beauty of Kaihara denim comes across in the gorgeous signature fading like vintage jeans that is crafted with repeated wear. This technique is made possible with deep indigo on the surface, with a large portion of the core kept white. Kaihara's superior technology can also be seen in the consistent quality they reproduce across a wide range of models, each with hundreds and thousands of pieces released every season.
TEXTURE
CUTTING-EDGE LASER TREATMENTS CREATE A VINTAGE LOOK.
Denim has been called out for its heavy impact on the environment, due to the large amount of water needed during the indigo dyeing and washing processes. UNIQLO and Kaihara tackled this issue head-on, conducting numerous experiments to resolve the challenges one by one, and continue to make improvements, including the introduction of a state-of-the-art laser machine. We have succeeded in reducing the amount of water used during processing by up to 99%*. (Comparison of Men's Regular Fit Jeans in 2017 and the same model in 2018. The amount of water reduction varies by product.)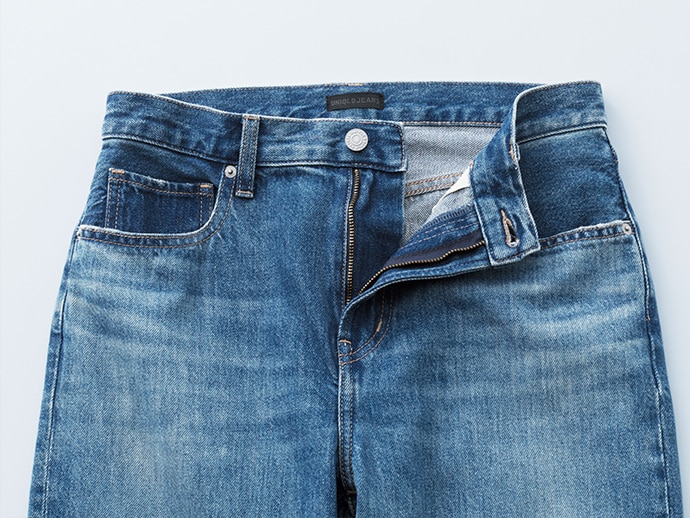 THE NEW WAY TO DISTRES
SINCE 2016, Our Jeans Innovation Center conducts experiments and research to create even better denim products. The laser machine used to "distress" our jeans reduces human labor and the potential harm caused by chemicals and dust. We apply data for distressing bespoke for each item and apply laser treatments for achieving a natural worn look on the front and back panels.
CONSIDERING OUR FUTURE WITH OUR MATERIALS
We incorporate recycled materials for our finishing details, like the button. While maintaining the look, part of the material has been changed from brass to aluminum to reduce the surface finishing process, conserving up to 60% of the water needed compared to our conventional products. We conduct a review every season to select the best supplemental materials.
ONLY A TEA CUP OF WATER MEAN 99% REDUCTION IN WATER USAGE.
Previously, a large amount of water was used in the washing process that is essential to creating a premium texture. We needed to make fundamental improvements and introduced a washing machine that allows "ozone gas washing" and "nanobubble washing" that uses virtually no water. By combining these, we succeeded in reducing water usage by up to 99%* while maintaining the quality of jeans. (Comparison of Men's Regular Fit Jeans in 2017 and the same model in 2018. The amount of water reduction varies by product.) We are now able to finish jeans with a small amount of water that is equivalent to approximately one tea cup.
UNIQLO JEANS: OUR COMMITMENT TO CRAFTSMANSHIP
MASAAKI MATSUBARA, DIRECTOR,
JEANS INNOVATION CENTER

UNIQLO JEANS: OUR COMMITMENT TO CRAFTSMANSHIP
JODY DAILEY, WOMEN'S DENIM DESIGNER,
JEANS INNOVATION CENTER
1
Water usage reduced by up to 99%* (during the finishing process). Jeans are finished using just a single tea cup of water.
2
Laser machines produce the distinctive denim texture. This drastically reduces work previously performed manually, reducing the physical strain on our factory workers.
FROM MANUAL TO MACHINE PROCESSING

LASER DISTRESSING
*Comparison of 2017 and 2018 versions of Men's Regular Fit Jeans. The amount of water reduction varies by product.
SUSTAINABLE CRAFTSMANSHIP
Jeans for the planet.
IT ALL STARTS AT OUR
JEANS INNOVATION CENTR

Our Jeans Innovation Center in LA was
established in 2017
as a hub for jeans research
and development.

DEVELOPING NEW FABRIC WITH THE
WORLD'S TOP DENIM MANUFACTURERS

We've partnered with world-renowned denim manufacturers like Kaihara and ISKO.

NEXT-GENERATION JEANS TECHNOLOGY:
GOOD FOR PEOPLE AND PLANET

Water usage reduced by up to 99%* (during the finishing process). Jeans are finished using just a single tea cup of water, without compromising on quality. Vintage-style effects produced by laser processing to reduce manual work.