Empowering children to build their future
Roger Federer in conversation with Tadashi Yanai
January 2023, issue 24
Paving the way for the future through support for children.
Tennis legend Roger Federer, whose foundation focuses on childhood education, and Tadashi Yanai, an enthusiastic supporter of the next generation, discussed the importance of helping kids, while reflecting on their own personal experiences. Their talk begins with two photos from their early years (mid-page).
Photographs by Takashi Hirukawa
Tadashi Yanai: It looks like you were pretty cool from a young age.
Roger Federer: That photo was taken in the mid-eighties. My racket was made of wood, and the tennis ball isn't yellow, it's white. I have my parents to thank for helping me get such an early start on the tennis court. It reminds me of how you've said you grew up surrounded by clothing, Mr. Yanai. Seems like you were a pretty cool kid yourself.
Yanai: My father ran a men's clothing shop. This is a shot of the yard behind the store. I had just entered elementary school and was extremely shy. My father was a very strict man. In Japan, we have a saying for fathers who are always screaming at their kids—"kaminari oyaji," which means thunder dads. He was a textbook example. Since our house and the shop were connected, I was scolded from dawn until dusk, no matter what I did or didn't do.
I would imagine that the fact you were exhibiting your talents from an early age saved you from that kind of experience, Roger.
RF: It's true, my father never got upset and yelled. To support me in my training, he spent extra time with me on the weekends, putting up with all kinds of nonsense. This story should give you an idea: my dad was driving us home along a snowy mountain road from a junior tournament I'd lost. I was having a tantrum, crying, and moaning away. Then my dad slowly pulled off the road into the snow. "Get out," he said. "There's something I'd like you to see." So, I squinted, unsure what I was supposed to be looking at, and he pressed my face into a snowbank! Stop moaning about the game and cool your head off, he told me. He didn't sound upset. That's what snapped me out of it.
In your case, since the house was connected to the shop, I guess "thunder dad" was always nearby.
Yanai: That's right. No escape! But I found the store fascinating. The grown ups who worked there lived there too, and customers and my dad's friends were always coming by. There were adults around all the time. I knew I was a kid, but I was raised in a way that didn't leave much room for feeling like a child. Shy as I was, I have my upbringing to thank for what became my forthright personality.
RF: And that standalone men's clothing store eventually grew into an international brand.
I was scolded, no matter what I did or didn't do.
Tadashi Yanai (left) as a young man with his father Hitoshi Yanai, who managed the men's clothing shop Ogori Shoji in Ube, Yamaguchi Prefecture.
"Stop moaning about the game", he told me.
Roger's parents met at Ciba-Geigy, the pharmaceutical manufacturer where his father worked. Roger first picked up a racket in 1984.
Yanai: It all goes back to travelling the world in my late teens. I entered college in the late 1960s, you see. My first summer as a college student I spent travelling around South East Asia. Along the way, I hopped on a boat and took seminars with the Waseda University Study Abroad at Sea Program. I saw Hong Kong, Singapore, Kuala Lumpur, Bangkok. During my second year at Waseda, the student protests became so intense the university had to shut down. Back then, I gravitated toward the hippies and youth culture of the U.S., so I went there as my first stop on a tour of the world. When I asked my dad to help with my expenses, he agreed to pay for everything. I am so incredibly grateful to this day.
That trip began in Yokohama, where I boarded the American President Lines ship the President Wilson, bound for San Francisco. I could go on about that trip all day long. I will say this, though. My 100-day journey gave me a panoramic view of how the world was at that moment in time. I had the chance to witness extreme poverty. There's no doubt in my mind that there's a through line between these experiences and our efforts to open stores globally.
RF: I can say from personal experience that travel helps to build a young person's character. My daughters were born while we were on tour, and we've since travelled the world together. Watching kids, it's evident how much is to be gained from travel.
When I was young, our family spent a month or two each summer in my mother's home country of South Africa. We had some good times but being there also gave me a sense of the struggles people in Africa were facing. I was keenly aware of people suffering.
Yanai: Kids can be really perceptive.
UNIQLO LifeWear Day Tokyo 2022 with Roger Federer, November 19th 2022, paid homage to the grand achievements of this UNIQLO Global Brand Ambassador who recently retired from professional tennis. Federer connected with kids—the next generation of players—on the court before a live crowd at Tokyo's Ariake Coliseum.
Living apart from family
Yanai: That reminds me, Roger, I hear you spent some time as a young man living apart from your family, in a place where you didn't speak the language.
RF: I did indeed. At fourteen, I decided to leave home. I wanted to take my tennis to the next level. I didn't actually leave Switzerland, however. The city I grew up in, Basel, is in a German-speaking part of the country, while the place I moved to was Ecublens, a French-speaking region. I was living in a homestay with a local family, and between there and school, I had to speak, read, and write in French all day long. Trouble is, I couldn't speak a word of it. For the first nine months, I was always crying on my own, no parents, no friends, unable to communicate. But the two years I spent living in the care of my homestay family is what gave me the boost I needed to transition to pro at age sixteen.
Yanai: Something I find so impressive about you is how you always look so cheerful, no matter the challenge. It sounds like you made it out of those two years in Ecublens a stronger person.
RF: Maybe so. In the beginning, there was no way of telling how things would turn out, but I was surrounded by good coaches and a kind host family, and couldn't waste my time with tantrums like I had back home, so I had no choice but to become strong and independent. It taught me so much about so many different things.
Yanai: In a tennis match, it all comes down to the individual. That's one way in which your sport is very different from the fashion industry. Business is a team effort. The last thing you want is conflicting mentalities or ideas about how to put clothes into the hands of customers.
In sports, you have an opponent. Someone wins and someone loses. There's a score. The record is right there, for all to see.
RF: Good point. There's always going to be a challenge, some goal to meet. When you lose, you need to learn from it, to understand the loss. This requires modesty, admitting when your opponent was stronger, or when you made a mistake.
Yanai: In business, it's no use fixating on success. Failure is the norm. Every experience with failure is another opportunity to figure out where you have failed and learn another lesson. It opens up the mind.
RF: Sometimes in business you don't realise that you've failed until much later. At least with sports, you find out on the spot. This can cause a lot of stress and loss of confidence among pro athletes. No one likes the way it feels to lose. And if you keep on losing, it can do serious damage. When that happens, finding motivation in your memories of times you did actually win can help you break the cycle.
Yanai: Fascinating. It's certainly true that in the world of business, there's no clear standard for success or failure. Sometimes you need to take the long view and accept failure for a while. For every mistake, there is someone out there in the world who would see it as, in some way, a success.
I wanted to contribute to causes that went deeper and wider.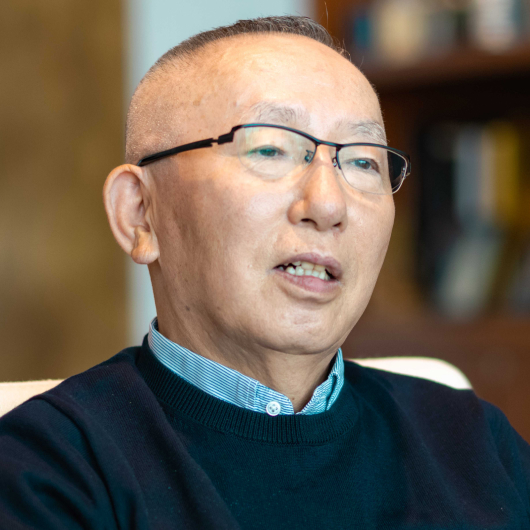 Figure out where you failed. Make it a lesson. It opens up the mind.
Education as the ultimate self-help
Yanai: In 2003, after taking your first title at Wimbledon, you set up the Roger Federer Foundation. At the time you were just 22 years old, and you centred the foundation's efforts on helping disadvantaged children. I must say, you have done wonders.
RF: Since going pro, I'd been receiving opportunities to do philanthropic work. Touring the world gave me no small number of reminders of how many children live in poverty. This made me want to contribute to a cause that would go deeper and wider, even if it took some time to get there.
RF: That's how I decided to focus on supporting early-childhood education. Some of this was informed by my experiences in South Africa, but gradually I'd come to realise that throughout the African continent, access to education varies for kids a great deal, depending on the country and the area.
Education is the best way we can help ourselves. By empowering each individual child, we can strengthen children as a whole. Someday, these kids may want to give back to the world that helped them. The influence of education goes well beyond the growth of individuals. It lasts into the future.
Yanai: To be sure, growing up in an economically depressed environment increases your chances of not receiving a complete education. Families short on food and clothing have to struggle to survive, sometimes sending children off to work rather than school. Once you are caught in this downward spiral, educational opportunities slip further and further away.
RF: As a result of the school closures caused by the pandemic, children lost access to school lunch programs. In some places, it's not uncommon for a freshly cooked school lunch to be the most nutritious meal a child eats all day. In that sense, the coronavirus crisis is also a nutritional and educational crisis for kids.
The flooding that battered Zambia this past January (2022) prevented children from attending school as well. All kinds of things can get between children and school.
Yanai: The situation faced by child refugees is also quite severe. These children have no home or school to go to. At present, it's estimated that over 100 million people globally are displaced. Twenty or so years ago, when we first launched our refugee support programs, these numbers were less than a third of what they are today.
Even then, the numbers were astounding. Today, they have risen to dire levels.
RF: Having to leave behind your house and all of your possessions and escape life as you knew it until just a day before is something too intense for any child to process.
Yanai: It's all that they can do to stay alive, when they deserve to play like other kids.
Mentorship matters
Yanai: Roger, it couldn't have been easy doing philanthropic work alongside your tennis career. What got you started on that track?
RF: I was 22 at the time, and lucky enough to have more experienced folks and mentors in my life who gave me good advice. My parents, wife, and coaches all spend a great deal of time helping me decide what I should do. Having family and connection in my life, mentors especially, has been the key to growth for me. They've been a valuable source of companionship, teaching me to look up from the tennis court and see and listen to what's happening in the world.
It doesn't have to always be so serious. Going to a concert, or walking around a museum, or meeting someone new all teach you more about the world. I've also been lucky enough to travel widely. This has been a major factor in broadening my perspective.
Yanai: It makes sense that cultivating broad-mindedness, or openheartedness, would serve you well going forward.
RF: You're only a pro tennis player for a short time. That's why you have to make the most of it. Which is exactly why some people focus only on the tennis, thinking of nothing else. If I can claim one strength, I'd say it's balance. I'm able to switch as needed between a hungry mode where tennis is everything, and a relaxed state where I make myself available and take in new ideas. You're able to switch back and forth like this though, too, right, Mr. Yanai?
Yanai: I leave the house at six in the morning and get to the office twenty minutes later. Then I begin my work for the day. At three in the afternoon, I go home. That's when I switch off. There is this idea that Japanese businessmen work late, go out to eat with coworkers, and even head back to the office afterwards, but most people don't have the energy or focus to sustain that.
RF: Success in tennis is all about how well you take care of your body. Any kind of excess is a no-no. You have to get your rest. Office work doesn't usually involve strenuous exercise, so it has a way of dragging on forever. Unless you set clear boundaries, you can't top off and replenish the energy you need, and the ideas start drying up. It's a vicious cycle. If the head of an office has what it takes to be a mentor, they'll know when to tell their staff "This is a good time to rest."
Yanai: Bosses at big corporations in Japan tend to take the lead and work late, setting an example. Though if you look at this in terms of results, it's just a waste of time.
RF: I have several different mentors, my fitness coach and tennis coach included. It's not like I just follow orders, though. Sometimes, sure, I'll accept what they say and continue, but other times I'll have misgivings and we'll talk it over. Occasionally, I'll ask another coach for a second opinion. That's why I think it's so important not to swallow everything a mentor says, but to digest it and make the decision for yourself.
Opening tiny windows
Yanai: Most people out there probably wonder where all of these mentors are hiding. If you seek them out, you are sure to find them. If you discover someone who you think you would like to talk to, contact them and ask if they would be willing to meet. I think that's the way to go.
RF: Sometimes people ask me, "What can a coach teach you?" To be frank, even if you take away just 1% of what a coach might tell you, that's enough. That 1% contains the chance to grow. Don't worry about integrating every little tip and trick. The idea is to open up these little windows—letting in fresh air.
Yanai: Where have your windows been directing your attention?
RF: Since announcing my retirement at the last Laver Cup in London, I've been looking back on my career thus far. I feel so fortunate about the last 24 years. Since life goes on from here, I'd like to think things over carefully. There are so many meaningful causes. Impactful activities. Inclusive projects. Exciting ideas. It's fun to think about. Right now, though, what matters most is spending more time with my family. As an ambassador for UNIQLO, I'm participating in a project aimed at nurturing the next generation. More details on that to come.
Yanai: Thanks so much, Roger. Your openness and resilience have opened up so many exciting possibilities. You have set an example for how to proceed in the right direction while taking others along with you. At this point, nobody would contest your status as a genius of tennis, but I would say you're a genius of life. The canvas of your life has barely been filled in. We look forward to seeing the picture take shape.
RF: Thank you so much. I'm looking forward to it too.
UNIQLO is launching an exciting new project:
The UNIQLO Next Generation Development Program.
To further our support of children all around the world, we are unveiling a diverse array of programs, in collaboration with leading organisations and top-tier athletes like Global Brand Ambassadors Roger Federer, Kei Nishikori, Shingo Kunieda, Gordon Reid, Adam Scott, and Ayumu Hirano. Led by Roger's example, we are in the planning stages of initiatives that embody his goals and values. You can look forward to hearing more in 2023 about our shared initiatives with Roger involving tennis, creativity, and culture.
Roger Federer
Born August 8, 1981 in Basel, Switzerland.
Participated in his first ATP (Association of Tennis Professionals) tour in 1998. In 2004, he became the world No. 1 for the first time, holding the position for a record 237 weeks.
He has won a record twenty Grand Slam single titles, including a record eight Wimbledon titles. At the London Laver Cup in September 2022, Roger announced his retirement from tennis.
Tadashi Yanai
Born February 7, 1949 in Ube, Yamaguchi Prefecture.
Chairman, President and CEO of Fast Retailing Co., Ltd., and Chairman, President and CEO, Founder of UNIQLO. Actively involved in refugee relief efforts in partnership with UNHCR, the UN Refugee Agency, and programs for increasing sustainability.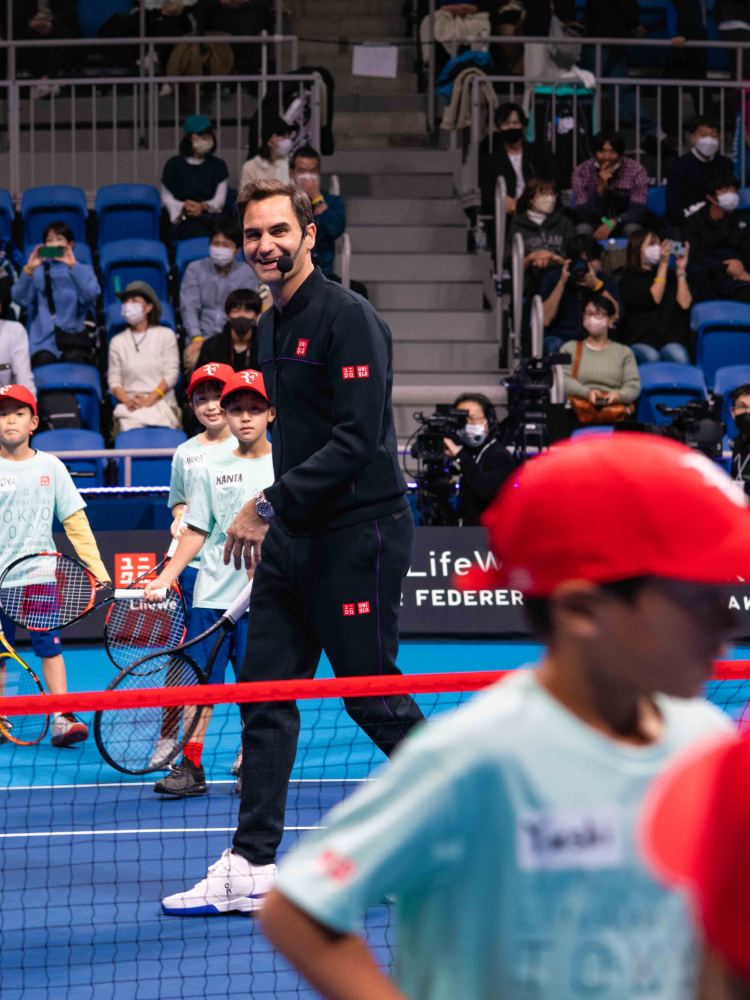 An event at Tokyo's Ariake Coliseum, where Roger Federer held a children's tennis clinic with around fifty elementary school students. Tennis player Kei Nishikori and wheelchair tennis players Shingo Kunieda and Gordon Reid, all UNIQLO Global Brand Ambassadors, also joined special tennis sessions.
Excerpts can be viewed below until February 18th 2023.
https://www.uniqlo.com/us/en/special-feature/live-station/25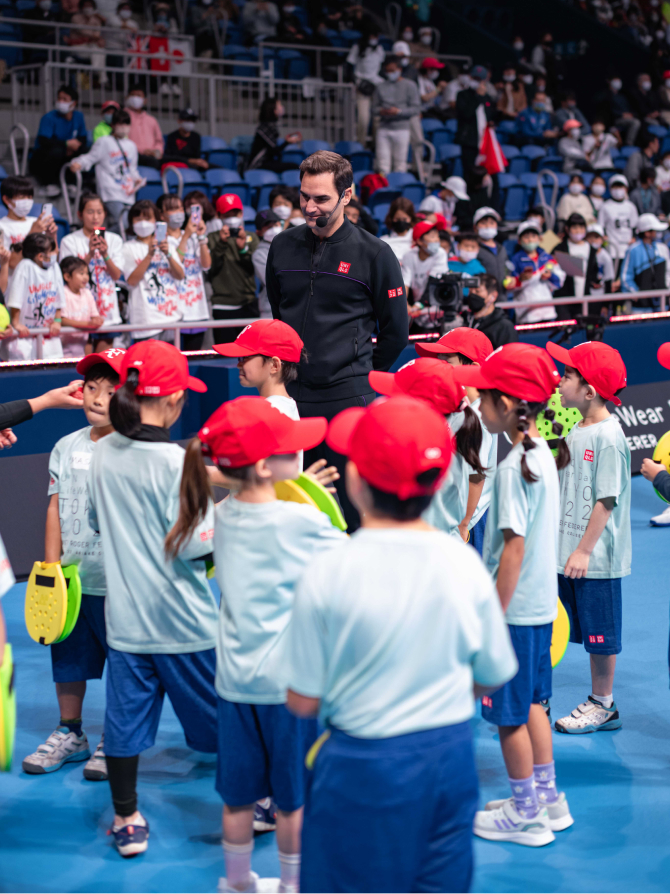 Peace for All progress report
Thank you for your ongoing support. Here is a summary of how your donations are being used, through the voices of three partner organisations.
Total funds raised from sales of T-shirts*
*As of August 31, 2022
| | |
| --- | --- |
| Total funds raised from sales of T-shirts | 145,314,300 JPY |
| Fundraising activity at UNIQLO stores | 2,843,928 JPY |
All proceeds from the sale of charity T-shirts will be distributed equally among UNHCR, Save the Children, and Plan International.
Nothing will sprout if you don't sow seeds. And the smallest sprout can turn into a forest.
Akiko Takai
Secretary General, Save the Children Japan
Our organisation, Save the Children, was founded in the wake of the First World War by a British woman named Eglantyne Jebb. Transcending the paradigm of enemies and allies, we began as a program for supporting children experiencing hunger.
One in six children worldwide is now living in an area affected by armed conflict. That's 450 million children globally. This is an unimaginably high number.
The phrase "PEACE FOR ALL" speaks to what we have been doing for over a century. It contains echoes of restoring peace, and helping children forced to live through war to live a normal childhood. I'm so thankful we're able to collaborate on a heartening project like this.
I love how anybody can participate. All you have to do is choose a T-shirt designed by your favourite artist. T-shirts are a great way to share a message. And if you'd rather wear the shirt under something else, you can carry that message close to your heart. T-shirts may be a modest starting point, but they can lead to worldwide change. Nothing will sprout if you don't sow seeds. In this case, the seeds are T-shirts. And the smallest sprout, raised carefully, can someday turn into a forest.
Donations will be used to assist children living in distressed regions such as Ukraine and countries hosting Ukrainian refugees, as well as Afghanistan, Bangladesh, Turkey, Lebanon and Mozambique.
They'll also help us establish "Child Friendly Spaces" (CFS). In the unfamiliar environs of a refugee camp, children have a hard time playing comfortably. Many have very difficult experiences. These are spaces where kids can feel like kids, where they don't have to feel anxious, where they can run around and shout and be themselves. Our aim is to create CFSs in evacuation centers, so that these children can have their childhoods back.
A private not-for-profit international organisation, working towards a world where children's rights are a reality.
Save the Children
Founded in 1919, Save the Children ventures to support the children of the world. Founder Eglantyne Jebb drafted the Geneva Declaration of the Rights of the Child, the first international document promoting children's rights. This concept is what eventually led to the UNCRC (UN Convention on the Rights of the Child). Working towards a world where all children can maintain the right to live, the right to grow, and the right to be protected and included in society, they host child aid efforts in around 120 countries. A pioneer in children's rights, they are recognised by the UN and national governments for their expertise and continue to effect revolutionary change worldwide, anywhere children can be found.
https://www.savethechildren.org.uk/
©Seyba Keita / Save the Children
The schools in Mali receiving support call for washing hands before entering the room.
Not just a T-shirt, but a T-shirt with an important purpose.
Olaf Tchongrack
Senior Corporate Partnerships Officer, UNHCR
I'm in Poland, near the Ukraine border, where still today, refugees from Ukraine continue to arrive, seeking safety. With great thanks to support from our private sector donors, such as UNIQLO and its customers, we at UNHCR, the UN Refugee Agency, have been able to help refugee families here in dire need: from cash support, to psychosocial counselling or equipping reception centres for new arrivals, who are mainly women and children. I can see the real and concrete impact of our partnership with UNIQLO.
For over ten years, UNHCR has been proud to work with UNIQLO, collaborating to help people who've been forced from their homes. As more and more families become forcibly displaced, not only in this region but around the world, this support becomes increasingly vital.
From donating millions of pieces of clothing to emergency aid, UNIQLO has provided much needed assistance to UNHCR and the people that we serve. To further engage and mobilise support, they have shared refugee stories and the great work of our partnership with their customers, both in-store and online.

The UNIQLO PEACE FOR ALL campaign is also reaching global audiences with its call to make the world a better place. The PEACE FOR ALL T-shirts are more than just apparel; they are symbols of solidarity and inclusion. Thousands of people wear these shirts, in so many different countries. UNIQLO is ensuring that the campaign's positive messages of peace and unity are seen and heard.
The donations from the PEACE FOR ALL campaign have been an additional source of funding alongside the company's ongoing support, and will help UNHCR continue to provide lifesaving humanitarian assistance to forcibly displaced populations in emergency areas such as Afghanistan, Bangladesh, Burkina Faso, the Democratic Republic of the Congo, Ethiopia, Myanmar, Nigeria, Pakistan, and Ukraine. With more than 100 million people forcibly displaced around the world, a staggering figure that sadly continues to rise each year, we increasingly look to our partners such as UNIQLO for their innovation, generosity, and collective action.
The private sector has played a crucial role in both humanitarian response and developing sustainable solutions for those who need it most. We are grateful to UNIQLO for its longstanding commitment and support and we look forward to continuing our work together to help people forced to flee.
Protecting people forced to flee their homes because of conflict and persecution.

UNHCR
UNHCR, the UN Refugee Agency, leads international action to protect people forced to flee their homes because of conflict and persecution. They deliver life-saving assistance like shelter, food and water; help safeguard fundamental human rights; and develop solutions that ensure people have a safe place to call home where they can build a better future. Learn more at
https://www.unhcr.org
©UNHCR/William Ejalu
Delivering relief supplies to Somalis stranded by a flood.
Girls should be able to choose a path. We're here to help.
Colin Rogers
Head of Disaster Preparedness & Response, Plan International Global Hub
Our focus is helping children, and especially girls, who are living in difficult circumstances. By providing educational opportunities, along with occupational training, we're helping to ensure that these girls have a say in shaping their own lives.
In regions and countries where girls are not afforded regular educational opportunities, they're often forced to drop out early or even marry at as young as eleven years old. Many parents and families believe that marriage will safeguard these girls, but in practice they're all too often exposed to violence and abuse no child should ever have to experience.
Education is a time of preparation, when you can determine the course of your life, as well as a chance to expand your options for how to live. It's also a core principle of social equality. Childhood should be about enjoying your younger years, cultivating dreams, and playing freely.
Large numbers of children worldwide suffer from food insecurity. But if school lunch programs were more robust and accessible, it would go a long way toward retaining students through graduation. Reinforcing school lunch programs is one of our big interests.
If we can use this tool to help children receive a complete education, they may go on to become leaders, politicians, educators and decision makers in their communities and beyond. This increases the chances of them contributing to the betterment and health of society in the future.
By wearing a T-shirt from the PEACE FOR ALL collection, you can spread the word about world peace and help to motivate others around you. This is more than just a mere donation; it has the potential to become a powerful movement. UNIQLO has the means to create change like this across the globe. Our hope is to continue to help shed light on humanitarian crises that deserve greater attention, thereby securing aid for those in need. It's so exciting to consider the connections that will come from people wearing these T-shirts.
Supporting the advancement of rights for girls facing poverty and discrimination.
Plan International
Founded in 1937 by British journalist John Langdon Davies and his friend Eric Muggeridge as the Foster Parents Plan for Children in Spain, Plan International started with an orphanage for housing children who lost their parents in the Spanish Civil War. During World War II, they focused on relief in France and England, before expanding globally. Following European reconstruction postwar, operations were recentred on the developing countries of Asia, Africa and South America. An international NGO, their aim is to improve living conditions for children, with an emphasis on helping girls and women.
https://plan-international.org/
©Plan International
Vietnamese children talking about stopping marriage at an early age.
A single T-shirt has the power to spread peace.
It's time for action, in the name of world peace. Major global figures who share this vision with UNIQLO have volunteered to design T-shirts embodying their peaceful wishes. All proceeds are donated to international organisations supporting those affected by violence, discrimination, armed conflict, and poverty. The PEACE FOR ALL project is powered by each and every one of you who wears these T-shirts.
Our wish is for a world in which all people can feel safe in their daily lives. UNIQLO will continue to broaden this initiative, working with people all around the world.