Introducing a new UT collaboration items with Louvre Museum in Paris. For men, masterpieces such as "Mona Lisa" have been reinterpreted by graphic design master Peter Saville, and for women, various women have been captured with the concept of diversity.
The Relationship between Art and Graphics as explained by Peter Saville
© PETER SAVILLE
Peter Saville said he first visited Musée du Louvre in the early 1980s. Among the many works of art displayed at this museum, he was particularly moved by the 'Samothrace's Nike' statue which he chose as a motif in this collection, called "Musée du Louvre: Art and Logic by PETER SAVILLE". He focused on the inventory number of each work as an approach to designing and combined these numbers, along with exquisite color balances, to create new designs. In explaining this approach, Saville said, "I'd been told the Mona Lisa, possibly the most well-known painting in western society was internally known or sometimes referred to at the museum by its inventory number, Painting No.779. This stuck with me as there is a frisson of exquisite irony in the context of a painting being catalogued with a number then within the culture of the museum becoming known by the number." Saville thinks that T-shirts are very important canvasses for self-expression. He added, "It will be an interesting experience to connect with the works of art and express yourself."
The Winged Victory of Samothrace / Hellenistic Art (C. 190 BC), Island of Samothrace (northern Aegean)
© Musée du Louvre, Dist. RMN-Grand Palais / Philippe Fuzeau
© PETER SAVILLE
Psyche Revived by Cupid's Kiss / Antonio CANOVA
© RMN-Grand Palais (Musée du Louvre) / René-Gabriel Ojéda
© PETER SAVILLE
Women's Collection Depicting Strong Women with Cores as Beautiful as Flowers
Women's collection, Musée du Louvre: Blossoms of Diversity combines paintings with female motifs such as "Mona Lisa", "Madonna and Child with Saint John the Baptist", "The Valpinçon Bather" and "La Belle Ferronnière" with colorful flowers. In the sweatshirt, world-famous sculptures and paintings such as "Venus de Milo", The Virgin and Child with Saint Anne", and "The Winged Victory of Samothrace" are expressed as line-art. The result is a fresh and modern impression.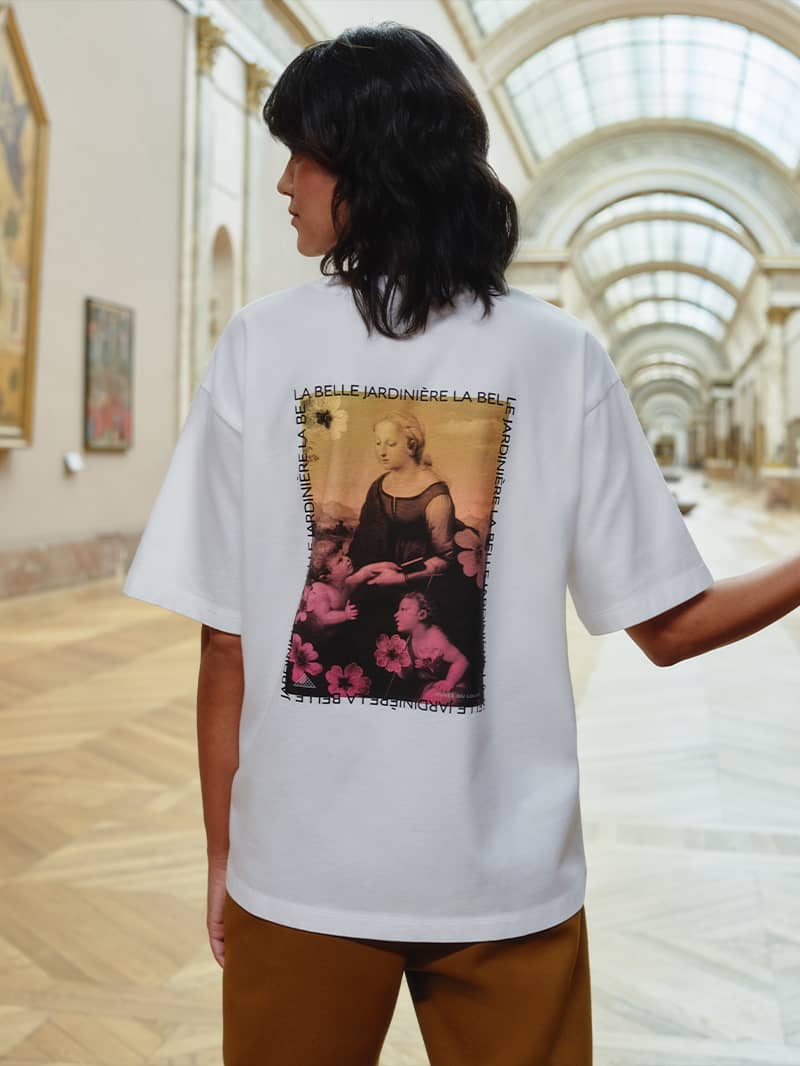 La Belle Jardinière – Madonna and Child with Saint John the Baptist / Raffaello SANTI, known as Raphael
© RMN-Grand Palais (Musée du Louvre) / Franck Raux
Flowers, Shells, Butterflies, and Grasshopper / Balthasar van der AST
© RMN-Grand Palais (Musée du Louvre) / Tony Querrec
The Virgin and Child with Saint Anne / Leonardo DA VINCI
(Musée du Louvre)
Aphrodite, known as the "Venus de Milo"/ Hellenistic Art (C. 100 BC), Island of Melos (Cyclades, Greece)
(Musée du Louvre)
【About the partnership of UNIQLO and Louvre Museum】
Starting spring 2021, UNIQLO will take over sponsorship of the Free Saturday Nights program that began in January 2019. Designed as unique, festive occasions, these night openings are aimed at encouraging new visitors to learn about the Louvre and its artworks in a more relaxed environment. For this purpose, the museum's opening hours are extended on the first Saturday of each month from 6 p.m. to 9:45 p.m. Visitors are invited to wander through the three wings of the Louvre, discovering masterpieces of art history and the little-known corners of the former palace of the kings of France.The UNIQLO partnership with the Louvre also includes support of the Mini-Discovery Tour, a new format launched by the Louvre in July 2020. Mostly dedicated to families, these 20 minutes guided tours will take place on Wednesdays, Saturdays and Sundays.
For more information about the partnership, including videos of interviews with museum personnel and comments from Peter Saville, please access website