Pixar Animation Studios is the studio behind such popular films as Toy Story, Monsters, Inc., Finding Nemo, and Cars. UT brings a relaxing breeze to the heat of summer with its latest collection of designs from Kazuma Mikami and Adam Lister, featuring Pixar characters who are beloved by people all over the world. The two artists talk about their art and what it was like to create these designs, while Keiko Murayama, a character art director at Pixar, shares the secret to creating lovable characters.
In the hands of artists Kazuma Mikami and Adam Lister, characters take on a unique and lovable quality that reflects the artist's style while still retaining the look of the original. Mikami's designs started out as hand-drawn line drawings that he then colored digitally. Woody, Buzz Lightyear, and Sulley look much as they always do, but with a cheerfully dark twist that is characteristic of Mikami's U.S.-influenced style. Meanwhile, Lister imbued his pixelated watercolor-and-acrylic paintings with a sophistication that would not look out of place in a contemporary art museum.
The two artists may have different techniques and styles that result in two very different visual forms, but they both agree on one thing: creating these designs reminded them of the inherent appeal of the characters. But what is it about Pixar's characters that touches the hearts of so many? For an answer, we turned to Keiko Murayama, a lead character designer at Pixar.
How Kazuma Mikami creates his art
For this project, I started with a line drawing, just like they do at Pixar. However, I was conflicted. Since I used their technique, I knew that I would have to put my own spin on the drawings to keep them from looking like pages from a coloring book. On the other hand, if I put in too much of my own style, the designs might stray too far from the originals. Because these characters are beloved all over the world, I really did not want to disappoint the fans. Figuring out how to strike the right balance was a challenge.
While working on my designs, I reminded myself that I was part of a collaborative effort. I decided to get to know the characters, so I watched the movies over and over again and carefully observed their movements in slow motion. When I watched the grown-up Andy move away to college, leaving Woody and the other toys behind—a scene that I used for the back of my Toy Story design—I was impressed by the emotion on the characters' faces. I showed my sketches to my 6-year-old son, who—unusually for him—responded very positively. It brought home the fact that even very small children instinctively understand the appeal of these characters.
This project involved a lot of trial and error, and I made many changes along the way, but I look back fondly on the whole process. I believe that art, when completed, belongs not to the creator but to the viewer—how people respond to the work is important. But in the case of this project, I really did get a lot out of the creative process. This collection also includes some kids' T-shirts, so I hope that even the fussiest kids will find my drawings to be fun and playful.
All of the delightful toys from Toy Story are lined up on the front of this T-shirt. The back features the car from the sad scene in which Andy Davis, the toys' owner, moves away to college at the age of 17, leaving Woody and the rest of the gang behind.
The left chest of this T-shirt shows the door to Boo's room in Monsters, Inc., while the back features the two close friends, Sulley and Mike.
PROFILE
Kazuma Mikami|Artist. Mikami was born in Tokyo in 1982. Inspired by the U.S. TV shows and films he watched in the 1980s and '90s when he was in elementary school, he traveled to the United States after graduating from design school. Upon returning to Japan, he began his career as an illustrator. His portfolio includes advertisements, magazines, books, music videos, and more. He branched out into a new genre in 2020, creating ceramics and other 3D objects as part of his Cyber Actress project.
How Adam Lister creates his art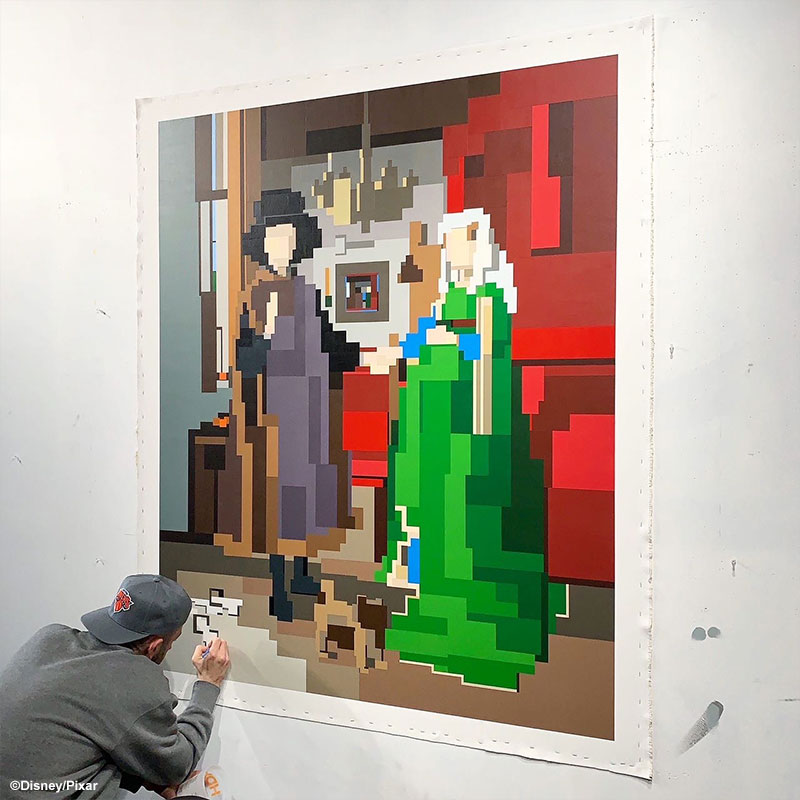 Toy Story was the first movie I ever brought my daughter to see in the theater, when she was 4 years old. I remember very clearly the amazement and wonder on her face as she watched. To be given the opportunity years later to recreate my own version of such personally meaningful images is truly an honor. I hope that people who see my designs as part of UT will enjoy them as much as my daughter enjoyed the movie back then.
Because I was recreating existing characters, I wanted to get a clear understanding of the essence of each character. I interpreted their details and nuances in my own way so that I would be able to pay homage to their original personalities while painting them in my own pixelated style. I rewatched the movies, of course, because seeing the characters in action brings them to life. I had not seen the films in many years, so it was like reconnecting with some old friends. I will always be grateful for the opportunity to connect with and put my stamp on these iconic characters.
Toy Story heroes Woody and Buzz Lightyear strike a pose in front of wallpaper patterned like a clear blue sky.
Monsters, Inc.'s James P. Sullivan—better known as Sulley—waves from the front of this deep black T-shirt. The phrase underneath, "We scare because we care," is the slogan of Monsters, Inc., where Sulley is an employee.
PROFILE
Adam Lister|Artist. Born in 1978, Lister lives and works in Beacon, New York. He is a visual artist who combines the transparency of watercolor with the flatness of acrylic into pixelated graphics that consist of geometric interpretations of iconic imagery and pop culture references. He says, "Before my current style came about, I worked through a variety of techniques, including sculpture, photo-realistic painting, and abstract painting." He will hold an exhibition in Tokyo in the summer of 2023.
Character Art Director Keiko Murayama walks us through the character creation process
It takes about two months to design a character from the first time the director shares their ideas for the character's personality, their background, the role they play in the story, and their visuals. My main job as a character art director is to learn the culture and history of a character and then design them on the basis of the director's vision and the story's needs. Personally, I like to incorporate a sense of reality. I think it's fun for the viewer to see characters that feel like real people, that make them say, "My mom is like that!" or "They're just like my friend!"
Once the 2D character design is complete, it goes to the Sculpture team, where they use clay and computers to transform the design into a 3D object. Then, the Shading Art team adds color and texture, giving the character a sense of three-dimensionality through contrast. After that, the Characters team creates detailed models of the character's movements, the Grooming team works on their hair, and the Tailoring team takes care of their clothing. You can imagine that this involves a lot of people and a lot of intricate work. It is my job to support the various teams so that they can faithfully recreate the original design. Every single person involved in every step of the process is humble, passionate, and hungry to give their best performance, no matter what the project is. I'm sure the people involved in creating the designs for this UT collection poured their love into their creations, too. That's why they are so iconic and fit their roles in the stories so well, and why so many people around the world still love them today.
PROFILE
Keiko Murayama|Character Art Director. Murayama joined Pixar in 2022 after working as a character designer at several other studios. She worked as a character designer on the Academy Award-nominated feature film Turning Red and is currently serving as character art director for Pixar's upcoming feature Inside Out 2, which will come to theaters in June of 2024. "Pixar has delicious and cheap cafeteria food, massage and gym facilities, and even therapy dogs," says Murayama. "When I started working at Pixar, I was surprised by how much effort the studio puts into ensuring we can work stress-free."
PROFILE
Pixar Animation Studio|Pixar Animation Studios was established in 1986 in California. The studio has released many films set in imaginative and fantastical worlds, from the world of toys in Toy Story to the world of monsters in Monsters, Inc. The upcoming feature film Elemental, which is set in a fantasy world inhabited by anthropomorphic elementals of fire, water, earth, and air, is scheduled for release in August 2023.
Release dates and prices may vary. Some items might be limited to certain stores or countries of sale or may be sold out.
©Disney/Pixar