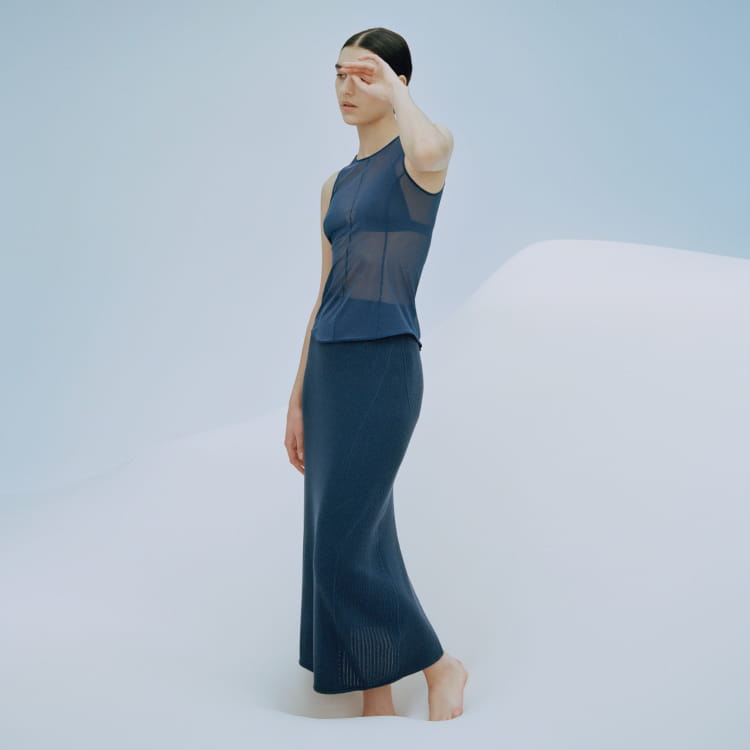 We are proud to collaborate with Mame Kurogouchi, a Japanese womenswear brand garnering worldwide recognition for designs that feature intricately-constructed details and unconventional textiles. Blending exquisite designs that enhance the curves of a woman's body with our leading technology to create the ultimate in comfort, the collection introduces items that transition seamlessly from innerwear to clothing.

Mame Kurogouchi designer Maiko Kurogouchi has seen a dramatic shift in women's wardrobes and expectations for everyday undergarments. A long-time admirer of our comfortable and functional innerwear, she imagined how she could further elevate women's relationships with their most intimate garments.

This season, we are delighted to introduce a refreshing summer colour palette inspired by the deep hues of the ocean, across an elegant selection of sheer pieces that add a calming, luxurious translucence. The collection blends Mame Kurogouchi's iconic designs and intricate lace details with our leading technology to create airy, seamless materials that are ideal for the summer months.

Because we believe the smallest comforts and beauty in our day lead to great change. We hope the new Uniqlo and Mame Kurogouchi Collection adds light to your world, from the inside out.