UNIQLO NEWS
Christophe Lemaire Team at UNIQLO Paris R&D Center to Debut Uniqlo U Collection on October 14
Aug. 30, 2016, New York, New York – UNIQLO today announces that the Uniqlo U collection will debut with a Fall/Winter collection on October 14 in all stores and online at UNIQLO.com.
The new collection is the first for Christophe Lemaire and his UNIQLO Paris R&D Center team, where Lemaire is Artistic Director. The Uniqlo U collection embodies the LifeWear philosophy of creating innovative high-quality clothing that is universal in design and comfort and made for everyone, everywhere.
Lemaire previously served as artistic director and in similar roles for such renowned global fashion houses as Lacoste and Hermès. He took up his position at the UNIQLO Paris R&D Center after crafting the Fall/Winter 2015 and Spring/Summer 2016 collections for the UNIQLO and LEMAIRE range.
With Uniqlo U, Christophe Lemaire and his Paris team have eschewed transitory trends by pursuing innovations in design, fabric selection, stitching, and numerous other elements to elevate and redefine the standard for excellence in comfort and individuality.
The Fall/Winter 2016 Uniqlo U collection features 50 women's and 34 men's items. The collection includes knits, outerwear, dresses, and jackets. The full lineup will be available at the UNIQLO.com online store, with all other stores carrying a portion of the collection.
Effective today, the following special website provides a preview of images and availability information for the complete collection: https://www.uniqlo.com/UniqloU/
Pricing
| | |
| --- | --- |
| Shirts | $29.90 to $39.90 |
| Knits | $49.90 to $139.90 |
| Outerwear | $79.90 to $179.90 |
| Pants | $39.90 to $69.90 |
| Skirts | $39.90 to $59.90 |
| Dresses | $49.90 to $169.90 |
| Jackets | $79.90 to $149.90 |
| Cut & Sewn items | $14.90 to $39.90 |
| Accessories | $14.90 to $39.90 |
About Uniqlo U
To us, everyday matters. A lot. What we wear to live deserves more thought, more simplicity, and more care. At our Paris research and development center, our global design team − led by Christophe Lemaire − is reinventing basics to be anything but basic. Clothing that transcends trends and becomes an ideal expression of who we are. Every form made for function. Every element endlessly considered. Every design thoughtfully deconstructed, tested and distilled to its most essential and sophisticated. This is simple made better, at its best. This is Uniqlo U.
Uniqlo U Logo Design
The design is keeping with the LifeWear concept of contributing to fun and comfort through fashions that match every mood. U represents the very essence of Uniqlo. The U sound itself has a powerful phonetic association with the Uniqlo brand, and using it ensures our collection stays rooted in the brand's DNA. There are twelve U's in the logo because that number is key. Twelve is a ubiquitous number in everyday life: twelve months, twelve hours, and twelve years in the Chinese zodiac. Each of the twelve constituent statements with starts with "U have" to emphasize that the collection is the fruit of the UNIQLO Paris R&D Center's teamwork and cohesion.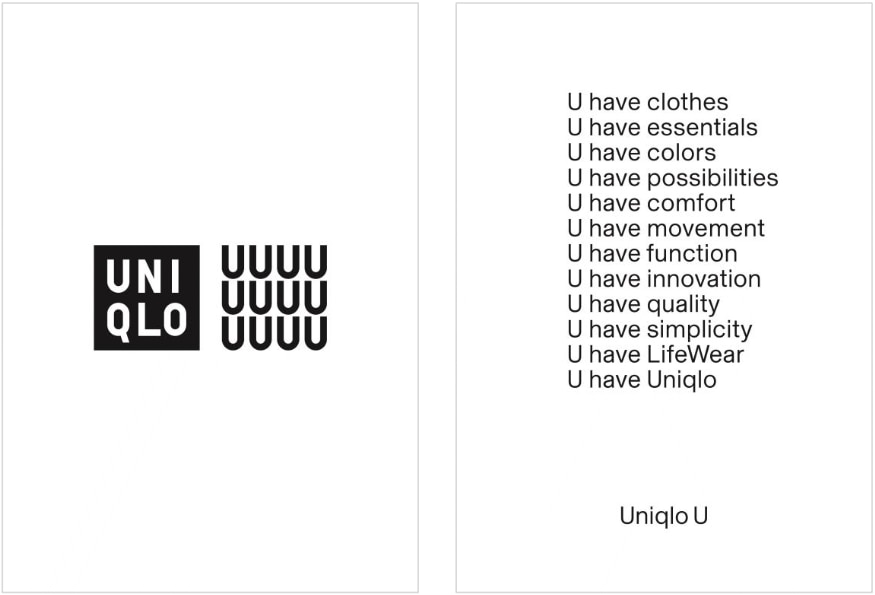 Key Visuals
Download Link
http://uniqlo-lifewear.com/FW2016/
ID: UNIQLO
Pass: FW2016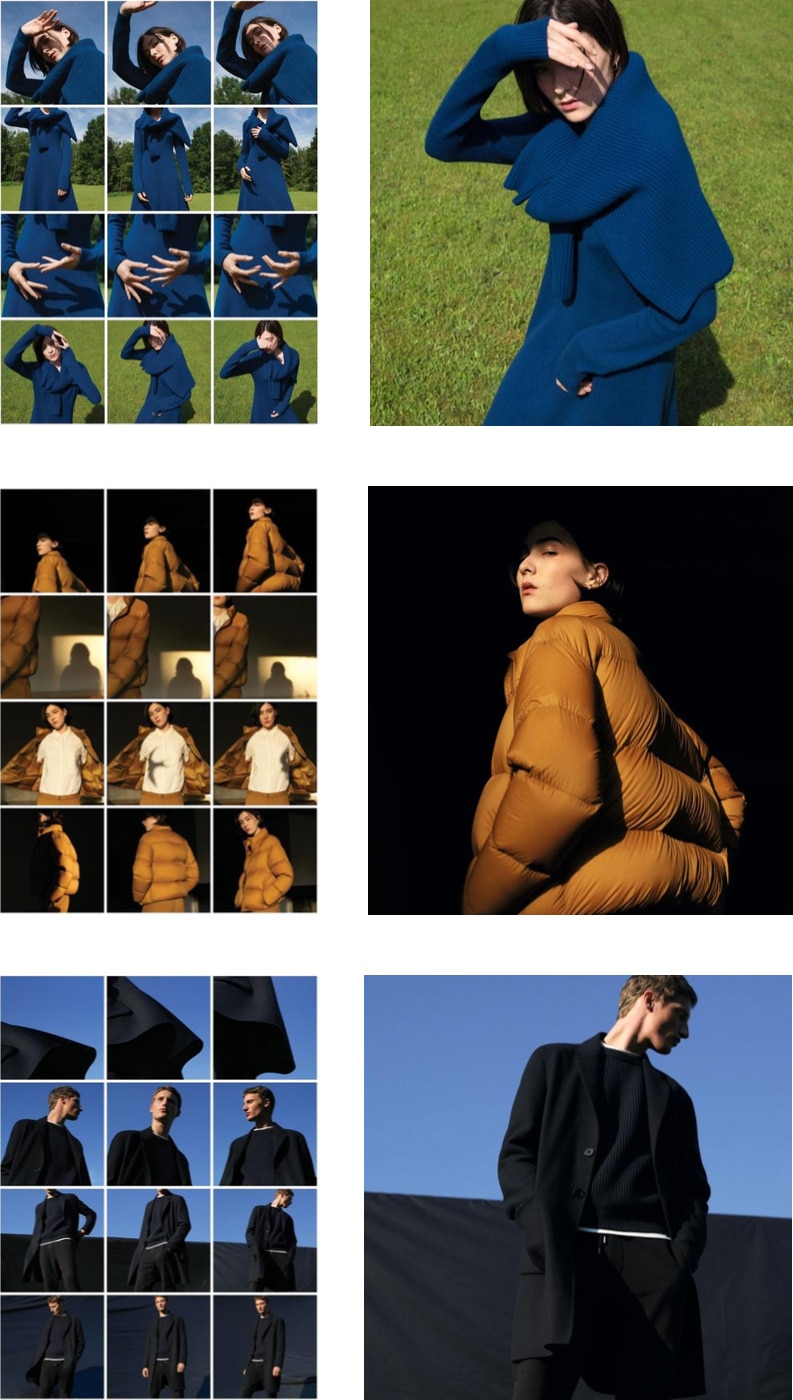 About UNIQLO LifeWear
Apparel that comes from the Japanese values of simplicity, quality and longevity. Designed to be of the time and for the time, LifeWear is made with such modern elegance that it becomes the building blocks of each individual's style. A perfect shirt that is always being made more perfect. The simplest design hiding the most thoughtful and modern details. The best in fit and fabric made to be affordable and accessible to all. LifeWear is clothing that is constantly being innovated, bringing more warmth, more lightness, better design, and better comfort to people's lives.
About UNIQLO and Fast Retailing
UNIQLO is a brand of Fast Retailing Co., Ltd., a leading global Japanese retail holding company that designs, manufactures and sells clothing under seven main brands: Comptoir des Cotonniers, GU, Helmut Lang, J Brand, Princesse tam.tam, Theory, and UNIQLO. With global sales of approximately 1.6817 trillion yen for the 2015 fiscal year ending August 31, 2015 (US $13.88 billion, calculated in yen using the end of August 2015 rate of $1 = 121.18 yen), Fast Retailing is one of the world's largest apparel retail companies, and UNIQLO is Japan's leading specialty retailer.
UNIQLO continues to open large-scale stores in some of the world's most important cities and locations, as part of its ongoing efforts to solidify its status as a truly global brand. Today the company has a total of more than 1,600 stores in 17 markets worldwide including Japan, Australia, Belgium, China, France, Germany, Hong Kong, Indonesia, Malaysia, Philippines, Russia, Singapore, South Korea, Taiwan, Thailand, U.K. and the U.S. In addition, Grameen UNIQLO, a social business established in Bangladesh in September 2010, currently operates several Grameen UNIQLO stores in Dhaka. UNIQLO manages an integrated business model under which it designs, manufactures, markets and sells high-quality, casual apparel. The company believes that truly great clothes should be supremely comfortable, feature universal designs, are of high quality and offer a superb fit to everyone who wears them.
With a corporate statement committed to changing clothes, changing conventional wisdom and change the world, Fast Retailing is dedicated to creating great clothing with new and unique value to enrich the lives of people everywhere. For more information about UNIQLO and Fast Retailing, please visit www.uniqlo.com and www.fastretailing.com.
For media queries, please contact:
samantha.levy@uniqlo-usa.com; 917-803-4217
jly@hlgrp.com; 646-537-3130
ntam@hlgrp.com; 646-752-2061