UNIQLO NEWS
UNIQLO UT Grand Prix 2017 T-Shirt Design Contest to Focus on Nintendo Themes
July 5, 2016, New York, New York – UNIQLO has launched its UNIQLO T-shirt (UT) Grand Prix 2017 design contest. The competition is open to anyone around the world, with entry open until August 31.
The theme of this year's contest is Nintendo, whose games and characters have delighted countless millions around the world. One of the main goals of the contest is to express the joy and excitement of Nintendo's games through clothing while also fostering creative talent. Entrants will be able to create designs based on Nintendo's beloved Super Mario Bros., The Legend of Zelda, and the Donkey Kong series. They can also feature characters from Nintendo titles such as Animal Crossing, Star Fox, Pikmin, Metroid, Kirby and Splatoon, or use the world-famous Pokémon in their design.
UNIQLO UT Grand Prix winners will be notified in Spring 2017, and will receive up to $10,000 in prize money, plus an invitation to attend a special awards ceremony in Japan. Nintendo's Shigeru Miyamoto, the iconic originator of Super Mario Bros. and other massive hit games, will be one of the competition's judges and will also attend the awards ceremony. Major prize winners will also receive a Nintendo NX*, personally signed by Mr. Miyamoto.
UNIQLO will feature winning designs from the competition in its Spring/Summer 2017 UT Collection, which will be available in men's, women's, and kids' lines from UNIQLO stores around the world and the UNIQLO.com online store.
About the UT Grand Prix
UNIQLO has conducted its UT Grand Pix design competition since 2005 to foster creativity and talent around the world. The contest is open to anyone regardless of age, gender, or nationality.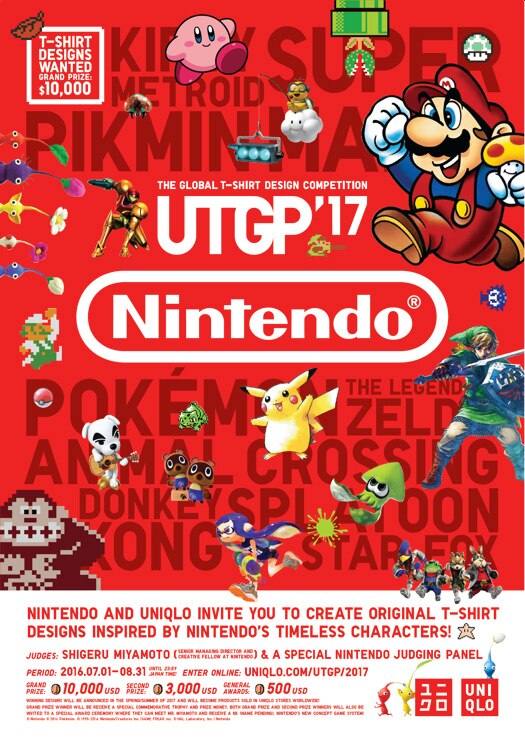 Pokémon is licensed and managed by The Pokémon Company.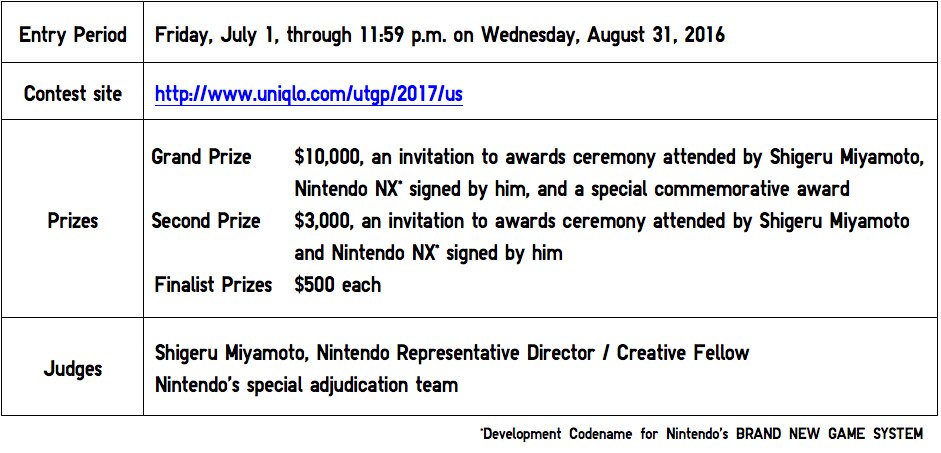 About UNIQLO UT
UT, the UNIQLO T-shirt brand was launched in 2003. Since then, UT has assembled a wide range of content from current pop culture—from art and music to movies, comics and cartoons—producing a huge range of T-shirts as tools for free self-expression. From Spring/Summer 2014, UNIQLO appointed street fashion innovator NIGO as its first Creative Director in charge of reviewing T-shirts and carefully choosing graphics for them.
About UNIQLO LifeWear
Apparel that comes from the Japanese values of simplicity, quality and longevity. Designed to be of the time and for the time, LifeWear is made with such modern elegance that it becomes the building blocks of each individual's style. A perfect shirt that is always being made more perfect. The simplest design hiding the most thoughtful and modern details. The best in fit and fabric made to be affordable and accessible to all. LifeWear is clothing that is constantly being innovated, bringing more warmth, more lightness, better design, and better comfort to people's lives.
About UNIQLO and Fast Retailing
UNIQLO is a brand of Fast Retailing Co., Ltd., a leading global Japanese retail holding company that designs, manufactures and sells clothing under seven main brands: Comptoir des Cotonniers, GU, Helmut Lang, J Brand, Princesse tam.tam, Theory, and UNIQLO. With global sales of approximately 1.6817 trillion yen for the 2015 fiscal year ending August 31, 2015 (US $13.88 billion, calculated in yen using the end of August 2015 rate of $1 = 121.18 yen), Fast Retailing is one of the world's largest apparel retail companies, and UNIQLO is Japan's leading specialty retailer.
UNIQLO continues to open large-scale stores in some of the world's most important cities and locations, as part of its ongoing efforts to solidify its status as a truly global brand. Today the company has a total of more than 1,700 stores in 17 markets worldwide including Japan, Australia, Belgium, China, France, Germany, Hong Kong, Indonesia, Malaysia, Philippines, Russia, Singapore, South Korea, Taiwan, Thailand, U.K. and the U.S. In addition, Grameen UNIQLO, a social business established in Bangladesh in September 2010, currently operates several Grameen UNIQLO stores in Dhaka. UNIQLO manages an integrated business model under which it designs, manufactures, markets and sells high-quality, casual apparel. The company believes that truly great clothes should be supremely comfortable, feature universal designs, are of high quality and offer a superb fit to everyone who wears them.
With a corporate statement committed to changing clothes, changing conventional wisdom and change the world, Fast Retailing is dedicated to creating great clothing with new and unique value to enrich the lives of people everywhere For more information about UNIQLO and Fast Retailing, please visit www.uniqlo.com and www.fastretailing.com.