UNIQLO NEWS
Brighton Beach Inspired UNIQLO and JW ANDERSON 2018 Spring/Summer Collection to Launch from Friday, April 20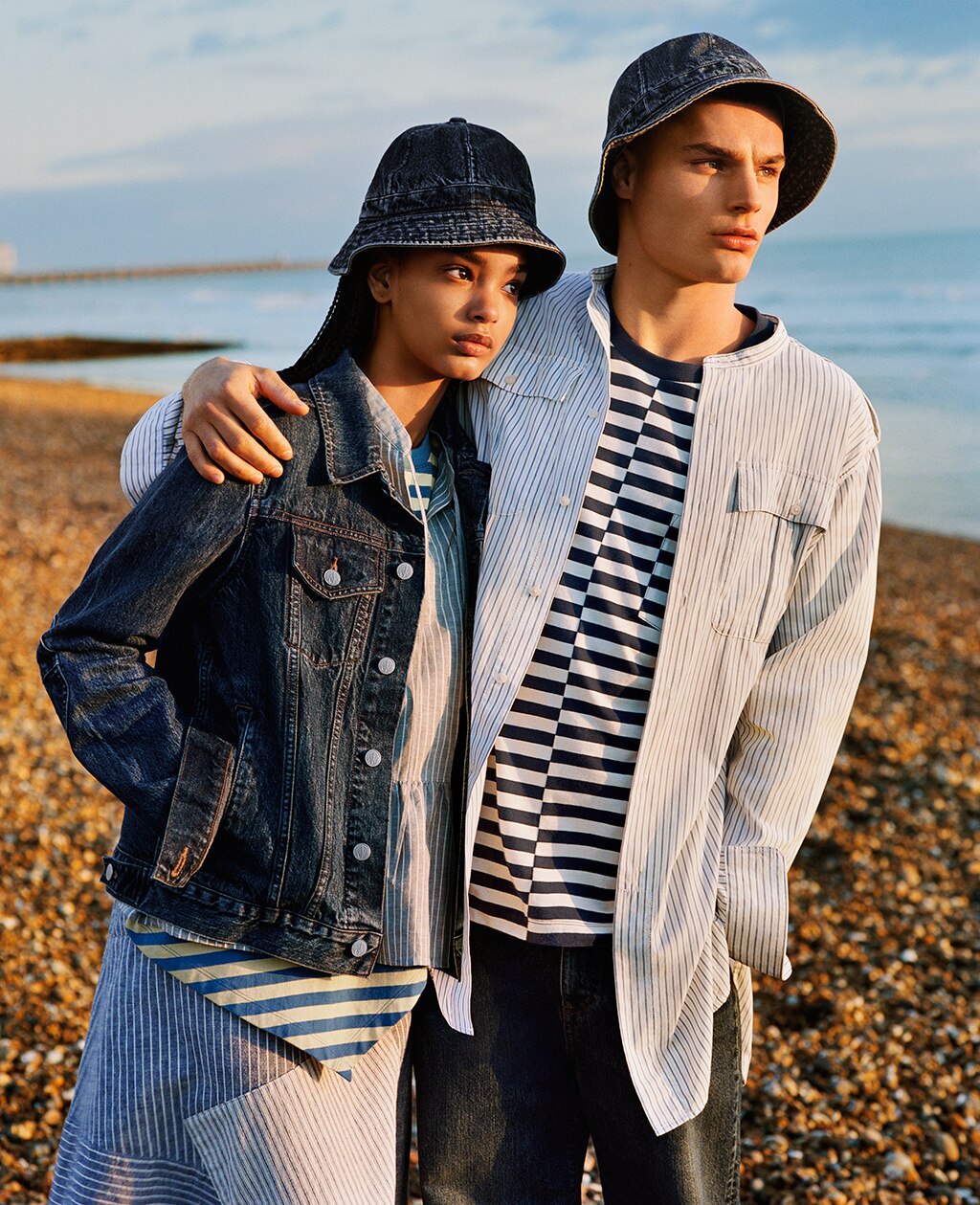 November 28, 2017, Tokyo, Japan – UNIQLO the Japanese global apparel retailer, today announces that its 2018 spring/summer UNIQLO and JW ANDERSON collection for men and women will begin launching online at UNIQLO.com the evening of Thursday, April 19th, and in UNIQLO stores on Friday, April 20th.
Collection overview
The collaboration line with London-based fashion brand, JW ANDERSON, is inspired by Britain's Brighton Beach and celebrates the 1950s heydays of this popular summer attraction. This iconic location is renowned as a vibrant and colorful city, full of contrasts. The line highlights designer JW Anderson's unique take on the Brighton culture, fusing quality fabrics with fabulous fits and functionality. Complementing the unisex designs that are basic to the range are items enabling casual mixing and layering for an array of styling alternatives. The collection highlights the enjoyment of LifeWear fashions for everyone, regardless of age or gender.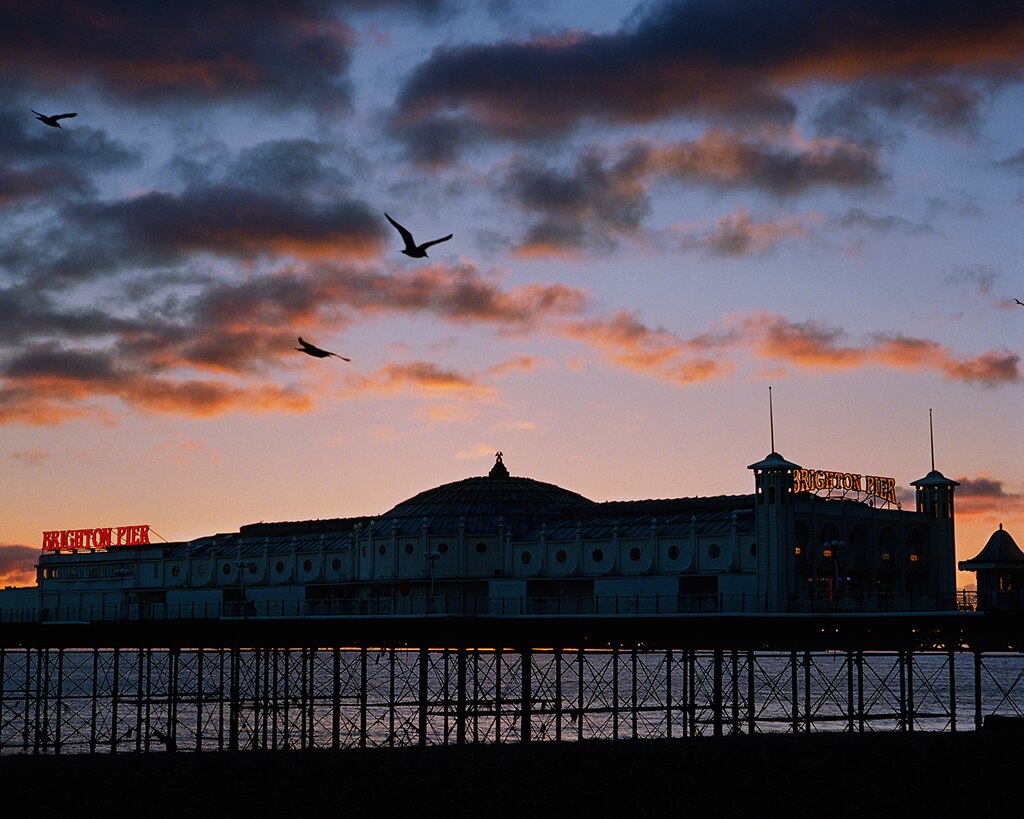 About UNIQLO and JW ANDERSON
The line was developed on the theme of "British classics. Designed for life today." This LifeWear offering combines the innovative designs that JW ANDERSON brings to Britain's traditional apparel with UNIQLO's commitment to fit, materials, and functionality.
UNIQLO and JW ANDERSON website:
https://www.uniqlo.com/us/en/page/uniqlo-collaborations.html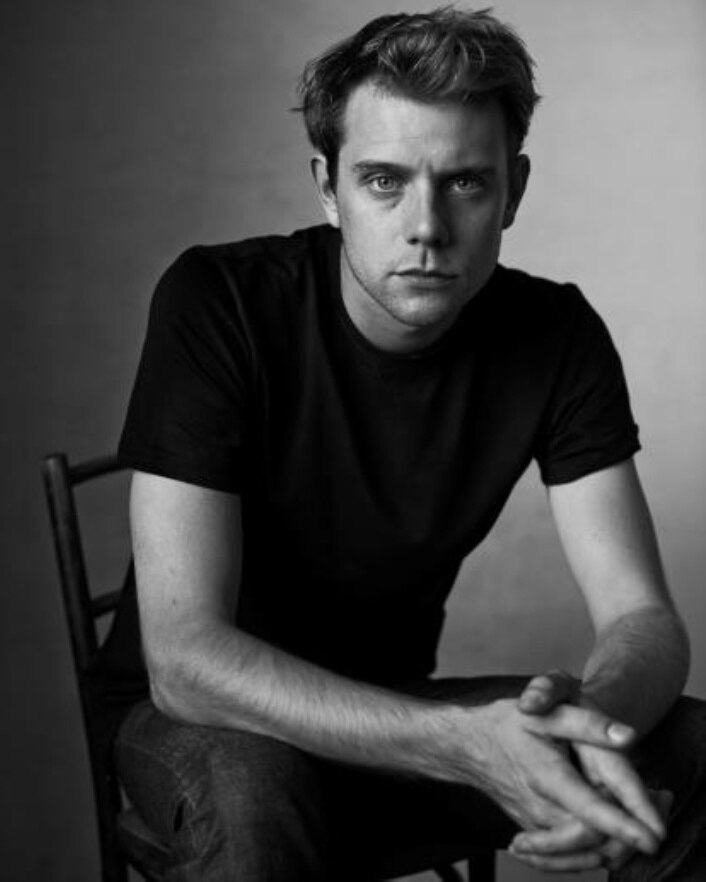 About JW ANDERSON
Northern Irish designer Jonathan Anderson established JW ANDERSON in 2008. At first an elaborate collection of accessories, it quickly garnered attention and enabled the fledgling label to show on-schedule during the 2008 London Fashion Week season.
The success of this debut collection earned both critical acclaim and commercial success for Anderson, whose label is now regarded as one of London's most innovative and forward thinking brands.
JW Anderson has evolved into an internationally renowned and award-winning brand, receiving the following awards:

2012 · British Fashion Awards for Emerging Talent, Ready-to-Wear
2013 · The New Establishment Award
2014 · Menswear Designer of the Year
2015 · British Fashion Awards for Menswear and Womenswear Designer of the Year
2017 · British Fashion Awards for Womenswear Designer of the Year
Commenting on the launch of the 2018 Spring/Summer line, Jonathan Anderson, the founder of JW ANDERSON, said, "In the 2nd collection of the collaboration, I'm looking for this idea of 'British Summer,' the idea of being on Brighton beach. Something which is very lightweight, very airy, with a lot of linen, and cotton that has a 1950's subcultural movement. With a little bit of ease and something which is quintessential." He added, "As a UNIQLO customer, I know exactly the quality that the brand gives to its products. I am very proud of the level of execution and the attention to details that we delivered on this new spring/summer collection."
Comments by Yuki Katsuta, a Group Senior Vice President of Fast Retailing and Head of UNIQLO Global Research and Design
"As befitting its dedication to 'Simple made better,' UNIQLO's mission with LifeWear is to create apparel that embodies simplicity, quality, longevity and is always stylish. The new collaborative spring/summer collection represents an advance in fashioning attractive wardrobe basics by reflecting JW ANDERSON's unique take on the heritage of Brighton as an enduringly popular British summer vacation destination."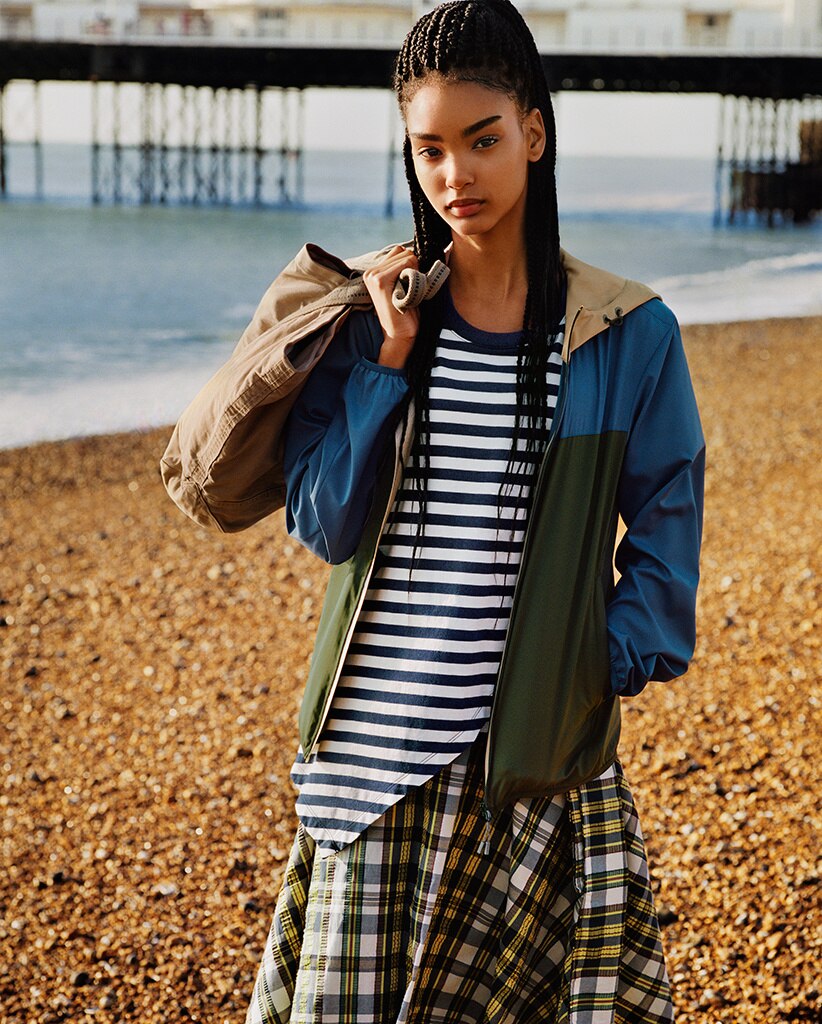 Design
The collection includes vividly striped T-shirts and knit polos reminiscent of beachwear, as well as dresses, seersucker bomber jackets, flared skirts, and blouses with JW ANDERSON's iconic ruffles and ribbons. T-shirts, knits and bags with seagull prints whimsically celebrate the joy of British seaside life. The range also incorporates work wear elements, such as 1950s-style denim jackets and tunic shirts inspired by traditional British police uniforms, as well as quintessentially JW ANDERSON touches like stripes and patchwork on shirts and skirts.
Key colors
The collection employs soft colors with a touch of sunburn, true blue, poppy red, white and beige, and sage green. The line also showcases such celebrated JW ANDERSON additions as plaid bright yellow and blue, inspired by playful multistriping and picnic basket designs.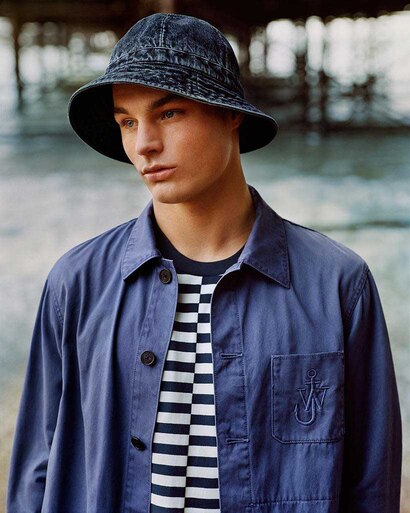 Fabrics and functionality
In keeping with the LifeWear commitment to quality, the range features shirts in soft, refreshing cotton linen made of top-quality extra fine cotton and a selection of items made from prestigious Kaihara denim from Japan. DRY-EX, which dries sweat and moisture incredibly fast, and a pocketable parka made of a fabric that reduces wrinkles and is treated with a durable water repellant, both offer excellent functionality.
Women's: 11 items
Items
Pricing
Outerwear *Unisex
$29.90 - $59.90
T-shirts *Some are unisex
$19.90
Blouse/knit
$29.90
Pants and skirts
$39.90 - $49.90
Dresses
$29.90 - $39.90
Hats and bags *Unisex
$19.90 - $39.90
Men's: 20 items (including unisex pieces)
Items
Pricing
Outerwear *Unisex
$39.90 - $59.90
Shirts
$29.90 - $39.90
Socks
$3.90
Pants
$49.90
T-shirts and polo shirts/knit *Some are unisex
$14.90 - $29.90
Hats and bags *Unisex
$19.90 - $39.90
About UNIQLO LifeWear
Apparel that comes from the Japanese values of simplicity, quality and longevity. Designed to be of the time and for the time, LifeWear is made with such modern elegance that it becomes the building blocks of each individual's style. A perfect shirt that is always being made more perfect. The simplest design hiding the most thoughtful and modern details. The best in fit and fabric made to be affordable and accessible to all. LifeWear is clothing that is constantly being innovated, bringing more warmth, more lightness, better design, and better comfort to people's lives.
About UNIQLO and Fast Retailing
UNIQLO is a brand of Fast Retailing Co., Ltd., a leading global Japanese retail holding company that designs, manufactures and sells clothing under seven main brands: Comptoir des Cotonniers, GU, Helmut Lang, J Brand, Princesse tam.tam, Theory, and UNIQLO. With global sales of approximately 1.8619 trillion yen for the 2017 fiscal year ending August 31, 2017 (US $16.87 billion, calculated in yen using the end of August 2017 rate of $1 = 110.4 yen), Fast Retailing is one of the world's largest apparel retail companies, and UNIQLO is Japan's leading specialty retailer.
UNIQLO continues to open large-scale stores in some of the world's most important cities and locations, as part of its ongoing efforts to solidify its status as a truly global brand. Today the company has more than 1,900 stores in 19 markets worldwide including Japan, Australia, Belgium, Canada, China, France, Germany, Hong Kong, Indonesia, Malaysia, Philippines, Russia, Singapore, South Korea, Spain, Taiwan, Thailand, U.K. and the U.S. In addition, Grameen UNIQLO, a social business established in Bangladesh in September 2010, currently operates several Grameen UNIQLO stores in Dhaka. UNIQLO manages an integrated business model under which it designs, manufactures, markets and sells high-quality, casual apparel. The company believes that truly great clothes should be supremely comfortable, feature universal designs, are of high quality and offer a superb fit to everyone who wears them.
With a corporate statement committed to changing clothes, changing conventional wisdom and change the world, Fast Retailing is dedicated to creating great clothing with new and unique value to enrich the lives of people everywhere. For more information about UNIQLO and Fast Retailing, please visit www.uniqlo.com and www.fastretailing.com.
For media queries, please contact UNIQLO PR Samantha Levy samantha.levy@uniqlo-usa.com or Jacklyn Poetzsch jacklyn.poetzsch@uniqlo-usa.com.