UNIQLO NEWS
UNIQLO Offers Roger Federer Gamewear Set as Pre-order at Japan UNIQLO.com Online Store
July 13, 2018, New York, New York – UNIQLO is pleased to begin advance sales of replica gamewear worn by its newest Global Brand Ambassador, Roger Federer, at the 2018 Wimbledon Championships. The gamewear set available for preorder comprises five items: shirt, shorts, headband, wristband, and socks. Orders will be accepted at the Japan UNIQLO.com online store starting July 23 Japanese Standard Time*, with delivery scheduled in late September to early October.
Customers all around the world have inquired about Roger Federer gamewear models since UNIQLO's announcement of its new Global Brand Ambassador. The company decided to offer the advance sales in response to customer demand.
Details of the Roger Federer Wimbledon Model Gamewear Advance Sales:
Product Name:
Roger Federer Model Wear Set
5-piece set: shirt, shorts, headband, wristband, and socks, in a special box
Price in Japanese Yen:
¥13,500 (approx.. $120 USD) + 8% consumption tax (if applicable)
Overseas purchases available in Japanese yen only
Asian Sizes:
S, M, L, XL, XXL
(M is Western Size S, L is Western Size M, XL is Western Size L, XXL is Western Size XL)
Sale Form:
Advance sales (pre-order)
Order Acceptance:
Japan UNIQLO.com online store
Starting July 23 Japanese Standard Time*, concluding when advance sales limit is reached
Acceptance of orders contingent on sale being compliant with applicable laws
Delivery:
Late September to early October 2018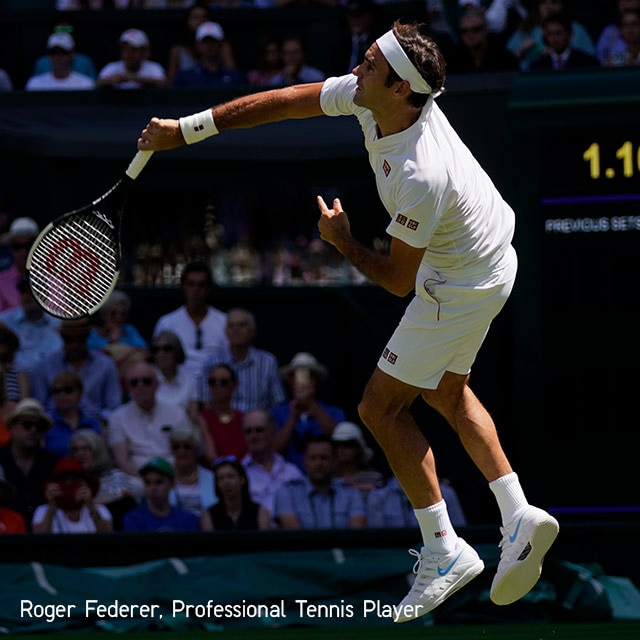 *Date may vary by market based on time zone.
Design
Roger Federer's gamewear for Wimbledon 2018 was designed at the UNIQLO Paris R&D Center, led by Artistic Director Christophe Lemaire. Instead of the classic polo shirt or crewneck style collar, UNIQLO reflected Roger Federer's preference for a short stand-up collar to emphasize a more sophisticated look both on and off court. The design of the shirt and shorts is accented by a burgundy color line - incorporated at the edge of the sleeves and the front panel of the shirt, and down the sides of the shorts - to highlight the company's corporate color, especially at the launch of the partnership.
Highly Functional Dry EX Material Trusted by Top Athletes
Jointly developed by UNIQLO and Toray Industries, Dry EX features a special arched structure that dries faster than ordinary dry function material, preventing the steamy and sticky feeling due to perspiration and keeping a comfortable feel during play. The raised structure is well suited to the strenuous movements of tennis. Highly breathable mesh has been used in areas that accumulate sweat, helping to avoid overheating and allowing the athletes to be at their very best during competition.
The UNIQLO Global Brand Ambassador Program
UNIQLO partners with world-leading people to promote its brand and LifeWear globally. Reflecting core UNIQLO values, Global Brand Ambassadors embrace challenge in pursuit of the highest possible achievement. They are universally admired for their integrity and character, and for the optimism, respect and humility they demonstrate to all.
UNIQLO combines the expert professional insight of its Global Brand Ambassadors with its most advanced proprietary technologies, creating apparel that supports human performance at the highest level, while also bringing greater comfort and functionality to the everyday lives of its customers. In addition, UNIQLO works with its brand ambassadors to promote community engagement and development initiatives around the world.
In addition to Roger Federer, the UNIQLO Global Brand Ambassadors today are Kei Nishikori (Tennis), Shingo Kunieda and Gordon Reid MBE (Wheelchair Tennis) and Adam Scott (Golf).
About UNIQLO LifeWear
Apparel that comes from the Japanese values of simplicity, quality and longevity. Designed to be of the time and for the time, LifeWear is made with such modern elegance that it becomes the building blocks of each individual's style. A perfect shirt that is always being made more perfect. The simplest design hiding the most thoughtful and modern details. The best in fit and fabric made to be affordable and accessible to all. LifeWear is clothing that is constantly being innovated, bringing more warmth, more lightness, better design, and better comfort to people's lives.
About UNIQLO and Fast Retailing
UNIQLO is a brand of Fast Retailing Co., Ltd., a leading global Japanese retail holding company that designs, manufactures and sells clothing under seven main brands: Comptoir des Cotonniers, GU, Helmut Lang, J Brand, Princesse tam.tam, Theory, and UNIQLO. With global sales of approximately 1.8619 trillion yen for the 2017 fiscal year ending August 31, 2017 (US $16.87 billion, calculated in yen using the end of August 2017 rate of $1 = 110.4 yen), Fast Retailing is one of the world's largest apparel retail companies, and UNIQLO is Japan's leading specialty retailer.
UNIQLO continues to open large-scale stores in some of the world's most important cities and locations, as part of its ongoing efforts to solidify its status as a truly global brand. Today the company has more than 2,000 stores in 19 markets worldwide including Japan, Australia, Belgium, Canada, China, France, Germany, Hong Kong, Indonesia, Malaysia, Philippines, Russia, Singapore, South Korea, Spain, Taiwan, Thailand, U.K. and the U.S. In addition, Grameen UNIQLO, a social business established in Bangladesh in September 2010, currently operates several Grameen UNIQLO stores in Dhaka. UNIQLO manages an integrated business model under which it designs, manufactures, markets and sells high-quality, casual apparel. The company believes that truly great clothes should be supremely comfortable, feature universal designs, are of high quality and offer a superb fit to everyone who wears them.
With a corporate statement committed to changing clothes, changing conventional wisdom and change the world, Fast Retailing is dedicated to creating great clothing with new and unique value to enrich the lives of people everywhere. For more information about UNIQLO and Fast Retailing, please visit www.uniqlo.com and www.fastretailing.com.
For media queries, please contact:
Samantha Levy at samantha.levy@uniqlo-usa.com