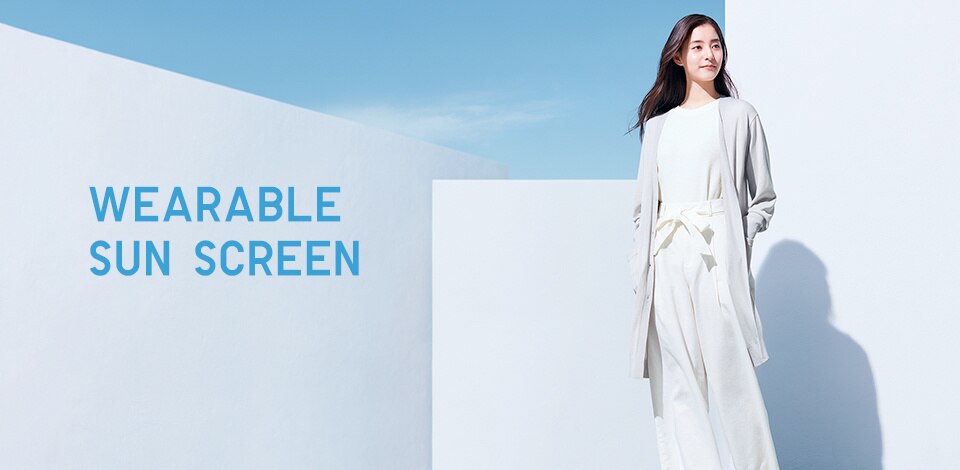 ONE SECOND TO SUN PROTECTION
Protect your skin from UV rays.
What is UV CUT?
The 3 benefits of Wearable UV Care
Fast
No effort required,
just put it on.
Lasts Longer
Feel protected whenever
you're on the move.
Gentle
Block UV rays without
burdening your skin.
It requires no effort, so why not make it a habit? More comfortable everyday UV care.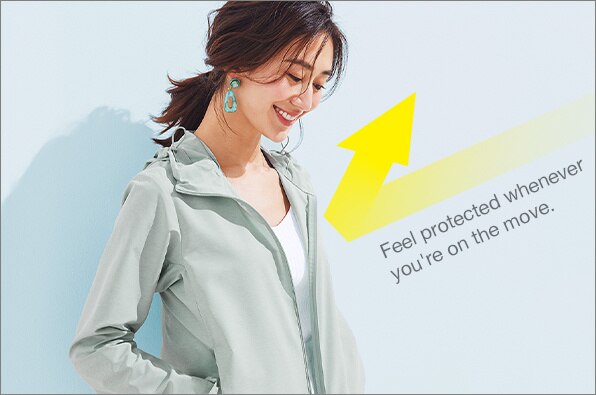 Two technologies protect your skin from UV rays.

UV Ray Absorption
UV blocking components have been added to the fiber which absorb UV rays.

UV Ray Reflection
Raw materials with reflective properties have been added to the fibers to reflect UV rays.
Depending on the fabric of the item, either of the above two technologies were applied to the UV Cut product
Even light fabrics and light colors maintain UV Cut function.
Breathable fabrics and light colors still maintain
UV protection and are perfect for spring and summer.
Learn more about UV Cut items!
Q

What is UPF?

A

UPF (Ultraviolet Protection Factor) measures how much more time it takes for your fabric-protected skin to absorb UV rays than your bare skin. A higher UPF offers better UV-blocking properties, so UPF 40 means it takes 40 times longer for the fabric to absorb the same amount of sun as unprotected skin.

Q

Does washing reduce the UV-blocking effect?

A

We tested our UV products for 10 washing cycles and can confirm that UV protection does not weaken. However, please note that the UV absorption type may gradually reduce its protection over several years of repeated washes. The UV reflection type is generally said to be semi-permanent.
---
Collection
STYLING BOOK