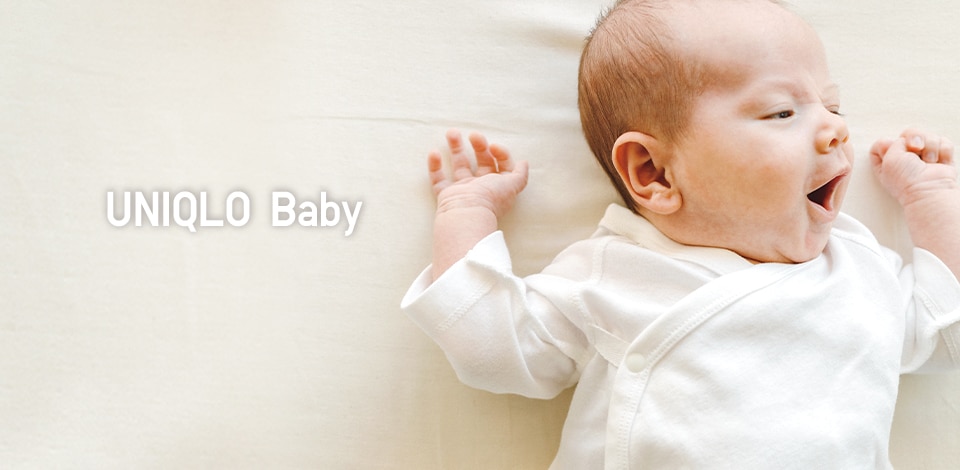 Designed for your baby's every need.
We care about how babies feel so we take care of everything. We select only the finest threads for our fabrics and sew seams that sit against their skin flat to ensure comfort.*
We put your baby first, every step of the way.
UNIQLO Baby
*Underwear garments are sewn with flat seams.
Q1
How thin is a baby's skin compared to an adult's?
A:
A baby's skin is half as thick as an adult's.*
Clothes made with the finest 100% cotton.
Our baby clothes are made from the finest-quality thread that's soft, pliable, and stretchy.
*The top layer of skin of a newborn up to 1 month old.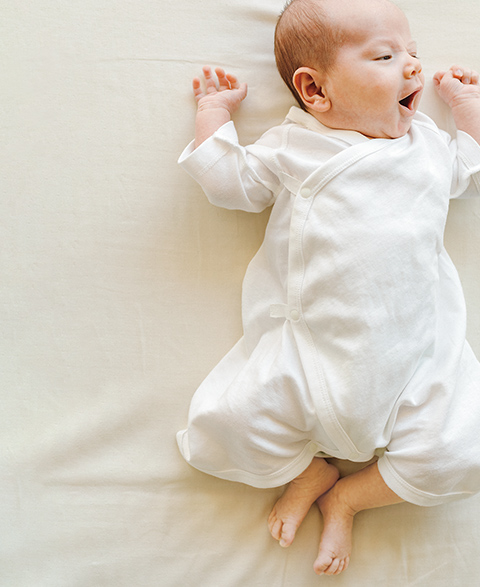 Q2
Why do babies sweat a lot?
A:
Babies tend to perspire a lot as their bodies change.
Mesh fabric offers silky-smooth comfort.
They need cloths that keep them comfortable. We've developed a soft mesh fabric that wicks away sweat and stays dry.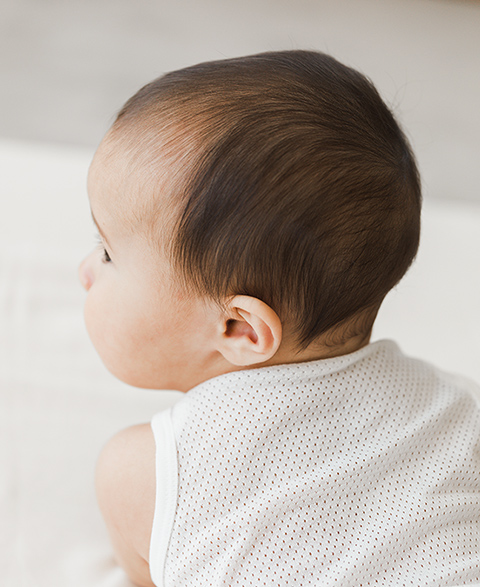 Q3
Why is a baby's skin so sensitive?
A:
Babies are born with a protective skin barrier.
Flat seams are gentle on your baby's skin.
A baby's skin barrier is still developing so we created soft stitching to be gentle on their skin.
Flat seams and special thread used inside and out ensure that only the softest materials touch your baby's skin.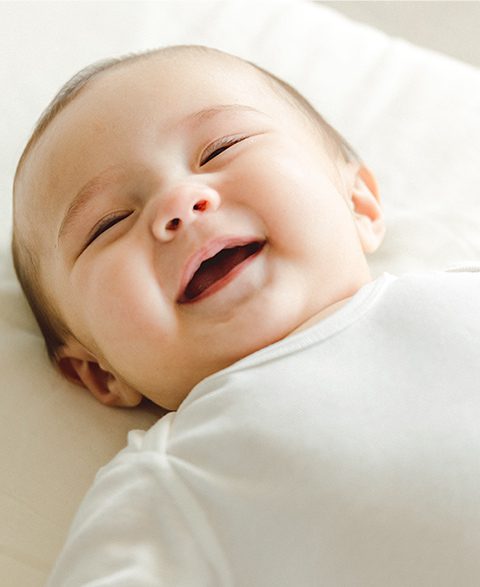 Q4
Why do babies fuss?
A:
Babies may cry when being changed because of the clothes.
Open-front design for easy changing.
Our open–front design has larger arm holes making it easier to put on and take off. This makes changing time quick and easy, relieving stress and strain.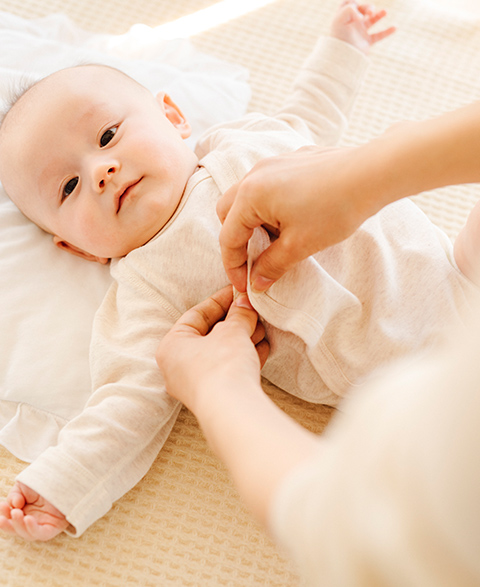 Q5
How can you make outfit changes easier?
A:
Changing time causes a baby's temperature to fluctuate suddenly.
Quick and easy buttoning.
Babies have a hard time regulating their body temperature. The longer you take to change them, the more defenseless they'll feel. We've added easy-to-match colored buttons to make buttoning up a breeze.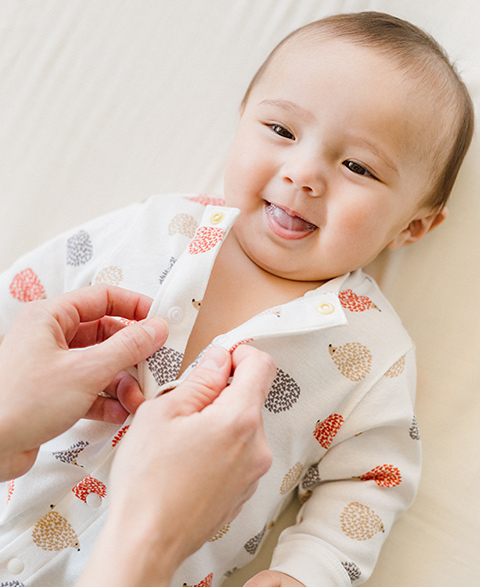 Q6
Do babies hate outfit changes?
A:
No baby wants to squeeze their head through an ill-fitting garment.
Roomy neckline designed for easy changing.
Even a minor irritation can be stressful for newborn babies. Each item of clothing is checked by hand to ensure there's plenty of room for your baby's head.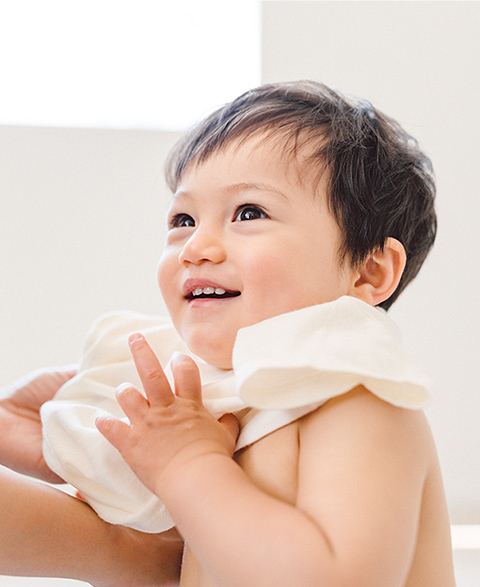 Q7
What do babies need to develop?
A:
Growth hormones are released while your baby sleeps.
Stretchy fabric helps your baby sleep soundly.
The stretch fabric doesn't hinder you baby's movements while sleeping. The fabric is also breathable and wicks away sweat for a great night's sleep every time.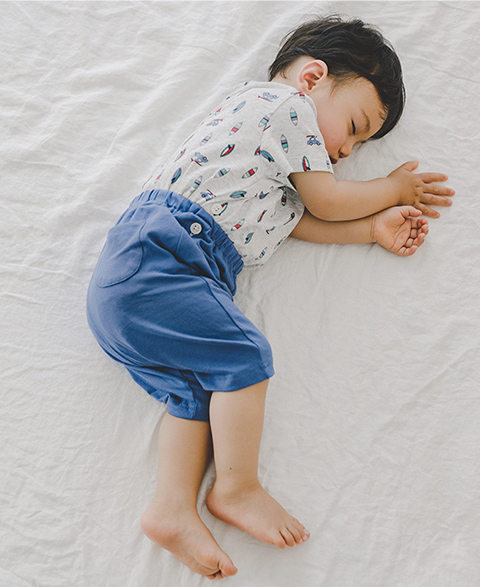 ---
Quality assured, up to the moment you put it on your baby.
Babies are born with a protective skin barrier that becomes weak against outside irritants. Chemicals which can irritate the skin are carefully monitored from production to packing. Each item is manufactured in an environment created specifically for making baby goods and everything, from fabrics and dyes, to the desks and other furnishings we use, is thoroughly checked for chemicals. Our products are individually packaged, and quality is controlled from production up to the moment your baby puts them on.