A lasting union of two worlds.
UNIQLO started a four-year partnership with the Musée du Louvre in Paris from 2021 with the aim of offering a wide-ranging program to better familiarize the public with the museum's must-see masterpieces and bring the joy of art in daily life.
Partnership Programs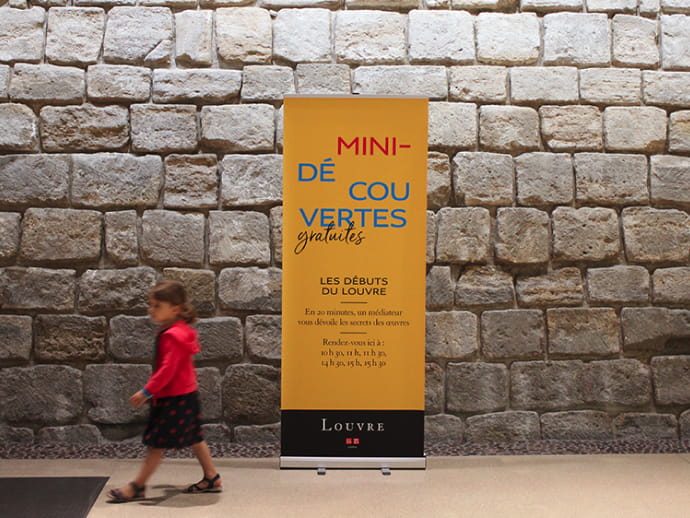 The Mini-Discovery Tour
The UNIQLO partnership with the Louvre also includes support of the Mini-Discovery Tour, a new format launched by the Louvre since May 2021. Mostly dedicated to families, these 20 minutes guided tours will take place on Saturdays and Sundays.
Musée du Louvre Collection
The UNIQLO T-shirt (UT) brand will release its Spring/Summer 2022 Collection with the Musée du Louvre from January 31st globally, with the date to differ by market. UNIQLO plans to release more items to its Louvre collaboration collection through 2024.
About the partnership
A lasting union of two worlds.
What happens when the rich heritage of the Musée du Louvre unites with UNIQLO's vision of daily life? From legendary paintings to sculptural masterpieces, centuries of creativity, artistry, and philosophy are also made accessible today via the LifeWear concept. The boundaries between art and fashion, plus time and space, are dissolved - and a new sense of beauty is born. The UNIQLO x LOUVRE partnership offers a joyful opportunity to appreciate art in daily life.
About the Musée du Louvre
Formerly a royal palace, the Louvre has embraced the history of France for eight centuries. Open to the public since 1793, the Louvre collections are among the finest in the world, encompassing several thousands of years and spread across a large territory from America to the confines of Asia. Divided among eight departments, the collections feature works admired throughout the globe, including the Mona Lisa, the Winged Victory of Samothrace, and the Venus de Milo.

After the French Revolution, the Louvre was created as a place where artists could admire the great masters and look for inspiration. Even today, the Louvre remains a place of inspiration for the greatest contemporary creators, architects, painters, sculptors, dancers, and musicians.
Inspired by: The Astronomer / Johannes VERMEER / 1668
The Winged Victory of Samothrace
© Musée du Louvre
Louvre Pyramid © I.M. Pei
©2022 Yu Nagaba
© Musée du Louvre / Olivier Ouadah
© I.M. Pei / photo Musée du Louvre / Olivier Ouadah
© I.M. Pei / Musée du Louvre / Olivier Ouadah