Women's dresses & jumpsuits
Dress to impress as the weather gets chillier with our range of women's dresses for the cold season. Discover a wide range of silhouettes, shapes and designs including on-trend shirt dresses, sophisticated wool dresses and autumnal-inspired flannel dresses for effortless seasonal elegance. Looking for something with a touch of texture? Invest in our collection of corduroy dresses and choose your length with a versatile selection of mini, midi and maxi dresses for classic comfort whatever the weather.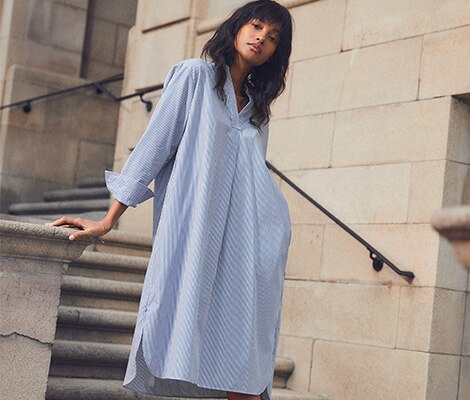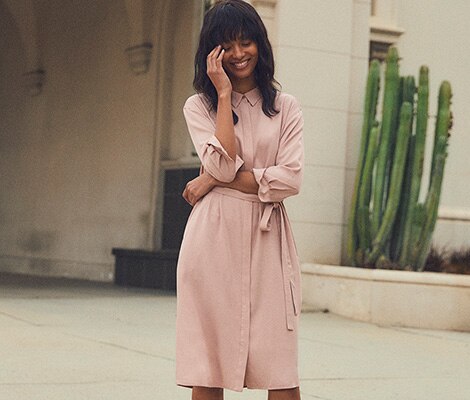 ---
Indulge in sleek, sharp style with our range of classic women's shirt dresses. Express your personality and individuality with a wide range of materials, fabrics and textures to choose from, including soft flannel dresses, ribbed corduroy dresses and breezy rayon dresses, all available in a selection of colours, prints and patterns.
---
Enhance your everyday ensembles with the classic versatility of a midi dress thanks to our elegant collection for women. Discover short and long sleeved midi dresses ideal for styling up or down exactly as needed. Looking to dress to impress? Explore simple prints and gorgeous colourways for a splash of character in your all-season wardrobe.
---
The mini dress: a gorgeous must-have for any complete modern wardrobe. Make a statement in style with our collection of women's mini dresses, boasting flattering fits and stunning silhouettes available in a range of material and fabric designs. Looking for something a little longer? Drop that hemline and shop our midi dresses and maxi dresses for women.
---
Float through your day with effortless elegance thanks to our collection of maxi dresses for women. Discover flowing silhouettes, pretty prints and gorgeous shapes in a wide range of colours for a perfectly stylish all-season wardrobe. Looking for something a little shorter? Discover our collections of midi dresses and mini dresses for women.
---
Knitted dresses are a comfortable choice for any day: Wear them solo or pair them with a cardigan when nights are chilly. No matter the season, you'll find yourself reaching for these pieces time and time again.
---
Looking to shake things up? A jumpsuit is just the right choice. These versatile allrounders have made their way into our wardrobes and our hearts – not only are they extra comfortable but they manage to look effortlessly cool and flattering on anyone. Discover our range of fashion-forward jumpsuits.
---
Chic on the outside, practical on the inside – there's more to these dresses than meets the eye. All of these pieces are fitted with a bra to offer support and create a beautiful silhouette. Resort to our bra dresses for the perfect combination of style and comfort.