Innerwear & HEATTECH
Take on unreliable temperatures this Autumn and Winter with the powerful performance of HEATTECH. This innovative range of thermal tops, thermal trousers and accessories for men is designed to keep you warm without the discomfort of bulky clothing using moisture released by the body to retain heat. Turn up the temperature in colder conditions with impressive Extra Warm and Ultra Warm thermal innerwear, designed to keep you comfortable whatever the weather.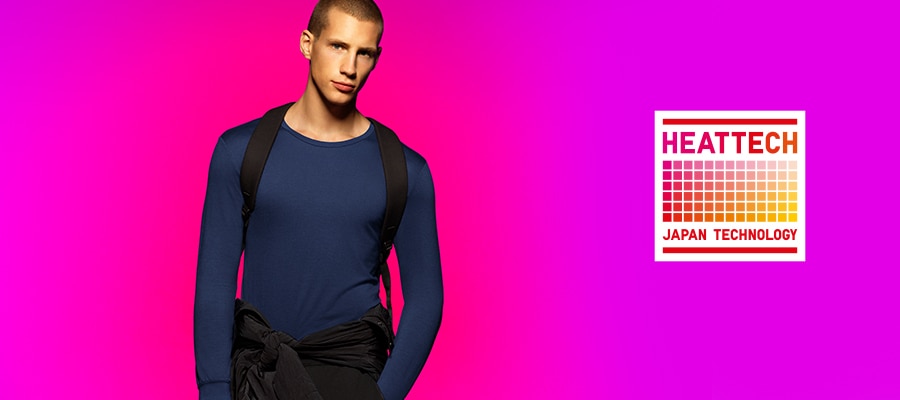 Protect your clothing from sweat stains and keep yourself comfortable in uncomfortable weather conditions with our collection of men's undershirts. Boasting soft cotton construction, they feel great against skin and simple, sleek colour designs make these pieces ideal for layering beneath any outfit.
Outfit your wardrobe with our range of innerwear armed with HEATTECH technology, providing reliable warmth in a lightweight, breathable design. Choose from a selection of tops with crew neck, V neck and turtleneck designs. Opt for a pair of insulating tights to complete your lineup.
Keep cold weather at bay with our Extra Warm HEATTECH innerwear. Designed to be 1.5x thicker and warmer than regular HEATTECH, these pieces are ideal for days when the weather just won't stop biting. A raised nap lining on our tops provides a soft, fleecy touch for cosiness on the go.
Ultra Warm is here. 2.2x thicker and warmer than regular HEATTECH, this collection of innerwear tops and bottoms fends off intense cold with ease while sitting comfortably beneath the rest of your outfit. It's our most powerful, most insulating HEATTECH yet.
Top