Women's Down Volume Jacket
An elegant down jacket in glossy polyester satin, featuring an oversized silhouette, high collar, and compact shoulders.
Silhouette: A-Line/Cocoon (according to drawstring)
Fabric: Glossy polyester satin
Colour: Off white, black, navy
Key details:
1. Inner ribbed sleeves
2. Contrasting textures between inner and outer surfaces
3. 2-way fastener for easy styling
Featured products
Women's Pleated Long Skirt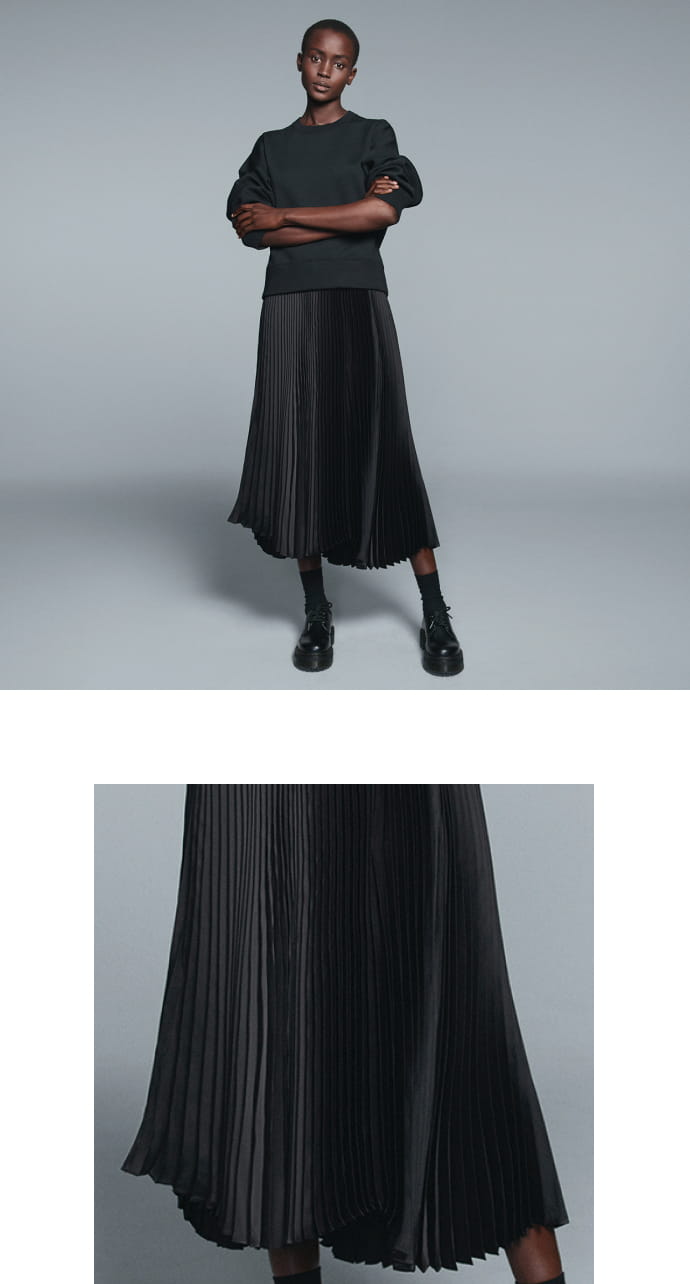 A luxurious skirt crafted from pleated sheer satin that sways beautifully.
Silhouette: Hemline features contrasting lengths to enhance the accordion effect
Fabric: Beautiful sheer satin
Colour: Dark grey, black
Key details:
1. Grosgrain ribbon on belt back surface
2. Invisible fastener to secure wrap skirt
3. Inside button to maintain elegant silhouette
Featured products
Men's Cashmere Blend Zipped Hoodie
Zipped hoodie with a stylish design that is warm and soft to the touch.
Silhouette: Comfortable and relaxed
Fabric: High-quality cashmere and nylon
Colour: Grey, black, navy
Key details:
1. Grosgrain ribbon detailing
2. +J logo on double fastener
3. Stylish Milanese rib knit on hem and sleeves
Featured products
Men's Hybrid Down Oversized MA-1 Blouson
Featuring updated functionality and design.
Silhouette: Modern, oversized, voluminous fit
Fabric: Glossy nylon
Colour: Grey, black
Key details:
1. +J print embossed on back collar
2. V-shaped ribbed sleeves for mobility
3. Extra room in chest pockets
Featured products