Men's Parkas
The parka: an enduring mainstay of wardrobes everywhere. A statement coat which effortlessly combines traditional yet relaxed charm with all the benefits of contemporary weather-resistant fabric technologies. Our range of men's parkas offers an answer to every weather challenge in every season. Opt for a lightweight and easily transportable parka for protection against light showers on the go, or rely on high-performing BLOCKTECH for windproofing and water repellency without compromise.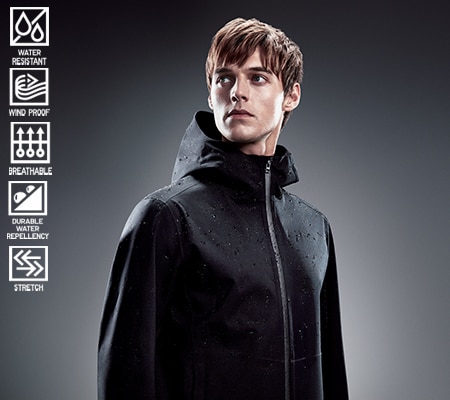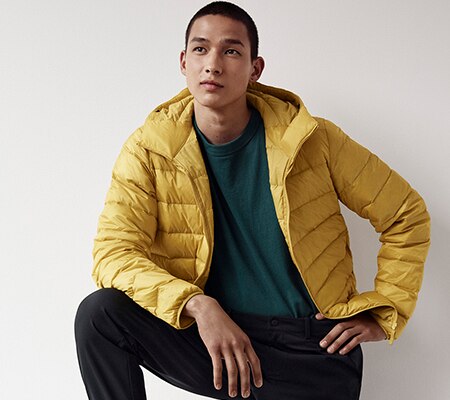 ---
Our BLOCKTECH range cleverly combines high-tech weather protection fabric with refined, classic designs for a simple and reliable way to take on challenging weather. Make the most of water repellent materials, smart seamless bonding to prevent penetrating rain and a laminated film for windproofing. Let it rain on your parade. You're covered with BLOCKTECH.
---
Combining classic men's coat styles with cosy down padding for reliable insulation, our range of Down Parkas boast Ultra Light and Seamless technologies with protective hoods to keep you comfortable whatever the weather.
---
Portable. Practical. Protective. Discover our cutting-edge range of Pocketable Parkas for men, designed to be easily stowed away into a handy carry bag for easy defence against the elements at a moment's notice. Its water repellent fabric ensures you're never caught out by a surprise downpour again. We've also upgraded our Pocketable Parkas with innovative UV Cut technology, protecting you from harmful UV rays whether the sun is out or not.
---
This is where versatility meets practicality. Our collection of lightweight men's parkas boasts highly transportable and compactable designs for handy weather protection on the go, whether you're caught in a surprise shower or planning to brave the elements.
Top