Men's Suits
First impressions matter. Give yours the touch of sophistication, refinement and contemporary innovation you need to get ahead of the game. Looking for traditional flair? Don't just wear wool – opt for incredible Stretch Wool jackets and trousers, designed to provide unrivalled freedom of movement to keep you comfortable throughout your day. After something a little more modern? Our innovative Kando suits boast lightweight, fast-drying and stretch designs to give you the edge you need.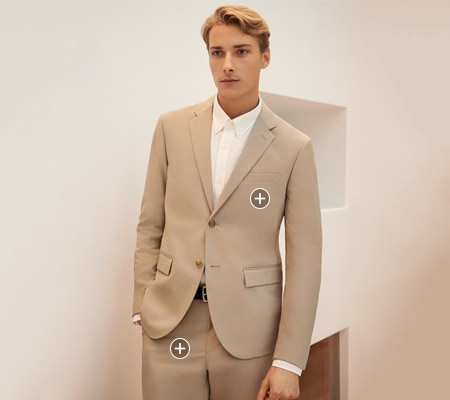 Introducing: the Kando range from UNIQLO. These suave blazer jackets capture all the quintessentially traditional feel of men's suits while offering cutting-edge fabric technologies. Incredibly lightweight, these modern jackets boast half the weight of a standard wool jacket for a breezy, unrestricted fit. A stretch finish, moisture wicking DRY material and Easy Care fabric similarly work to ensure you remain free to move as you like in your day-to-day. Complete the smart look with a Super Non-Iron Shirt – the easiest way to look as smooth as you feel.
The Kando range from UNIQLO is designed to provide all the classic flair of traditional men's formal wear while offering all the innovation of our modern fabric technologies. Surprisingly lightweight and extra stretchy, these trousers offer a refreshingly unrestricted fit to make sure you're free to move as you need throughout your workday. Complete the look with an Italian Oiled Leather Belt for an effortless, refined aesthetic.
Impeccably crafted and meticulously refined, our range of stretch wool blazer jackets for men offers the ultimate experience of sophistication while providing a uniquely comfortable fit. Available in a range of sizes and colours including black, grey and navy blue, these blazers are ideal for pairing with our Stretch Wool trousers and Easy Care Long Sleeved Shirts for a complete smart suit.
A look inspired by traditional style with a feel enhanced by modern fabric technology: step up your game with our Stretch Wool suit trousers for men. Made of premium pure wool material with added stretch functionality, these trousers can be effortlessly paired with our Stretch Wool jackets for a complete smart suit. Add a stitched Italian leather belt to really perfect the details.
Top