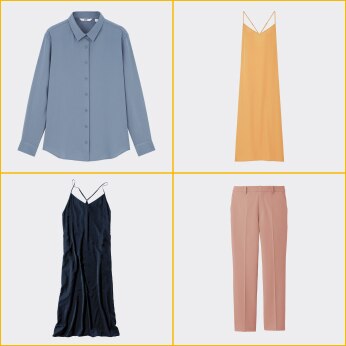 When women lose their jobs, they can no longer support themselves financially. They may be at risk of domestic violence, or they may lose their family. We believe these women need to be able to regain their confidence. We want to use the power of clothing to help them smile again. With that aim in mind, UNIQLO has donated innerwear and other clothing items to women living in shelters by enlisting the help of NGOs worldwide. However, in the face of COVID-19, we no longer believe that is enough.
On March 8th 2021 - International Women's Day - UNIQLO and other Fast Retailing Group brands presented around 10,000 items of clothing - including dresses, cardigans, pants, and bags - through the Wakakusa Project, to women who are living in shelters. UNIQLO and GU stores in Tokyo and Osaka also hold events where they invite shelter residents to come and choose their favorite clothes, free of charge. Stylists give the women clothing advice and a professional photographer takes photographs. All of these events are designed to give women the opportunity to regain their independence. UNIQLO will continue to work with various partners to facilitate these initiatives.
On March 14th, our UNIQLO TOKYO store invited Wakakusa Project director Atsuko Muraki and NHK producer Kazuyo Fukuda to speak about women's issues in the wake of COVID-19.