UNIQLO'S SUPPORT TO REFUGEES AND OTHERS FORCED FROM HOME
To create a world where no one is forced to flee.
According to UNHCR, the UN Refugee Agency, over 100 million people* around the world have been driven from their homes by conflict and persecution or are being forced to flee due to war and oppression. UNIQLO has been working with UNHCR since 2006 to support them. In 2011, UNIQLO and UNHCR entered a global partnership and since then we have been providing continuous support to people who have been forcibly displaced, regardless of their circumstances or where they come from. Along with UNHCR, in collaboration with other NGOs, we do not only provide goods and financial donations, but also extend comprehensive support to enable refugees and other displaced people to build new lives by offering vocational training and providing employment, boosting self-reliance.
*Source: UNHCR: Ukraine, other conflicts push forcibly displaced total over 100 million for first, 23 May 2022
Humanitarian assistance for the Ukraine crisis (2022)
For the humanitarian emergency in Ukraine, Fast Retailing, parent company of UNIQLO, donated US$10 million (approx. ¥1.15 billion) to UNHCR to support people forced to flee. The donation provided urgent assistance such as shelter, psychosocial support and emergency supplies to affected populations in Ukraine and neighboring countries. In response to UNHCR's needs, Fast Retailing also announced a donation of 100,000 items of clothing and other products, such as UNIQLO HEATTECH blankets and HEATTECH innerwear. Individual UNIQLO operations in the EU have also started donating UNIQLO products and recycled clothes, including secondhand winter clothing that customers have brought into our stores. We are also raising funds from our employees and customers, and we have launched an employment program for those who have fled Ukraine in Germany and the Netherlands.
Helping Combat COVID-19 (2020-2021)
Many refugees and other displaced people live under circumstances in which they lack access to sufficient medical care or proper sanitation. As such, life in refugee camps or densely populated urban spaces carry a high risk of infection. In 2021, Fast Retailing donated over 3 million UNIQLO AIRism masks to UNHCR for distribution to refugees and internally displaced persons worldwide as well as host communities. Fast Retailing also donated US$100,000 to help UNHCR respond to the coronavirus pandemic with essential support and services, including assistance to children deprived of educational opportunities due to COVID-19.
Winter survival assistance in Afghanistan (end 2021)
Even before the full-fledged onset of winter, when temperatures can fall below zero, many persons forcibly displaced in Afghanistan and surrounding regions had suffered from drought and other natural disasters, as well as food shortages. All of these are in addition to the risk of COVID-19. Fast Retailing donated US$800,000 (approximately 92 million yen) in winter assistance to UNHCR to provide relief supplies, such as blankets, solar lanterns and tent insulation kits, to allow people forced to flee, especially women and children in particularly vulnerable situations, to protect themselves from sub-zero temperatures. Fast Retailing and UNIQLO U.S.A also donated over 42,000 winter items including fleece jackets and Heattech innerwear to people evacuated from Afghanistan in partnership with International Organization for Migration (IOM) and other local partners.
UNIQLO Supports Refugees Worldwide
UNIQLO always aims to maximize the potential of the "power of clothing" so that we can provide comprehensive and consistent support to refugees. We have developed various initiatives worldwide that help people learn about refugees and their situations, and we encourage them to support our initiatives.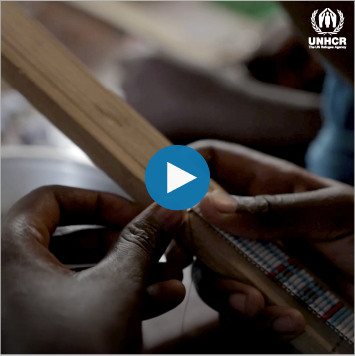 UNHCR x UNIQLO #WithRefugees Keychains Limited Edition
with MADE 51
For World Refugee Day 2022, Made51, together with UNIQLO, produced limited edition UNHCR x UNIQLO #WithRefugees keychains that connect people's hearts and sprits. The keychains are available for purchase online in Japan and the United States. We also select a range of items from the MADE51 collection to sell at pop-up stores in five UNIQLO stores in Japan (Tokyo, Harajuku, Ginza, Asakusa, and Kichijoji) and six stores in Europe from June 16, 2022.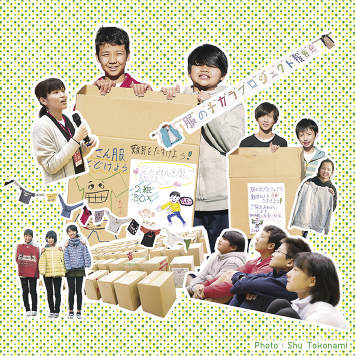 The Power of Clothing Project
(Japan)
The Power of Clothing Project is an outreach and online learning program run by UNIQLO employees that teaches students about the diverse value of clothing and global refugee situations. After attending the lecture, children run their own original projects to collect secondhand children's clothes that the students or children in the local community no longer wear. Those clothes are then sorted and delivered to refugees living in refugee camps or those in need through UNHCR. Now in its tenth year, a total of 2,829 schools and approximately 300,000 children have taken part in the project to date, and roughly 4.2 million items of kids clothing have been collected and delivered to refugee children around the world.
Support for UNHCR's Campaigns to Recruit Donors in Stores (Japan)
We have provided spaces to conduct UNHCR's face to face campaigns, which recruit monthly UNHCR supporters at UNIQLO stores. This provides opportunities for the customers to learn about the latest refugee situation and UNHCR's activities. With this, UNIQLO is able to help tell the current situation of people forced to flee globally and the most up-to-date support activities they receive.
Refugee Support at Group Brands
Most Viewed Contents
UNIQLO DOWN RECYCLE

Recycling clothes into clothes, UNIQLO's latest challenge that opens up new links between people, clothing, and the global environment. We are starting with dow...

CLOTHING SUPPORT

We donate clothing collected from customers through recycling activities to refugee camps, etc. To be of use, it is very important to ensure the donations meet...

GRAMEEN UNIQLO (Bangladesh)

In 2011 we established a social business, "Grameen UNIQLO Ltd" in Bangladesh with Grameen Bank, founded by Nobel Peace Prize winner Muhammad Yunus. 15 stores we...

THE PEOPLE BEHIND OUR CLOTHES

UNIQLO clothes are made by people around the world who work in our partner factories. We promote the wellbeing of every worker by supporting efforts to create s...
Recommended Contents
DORAEMON A FAMED CAT-LIKE ROBOT MUCH-LOVED THROUGHOUT JAPAN

Beloved for more than 50 years, the cat-type robot Doraemon is a worldwide popular manga and anime character from the 22nd century. Always kind and ready to hel...

BLUE CYCLE JEANS

At UNIQLO, we are creating jeans that respect the future of our planet. Jeans born from cutting-edge technology,developed in our Los Angeles-based Jeans innovat...

GENDER

All women should be able to pursue their dreams and forge a new tomorrow. We want to see women enjoy infinite possibilities. Believe in a world that enables wom...

RE.UNIQLO

Can your old clothing improve the future? Yes! At UNIQLO, we recycle your used garments through our circular sustainability programs. Take our recycled down ini...