Sustainability
Report
2022
LifeWear: A New Industry
In December 2021, Fast Retailing reimagined its LifeWear concept,
committing to a strong vision and action plan that will see LifeWear evolve into a new type of industry.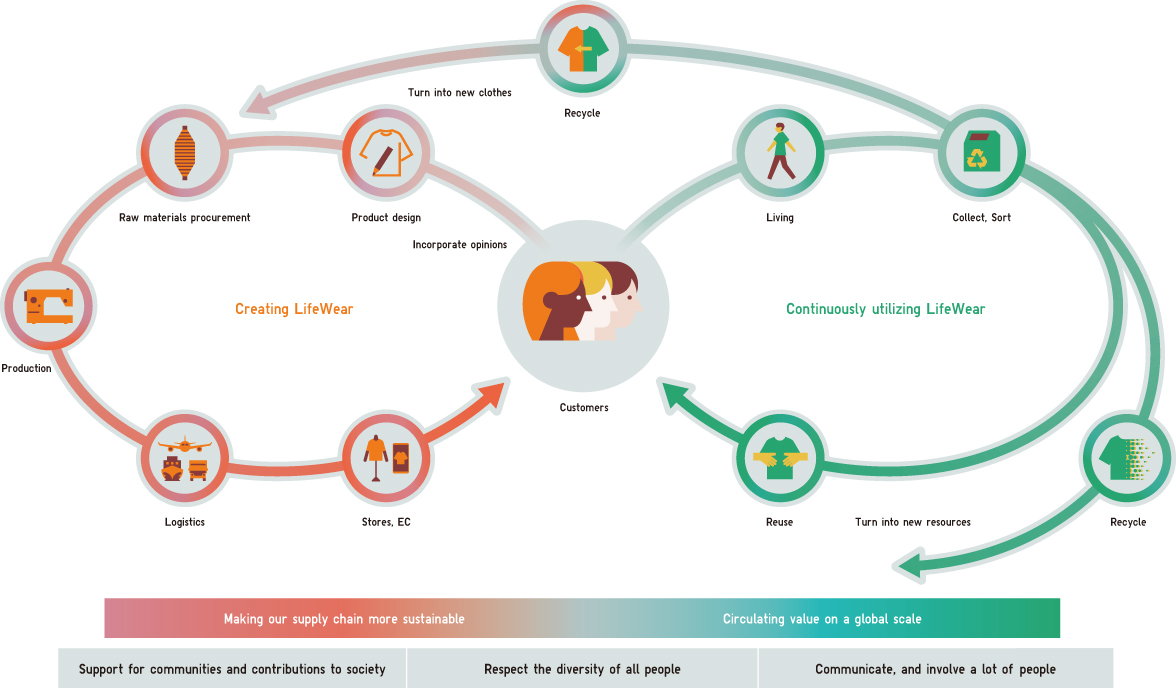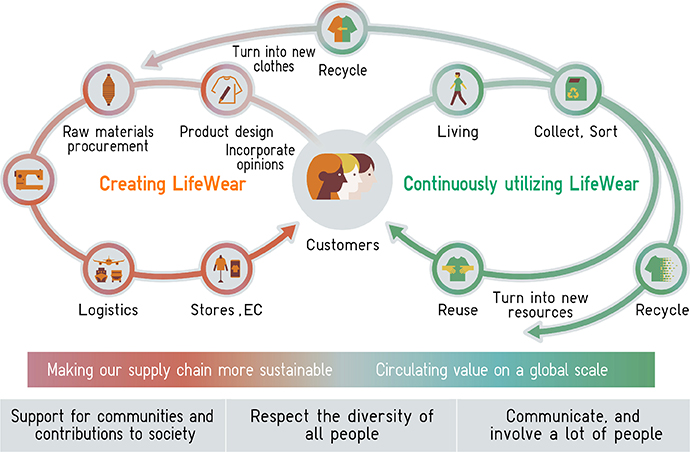 A model to achieve both sustainability and business growth
Fast Retailing's business is made possible by the foundations of a stable and healthy society. Accordingly, we aim to make the world a better place through every item of LifeWear we create. The diagram above helps to illustrate our approach to this goal. The circle on the left shows our commitment to the environment and to workers across our manufacturing, transportation and sales processes, so that our customers may shop with full confidence. Meanwhile, the right circle shows how customers can continue wearing our durable LifeWear apparel for a long time, while we take responsibility for the way our clothes are used even after sale.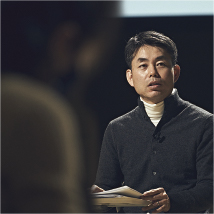 The session allowed everyone to participate from the same perspective. Koji Yanai, Director of the Board and Group Senior Executive Officer, shares our vision of how LifeWear can bring in a new business revolution that contributes to establishing a sustainable society, as clothing takes an essential role in our life, along with food and shelter.
How we'll achieve our vision
Fast Retailing has established targets to reduce greenhouse gas emissions by FY 2030, in accordance with the goals of the Paris Agreement, to reduce environmental impact. These targets have been approved as science-based targets by the Science Based Targets initiative (SBTi). We also conduct human rights due diligence, not only in our own business, but also throughout our supply chain so that human rights risks can be identified and prevented. In terms of social contribution activities, Fast Retailing is committed to measuring and disclosing the impact of its community investments based on the Business for Societal Impact (B4SI) Framework.
The past, present and future of LifeWear
LifeWear is clothing designed to make everyone's life better. It is simple, high-quality, everyday clothing with a practical sense of beauty, ingenious in detail, thought through with life's needs in mind, and always evolving. "MADE FOR ALL" is the strong commitment we make to all our customers that LifeWear is for everybody. It is an expression arising through long and deep deliberation, and reminds us regularly that the clothing we make is ultimately for people who wear it in their lives each day.
In 2017, we commenced our Ariake Project–our inspiration to innovate and further increase the value of LifeWear for customers. Through the Ariake Project, we have acquired new insights for a new business model that incorporates workstyle and supply chain reforms to ensure we make, transport, and sell only the type and volume of products our customers truly want, exactly when they need them. Here, we introduce several initiatives that help us achieve this aim.