SUPPORTING
WOMEN
IN COVID-19
Women Shouldn't be Defeated by COVID-19
The coronavirus casts heavy shadows over women's lives, not least the shadow of poverty. IN Japan, right after stated emergency, approximately up to 340,000 men have lost their jobs in the wake of COVID-19, but the figure is much higher for women at roughly 740,000, partly due to the fact that there are more irregular female workers than male. Another problem relates to violence. According to the Japanese Cabinet Office, the number of women seeking advice for domestic violence and other issues in May to June 2020 when it was difficult to go out of the house due to the declared state of emergency increased roughly 60% compared to the previous year.
○If we look at increased number of domestic violence consultations during the COVID-19 pandemic on a monthly basis, we see a 60% year on year spike in the months of May and June/
* DV Advice Plus was set up urgently in response to concerns about the increase in domestic violence incidents and their level of seriousness as more women self-isolated at home or took temporary leave from work in the face of the spreading coronavirus pandemic, and the number of advice centers increased as a result.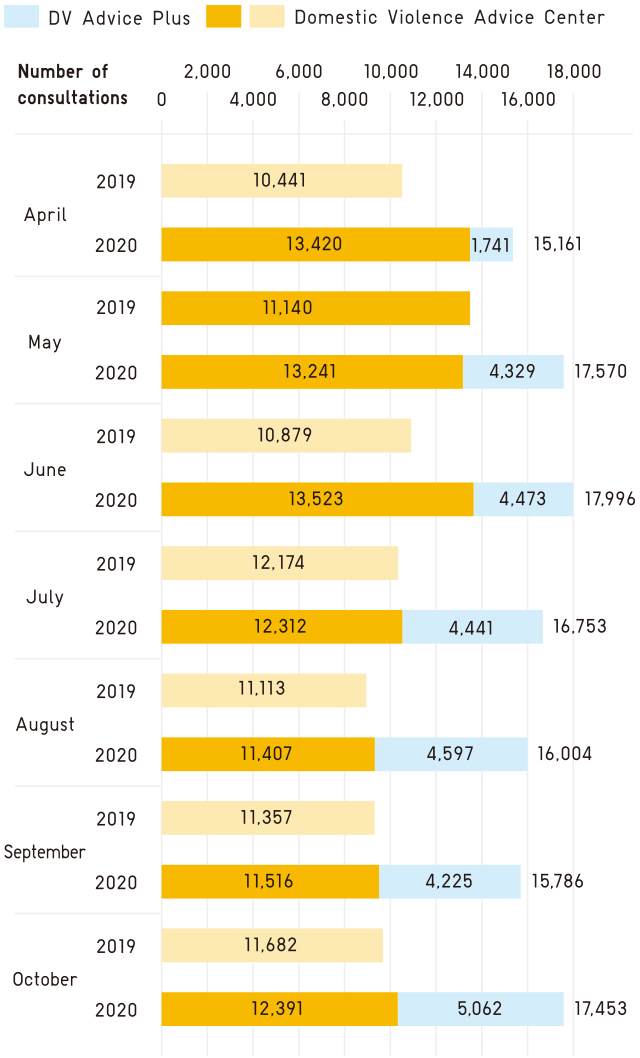 Clothing Donations & Special Events
When women lose their job, they can no longer support themselves financially. They may be at risk of domestic violence, or they may lose their precious family. We believe these women need to be able to regain their confidence. We want to use the power of clothing to help them smile again, even if only for a moment. With that aim in mind, UNIQLO has donated innerwear and other clothing items to women living in shelters by enlisting the help of NGOs worldwide. However, in the face of COVID-19, we have grown to believe that is not enough.
On March 8, 2021 International Women's Day, UNIQLO and other Fast Retailing Group brands will present about 10,000 items of clothing such as dresses, cardigans, pants, and bags through the Wakakusa Project to women who are having to live in shelters. UNIQLO and GU stores in Tokyo and Osaka also hold events where they invite shelter residents to come and choose their favorite clothes as a present. Stylists give the women clothing advice and a professional photographer takes photographs. All of these events are designed to give women the opportunity to regain their independence. UNIQLO will continue to work with various partners to facilitate these initiatives.
On March 14, our UNIQLO TOKYO store will invite Wakakusa Project director Atsuko Muraki and NHK producer Kazuyo Fukuda to speak about women's issues in the wake of COVID-19.
What is the Wakakusa Project?
The Wakakusa Project seeks to help girls and young women who are suffering from various social problems and finding life tough such as poverty, abuse, neglect, domestic violence, bullying, sexual exploitation, drug dependence, or maternity neurosis, and women who have a small SOS in their hearts but don't know what is causing their suffering. At a glance, Japanese society appears rich. There are many prejudices and misunderstandings about why these women find it difficult to live and the issues they face, so support is often lacking. The Wakakusa Project is an initiative that seeks to bring girls and young women crying out for help together with people who can extend the support that will touch their hearts.