Music based on short stories:this was the concept that gave birth to YOASOBI in the fall of 2019.The music duo has since rapidly climbed their way into the mainstream; today, their songs dominate stores and TV shows on a daily basis.
Ayase, the composer, and Ikura, the vocalist, sit down with UTto talk about how YOASOBI was formed and what fans can expect from their new UT collection.
This is YOASOBI's visual identity. A girl listening to music on her digital device hunches up with a serious expression on her face in front of a neon sign spelling out the duo's name—the image hints at something exciting about to happen.
How two met and formed YOASOBI.
In October 2019, two musicians formed a duo without much fanfare. That all changed the following month when they released the music video for their debut song, "Racing into the Night," on YouTube. It became an immediate sensation, racking up 50 million views in just six months. The song continued to gain momentum, and by the end of 2020, Billboard Japan had ranked it as the top song of the year. The name of this duo is YOASOBI, and they have collaborated with UT on a new collection.
The duo's uniqueness lies in their concept: they adapt songs from newly published short stories. YOASOBI—the name is derived from the Japanese word for going out at night and having a good time—began when Ayase, a musician who produces songs using the Vocaloid voice synthesizer software, received a pitch from Sony Music Entertainment. They wanted him to write songs based on the stories submitted to their online publishing platform, monogatary.com.

"I couldn't quite picture what they had in mind," says Ayase, "but it sounded fun. I never get around to reading books, and I thought my music could provide people like myself with a casual gateway to books. So I said yes."
Ayase and his staff first set out to look for a vocalist. While searching social media, Ayase came across a voice he liked. It belonged to a singer-songwriter who performed under the name Rira Ikuta—who is now the duo's other member and goes by the name Ikura (stylized as "ikura"). Ikura also said she initially had no idea how the project's concept would work.
"But I became more confident after listening to Ayase's past Vocaloid work," she says. "It was just amazing, and I began to feel that we could put together something great."

And so the duo began working on "Into the Night," an adaptation of Maya Hoshino's "Tanatosu no Yuwaku" (A temptation from Thanatos). Ayase says that of all their songs, this one took the longest to complete.
Initially, the duo considered approaching the track like a theme song. But somewhere down the line, they began to think that what the story deserved was not a simple accompaniment, but rather a full-scale musical adaptation.
YOASOBI immersed themselves into the story until they felt they had a good grasp of its narrative and themes, and then they started the process of reconstructing those elements as a song. But it took a lot of trial and error.
"The original story is pretty dark, and we wanted to make it even darker," Ayase says. "But three months and a couple dozen demos later, we still hadn't figured out how to do it. Finally, we arrived at an answer: embedding shocking moments inside a poppy sound. We thought this would help the darkness stand out. It took a while to get there, but I think as a result, we were able to produce a great song."
Once the song's direction was set, Ikura prepared herself to convey this mix of pop and darkness through her voice.
"During discussions about the song's direction with Ayase and his team, we started to talk about the idea of me singing in a flat,
inexpressive tone—the opposite of my Rira Ikuta persona," she says. "But it worked beautifully—it really makes the darkness in the song stand out. And I discovered something new about myself in the process. It was great to be able to embark on this exciting, new direction right from our first song."
The rest is history. The duo has since released eleven singles, including their latest, "Sangenshoku" (RGB). Ayase says that what ties the songs together, ironically, is the lack of consistency in terms of genre and featured instruments.
"Each song is like a playground for us," he says. "We think about what kind of music would be fun to pair with the story or what kind of sound we feel like experimenting with and then just go with it. I mean, that kind of playfulness is in our name. So there's no one thing that makes a song a YOASOBI song. It just needs to be written by me and sung by Ikura."
Ikura agree and adds, "One thing that's very important for us is respecting each other's approach to the songs. For every song, we toss ideas back and forth between each other until we decide on a direction we both agree is best for that song. If YOASOBI is to work in the long run, this needs to be our driving principle."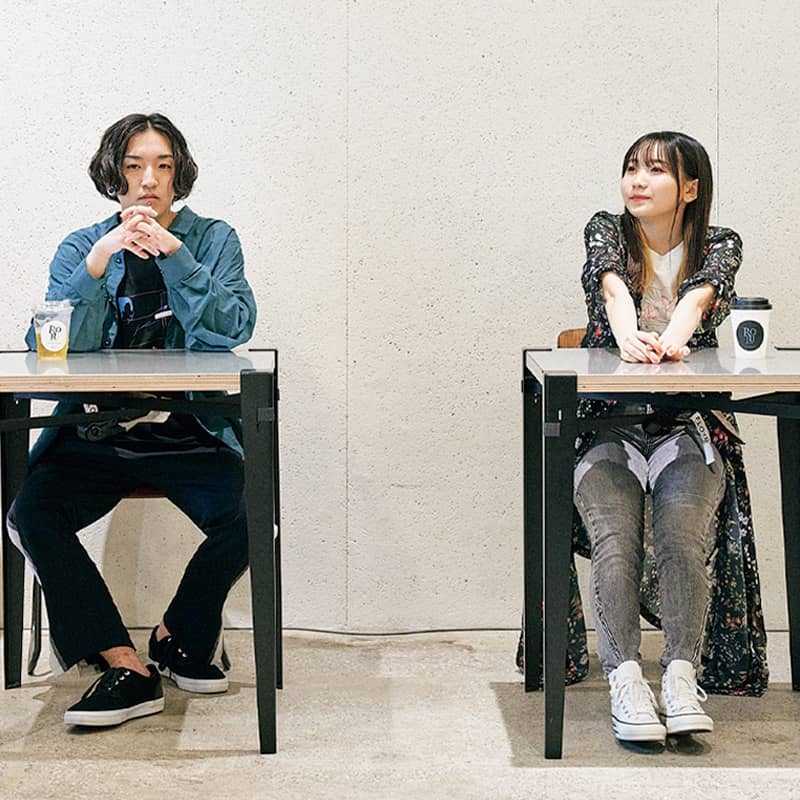 Ayase (left) and Ikura sit down for the interview.
"Wearing" a song
YOASOBI has adapted stories into songs, and now they've adapted their songs into T-shirts—with the same level of thoughtfulness that goes into their music.
"Music and fashion are very similar," says Ayase. "They both accessorize your daily life, complementing your mood or activity. So for this UT collection, we fused the two elements. You're 'wearing' our songs. The graphics come straight out of our music videos, so the T-shirts also help deepen the world of YOASOBI."
"I never thought we'd get to collaborate with UT, so this is like a dream come true for us," adds Ikura. "I think I might just start crying if I go into my usual UNIQLO store. [Laughs.] I'm really happy that this UT project will help bring YOASOBI into the lives of so many more people."
©Cotoh Tsumi
©Cotoh Tsumi
Printed on the front is the duo's visual identity, created by illustrator Tsumi Cotoh. Her Instagram account warns: "Sorry, I'm only capable of drawing young women. The coolest women."

© Ai Nina
© Ai Nina
The pale color scheme of the "Into the Night" music video, animated by Niina Ai, belies the shocking nature of the tale conveyed by the lyrics. The shirt features a scene from the climax, where a heartbroken young man and woman run off together.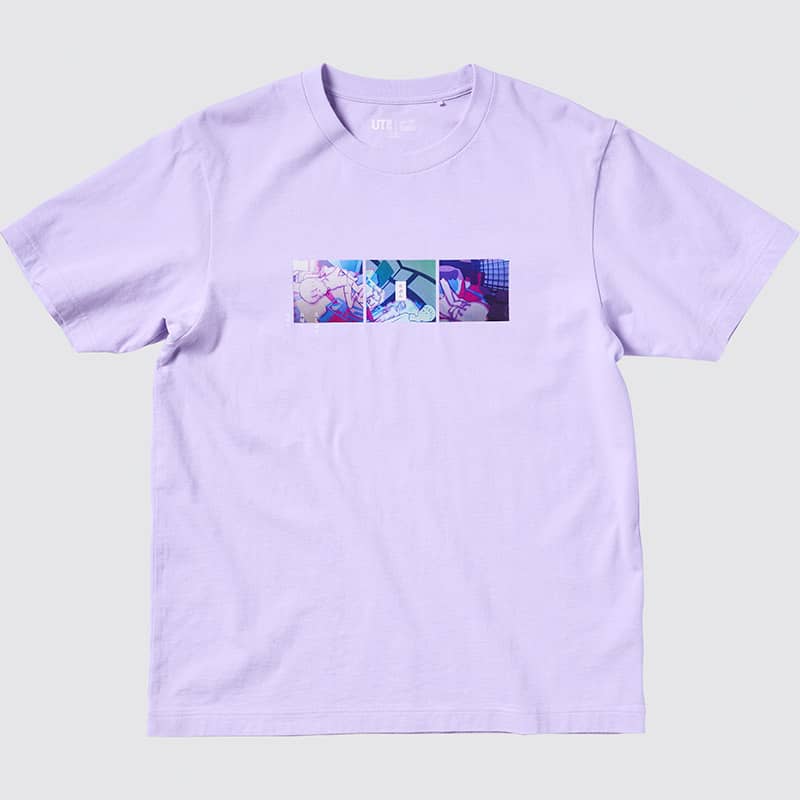 ©Nanjo Saho ©Shinano
"Probably" depicts the breakup of a young couple. The music video tells the story through Saho Nanjo's pastel world, a fusion of the everyday and the fantastical. Snapshots from this world have been printed on a purple background for this T-shirt.
©Makino Atsushi
The music video for "Gunjo" (Ultramarine) is notable for Atsushi Makino's puppet animation. Makino's imaginative interpretation of the song took even Ayase by surprise. This shirt features a collage of images from the video.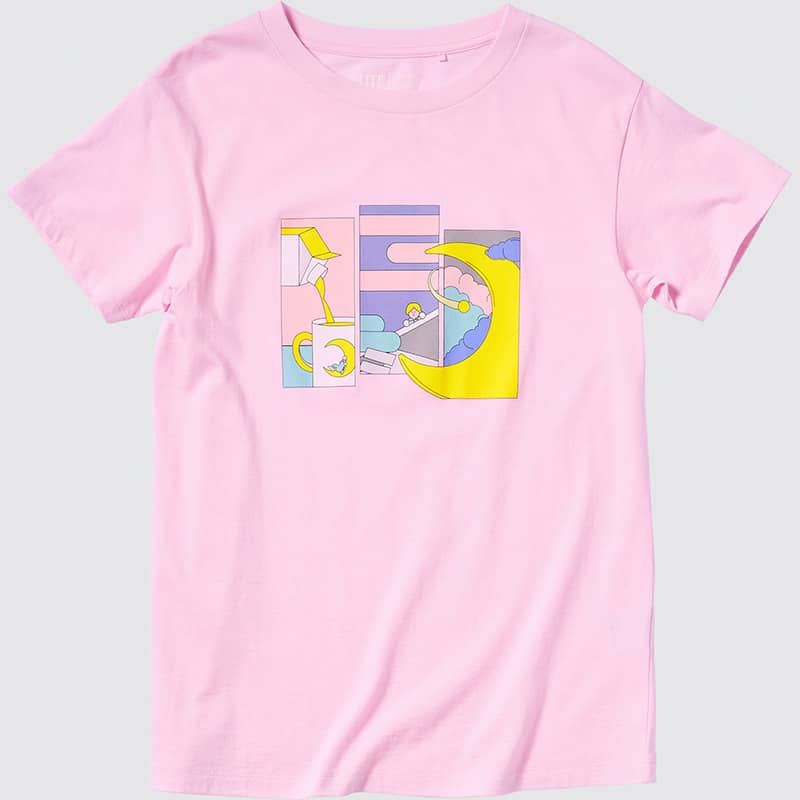 ©Izumi Kanae, subakosha LLC, Kotomi Yamanaka, Tatsunori Murayama, Yusuke Hosoya
"Haruka" is based on "Tsuki Oji" (Moon prince), a short story written by radio and TV writer Osamu Suzuki. The music video presents a world created by Kanae Izumi that is as pleasant as that of the original work. This T-shirt features a large moon on the front in homage to the original's title.
©Bun, subakosha LLC, Kotomi Yamanaka, Tatsunori Murayama, Yusuke Hosoya
The music video for "Ankoru" (Encore) features artwork by illustrator and animator Bun. A love story between a boy and a girl set during the end of the world is depicted with a disarmingly casual everyday-ness. This T-shirt features scenes from the video related to the couple's shared passion: music.
© Rabbit MACHINE
© Rabbit MACHINE
©subakosha LLC, Kotomi Yamanaka, Tatsunori Murayama, Yusuke Hosoya
The characters in the music video for "Halzion" were designed by Rabbit MACHINE. "The graphics on the shirt appear only briefly in the video," says Ikura, "but I think here they serve as wonderful mementos of the story told in the original novel and the song."
©Mutsuki Jun
Based on Yuichiro Komikado's "RGB," YOASOBI's latest song, "Sangenshoku" (RGB), is presented on this T-shirt through illustrations by the manga artist Jun Mutsuki. Mutsuki also illustrated the music video for an abridged version of the song, produced in collaboration with NTT Docomo to promote the mobile phone operator's Ahamo service.
PROFILE
YOASOBI | This music duo consisting of composer Ayase and vocalist Ikura debuted in November 2019 with "Into the Night." Memorable tunes, vibrant music videos, and a catchy concept—all their songs have been adapted from newly published short stories—helped them break through in 2020. Their latest single is "Sangenshoku" (RGB).