Founded in Paris 25 years ago, PAUL & JOE is known for its numerous iconic designs such as beautiful flower prints and cat motifs. It continues to attract many fans, and a long-awaited collaboration will be released this spring. Prior to the collection's release, we were fortunate to reach the designer Sophie Mechaly online.
Becoming a fashion designer was my destiny.
Paris, 10:00 am. Right on schedule, a lovely-looking woman in a bright yellow knit, her hair pulled back in a casual ponytail appeared on screen.Sophie seemed relaxed while conveying a sense of elegance and grace. Her cheerful disposition made us feel the spirit of "Joie de vivre (the joy of living)" with which her brand identifies. However, Sophie quickly pointed out that she does not have any particular brand concept. "Rather than being pigeonholed according to a set of rules, I want to follow my heart, be sensitive and honest with whatever fascinates me, grabs my attention, or tickles my curiosity. Above all, I value intuitive feeling." Sophie's inquisitive mind seeks inspiration across a range of subjects including art, music, and the beauty inherent in nature. She said she puts together her collections while cherishing moments that touch her heart. "I am conscious of the need to enjoy life and to always learn and be inquisitive. Things that at first glance seem to be unrelated such as real experiences, music, and food culture, are all sources of my inspiration. In this way, my actual experiences and feelings form the core of the collection. PAUL & JOE reflects my own style. And I'm sure that customers who pick up the pieces can also empathize with them."
Prints featuring flowers and cat motifs have always been important representative elements for this long-loved brand. In addition to the design, the vivid and unpredictable coloring of the line is tried-and-trusted, and the original print items released each season continue to fascinate fans. Among them, Chrysanthemum is famous for being inspired by a vintage cushion cover Sophie found at a flea market. Meanwhile, the cat motif design came to life when Sophie, who has been an animal lover since childhood, was involved in a photo shoot at work. When she saw the cat model, Gipsy, it was love at first sight and she ended up adopting him and taking him home. It was not long until Nounette joined the family, and now these two cats became the brand's mascots and they are attracting attention not only from PAUL & JOE fans but from cat lovers all over the world. When asked why she decided to incorporate the cat motif into her collection, she said, "I have loved animals since I was a young child, but I think cats are particularly alluring because they have a dignified beauty and independence. Cats are self-indulgent and honest with their hearts and don't give themselves up to flattery. Just when you think you are going to get snubbed, they unexpectedly rush over for some affection. I find that so adorable and never get tired of it. To tell the truth, I think I also have a cat-like personality [laugh]. Cats are very important to me, their influence so great that they frequently appear in my collections." Because this design is based in Sophie's love for her cats as family, fans not only appreciate these prints as creative motifs, but share in this endearing bond.
Why did Sophie enter the world of fashion and start a brand in the first place? The reason, she said, "I think it was my destiny. From an early age, my mother, who worked in design at the company she launched the brand "Le Garage"with my father, took me with her wherever she went. When school was closed for holidays, I would go with her to Italy to check patterns at a print factory, or we would be off to Switzerland to check embroidery finishes at an embroidery factory there. I think because I have had firsthand experience with such places from an early age, they have formed a foundation for my current self. She also took me to many other wonderful places such as movie theaters, art exhibitions, flea markets, antique auctions, and fancy boutiques. My relationship with my mother was special. In addition to taking her work seriously, she was also independent and cool. Above all, I remember always being at her side and watching her enjoy herself. I really respected her. I think being exposed to so many beautiful things from a young age has really influenced my own way of thinking and how I deal with my work."
After graduating from university and gaining experience working under designer Azzedine Alaïa, Sophie joined Le Garage. The brand was doing well, but Sophie's mother, who took ill, decided to close it. Against that backdrop, when wondering what she could do, Sophie decided to launch a new brand. At that time, she had a one-year old son and was pregnant with her second child. "I was young and full of energy, and I had a lot of things I wanted to do, so I didn't hesitate. The important thing about life is to understand that there is joy. And when you notice that joy, be sure to enjoy it thoroughly. If there is joy I believe I can overcome even the most difficult things. I didn't really have time to stop because I was serious about working and raising my children."
Twenty-five years have passed since the brand was launched. As a business leader and fashion designer who has released a collection every season and continues to grow her brand, in addition to being a mother, Sophie has felt the changing status and roles of women in society. "The current age is one in which women can truly become independent as human beings. There are more opportunities in society for them to demonstrate their abilities and express their own thoughts. Just as my mother was an ideal role model for me and gave me the courage to play an active role in society, through PAUL & JOE, I would be happy if I could give today's young people the courage, even if just a little, to take a step forward." As a brand message, such positive and spirited words are reflected in PAUL & JOE designs.
A collaboration overflowing with PAUL & JOE's commitment.
PAUL & JOE has a lot fans in Japan, and for Sophie, the feeling is mutual. At the beginning of the interview she talked about her fondness for Japan. "I first learned about UNIQLO when I was in Tokyo during a visit to Japan. That was about 15 years ago, I think. I was surprised by the color variations, quality, and prices of the cashmere knits. Since then, I have been paying attention to the company's collaborations with great designers." At last, the collaborative items made by UNIQLO and Sophie's PAUL & JOE have been completed.
The collaboration, which will go on sale from March 26th , is not limited to print T-shirts; rather, it is a full collection that includes dresses, blouses, and skirts. "More than anything, the most important thing for me was to make clothing that would be accepted by everyone. UNIQLO was also sympathetic to that stance, so I think we have been able to make a truly great collection together." The UNIQLO development team said they were surprised by Sophie's commitment to pouring her own aesthetic sense into details down to the last millimeter in areas such as silhouette, the dress length, and the length of openings at the front. "We communicated very closely so there weren't many problems." However, her attention to detail is demonstrated by the tiered skirt for which numerous color samples were checked to ensure the final color gradation was just right.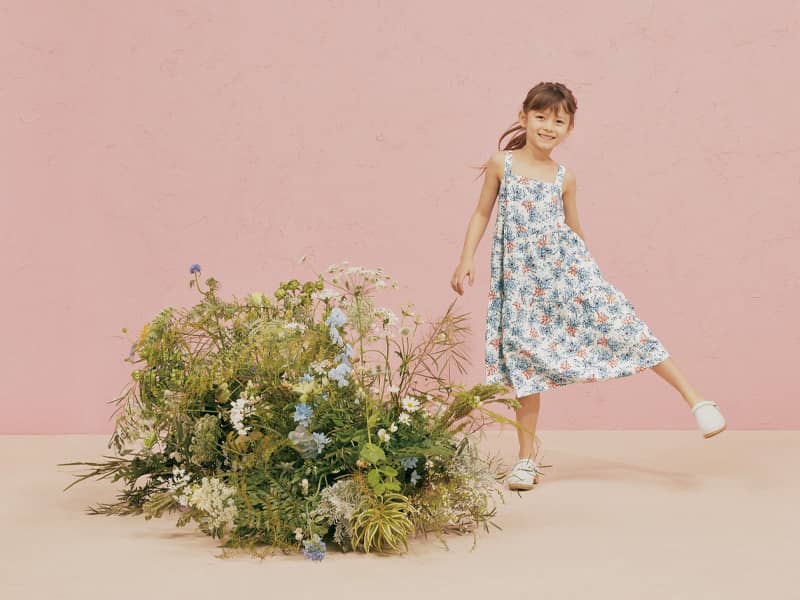 With the completed collection in hand, Sophie shared the following. "When wearing items in this collection, I want people to feel comfortable and at ease in the cheerfulness of spring. I hope it will be a collection that not only brings happiness to the person wearing it, but also inspires those around them to say that they like it. I think this will give the wearer confidence that will lead to happiness. The silhouette for the parent-child coordinates was created from a desire to deepen family ties. Just like I had a strong bond with my mother, it would be great if other mothers and daughters could share happy feelings and experiences by wearing matching clothes and patterns."
PROFILE
Sophie Mechaly | PAUL & JOE encompasses fashion, cosmetics, eyewear, and other lines. After completing her studies in management and obtaining her professional work with fashion designer Azzedine Alaïa, she then joined Le Garage, a shirt company that her parents ran, becoming a full- time designer at the age of 26. In 1995, the young designer decided to launch her own brand PAUL & JOE, named after her two young boys, Paul and Joe.
ALL PAUL & JOE PRINTS ARE COPYRIGHTED