Nakano Broadway is a commercial complex in Tokyo located just a few minutes from Nakano Train Station. It has an old-fashioned vibe that gives it the look of something straight out of the 1970s. Many of the stores specialize in products related to manga and anime. For this article, we are focusing on two of these businesses: Mandarake, a manga store that also caters to fans of other subcultures through its many branch stores; and Taco ché, a bookstore rooted in Japan's underground culture. UT Creative Director Kosuke Kawamura tells us how the two businesses have transformed Nakano Broadway into a top destination for manga and anime fans and explains what he feels is the universal appeal of Japanese pop culture.
While Akihabara is the undisputed mecca of all things manga and anime, there is another Tokyo hotspot for fans of Japanese pop culture: Nakano. Yet, the two areas could not be more different. "In Akihabara, you'll find a wide range of pop culture stores spread out throughout the area," says Kawamura. "But in Nakano, all the pop culture stores are located inside Nakano Broadway. In a way, it's like a boutique in Akihabara." In other words, it's a one-stop center for Japanese pop culture.
One of Kawamura's go-to places is Taco ché, a bookstore that specializes in manga by some of the more out-there artists of the 1980s and 90s—think Takashi Nemoto, Mimiyo Tomozawa, and Suehiro Maruo—as well as works from around the world that were influenced by the culture that grew out of these manga. The store also has a large selection of zines and even music-related items like vinyl records. "I like to think of it as a Village Vanguard for the hardcore," says Kawamura, referring to the popular alternative bookstore chain. Kawamura is not just a customer here; he has collaborated with Taco Ché as an artist as well. For example, his work was displayed at Heta-Uma and Mangaro—two manga exhibitions that the store organized in the south of France in collaboration with Marseilles-based artbook store Le Dernier Cri.
Another business that Kawamura patronizes is Mandarake. "They sell pretty much anything related to Japanese pop culture," Kawamura says. "I don't know how to even begin to describe it." While the main store specializes in manga, it also operates 35 branch stores within Nakano Broadway that are focused on everything from anime to cosplay to collectible card games. "When I get visitors from overseas, I always take them there," Kawamura says. "Or rather, they demand I take them there. Cali DeWitt, who collaborated on a UT collection last season, spent a lot of time looking around Henya, which sells retro goods from before 1980."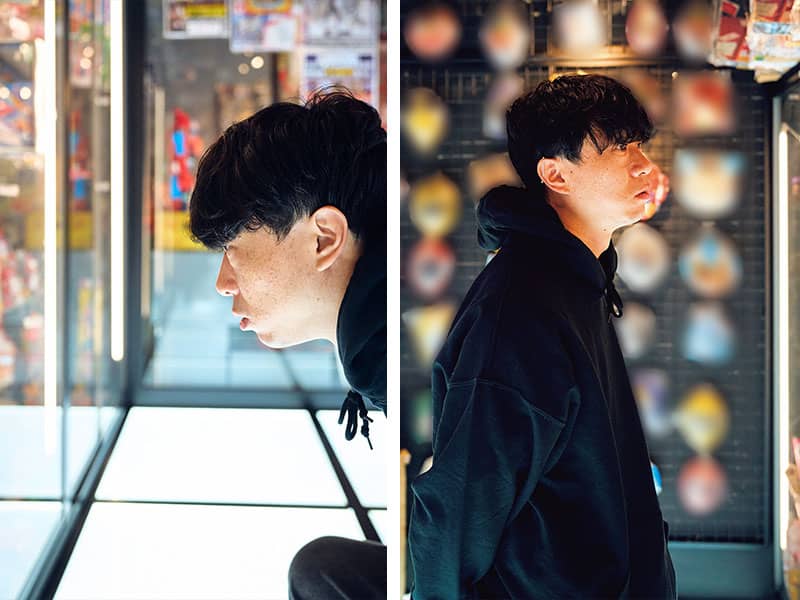 In a way, Taco ché and Mandarake complement each other: the former works to spread the cutting edge of Japanese pop culture overseas, while the latter brings in tourists from around the world who are already familiar with mainstream Japanese pop culture. That makes Nakano Broadway a hub of sorts where the world and Japanese pop culture cross paths. Kawamura says that thanks to his friends from overseas, he has developed a new appreciation for the pop culture he had always taken from granted. For example, he is now more aware than before of what it is that the world finds so attractive about Japanese pop culture: the almost overwhelming attention to detail.
"Katsuhiro Otomo—who is huge overseas—is famous for this," explains Kawamura. "For example, if he destroys a building in his work, he'll make sure the details in each piece of rubble convey everything that led up to that destructive act. Dragon Ball and One Piece may be mainstream works that pretty much play things safe, but there is still a level of detail in both works that add spice to their stories. It's similar to the meticulous designs of made-in-Japan products. I think this approach has had a profound impact on overseas fans of Japanese pop culture."
Looking for Japanese pop culture? Start here!
Taco ché
A year after opening in 1993 in the college district of Nishi-Waseda, Tokyo, as an offshoot of manga magazine Garo, the shop moved to its current location. It specializes in self-published, low-circulation, or limited-edition books and old issues of magazines that are difficult to find anywhere else. It also sells CDs, cassettes, and clothes.
3rd Floor, Nakano Broadway, 5-52-15 Nakano, Nakano-ku, Tokyo
Phone: +81-3-5343-3010
Open Noon – 8 p.m. Closed on Wednesday.
www.tacoche.com
Mandarake Henya
Manga artist Masuzo Furukawa opened the original Mandarake in Nakano Broadway in 1980. Since then, the business has greatly expanded, with shops across Japan and 33 branch stores in Nakano Broadway specializing in different goods. Henya is a branch store that sells corporate novelty items and other retro goods from the 1930s to the 70s. It is a store that is very close to Furukawa's heart.
4th Floor, Nakano Broadway, 5-52-15 Nakano, Nakano-ku, Tokyo
Phone: +81-3-3228-0007
Open Noon – 8 p.m. every day.
www.mandarake.co.jp/category/jpa
Recommender Wii from Gaak from Paris
Manga Story
Full of anime, manga, action figures, board games, and posters, this is the perfect shop for Parisian fans of Japanese pop culture. Wii also recommends Manga Dori, which specializes in cosplay and model katana that replicate fictional weapons from anime, comics, and video games.
Address: 13 Bd Voltaire, 75011 Paris.
Phone: +33-01-4700-9957.
Hours: 10:30 a.m. – 7:30 p.m.
www.manga-story.fr
Librairie Junku
The latest manga—not just paperbacks but also weekly manga magazines—line the shelves of this bookshop. "I come here on the weekends with my friends to check out the latest manga and anime," Wii says, "and maybe look for merch related to my favorite characters."
Address: 18 Rue des Pyramides, 75001 Paris.
Phone: +33-01-4260-8912.
Hours: 10 a.m. – 5 p.m.
www.junku.fr
Recommenders Uniqlo US Team from New York
Forbidden Planet
Located near Union Square along Broadway, this legendary shop is known for its vast inventory—if you're looking for something, you'll probably find it here. There are comics, action figures, toys, board games, movie memorabilia—and a large section dedicated to manga.
Address: 832 Broadway, NY 10003.
Phone: +1-212-473-1576. Hours: 10 a.m. – 8 p.m.
www.fpnyc.com
Anime Castle
It might be tiny, but this Queens store is a mecca for anime fans. There are manga, anime, soundtracks, action figures, posters—and even some niche titles that you might not even find in Japan unless you go to a big store.
Address: 35-32 Union St., Flushing, NY 11354.
Phone: +1-347-438-1296.
Hours: Noon – 6 p.m.
www.animecastle.com
PROFILE
Kosuke Kawamura | Kawamura was born in Hiroshima in 1979. His work as a collage artist has led to a variety of creative projects, from solo exhibitions around the world to corporate collaborations. He became the Creative Director of UT in 2022.
Release dates and prices may vary. Some items might be limited to certain stores or countries of sale or may be sold out.