Women's Jumpers & Cardigans
Refresh your Spring and Summer wardrobe with our elegant collection of jumpers and cardigans for women. Layer up on warmer days with lightweight cotton jumpers, luxuriously soft women's cashmere cardigans or Extra Fine Merino Wool knitwear. Discover innovative UNIQLO technologies like our 3D Knit and UV Cut designs, crafted to ensure you feel just as good as you look in your day to day.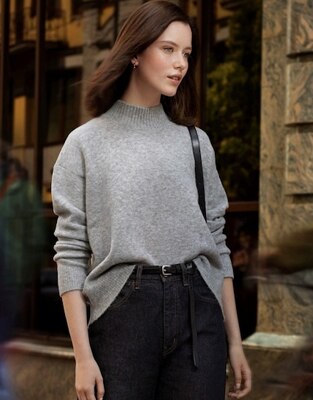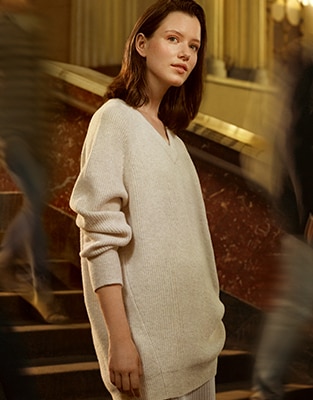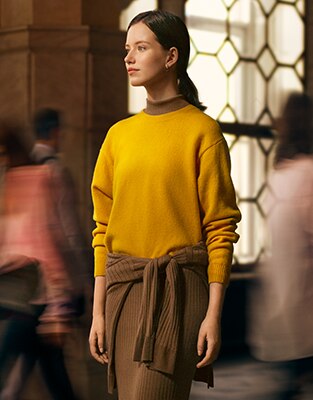 ---
What's more comfortable than a cozy wool jumper to slip on when temperatures are getting lower? These cold weather staples are made from premium material that feels light and warming at the same time. Wear them on their own during chilly nights or as an extra layer under your jacket.
---
Our jumpers and cardigans made from extra fine Merino wool are a great addition to any wardrobe. No matter the season, these comfortable and versatile basics can be worn in many ways and complete a multitude of outfits. Team them up with trousers, jeans or skirts to look instantly put together.
---
These jumpers and cardigans are made from incredibly soft cashmere with a fine texture, adding an elegant touch to any outfit. As stylish as they are comfortable, our timeless and classy cashmere jumpers and cardigans are available in several colour options and designs.
---
Redefining knitwear: Crafted as one piece using an innovative Japanese knitting technology called "WHOLEGARMENT", these 3D knit designs are entirely free from seams. They drape beautifully, feature an impeccable fit and create a flattering silhouette.
Style meets comfort: Update your wardrobe with our range of alternate knitwear. Keeping you covered any day of the week, these designs are sure to add a certain something to your look.
Top