Women's Innerwear & HEATTECH
Take action against the elements with HEATTECH: our range of innovative thermal tops, thermal leggings and accessories for women. Comfortably regulating body temperature without the discomfort of bulky clothing, our HEATTECH thermal innerwear cleverly uses moisture released by the body to retain heat to keep you warm in colder months. Crank up the heat in more challenging conditions with powerful Extra Warm and Ultra Warm pieces to make sure you're prepared whatever the weather.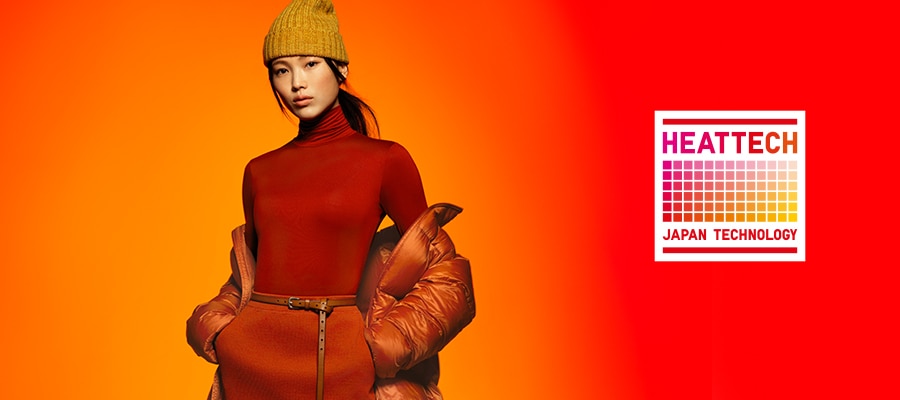 Offering support and warmth in equal measure, our stylish HEATTECH bratops for women feature our signature insulating material technology, while invisible built-in bra cups provide subtle yet reliable day-to-day comfort.
Outfit your wardrobe with our range of women's innerwear armed with HEATTECH Jersey technology, providing warmth in a lightweight, breathable design. Our HEATTECH collection offers a great level of warmth for everyday comfort, boasting a selection of thermal tops and warm leggings; perfect for preparing for colder weather. Looking for something to keep you toasty on during those really challenging cold spells? Check out our HEATTECH Extra Warm and Ultra Warm collections.
Keep cold weather at bay with our HEATTECH Extra Warm thermal tops, thermal underwear and winter leggings for women. Designed to be 1.5x thicker and warmer than regular HEATTECH, these innovative winter clothes are ideal for days when the weather just won't stop biting. A raised nap lining on our women's thermal tops and warm leggings provides a soft, fleecy touch for cosiness on the go.
Ultra Warm is here. 2.2x thicker and warmer than regular HEATTECH, this collection of thermal tops and thermal leggings fends off intense cold with ease while sitting comfortably and invisibly beneath the rest of your outfit. It's our most powerful, most insulating HEATTECH ever.
Cool off on warm days with our innovative range of AIRism innerwear for women. Highly breathable, moisture wicking and quick-drying, this lightweight next-to-skin layer feels like you're wearing nothing at all: the best way to stay cool when the weather's not.
Top