Men's Jeans
Jeans: that time-tested, all-season staple. Embrace the consciously casual look with our collection of men's jeans with fits for every ensemble, mood and style. We've updated our timeless Regular Fit Jeans for a brand new season and given them a new shape with a subtle taper and an inseam designed for space to roll up the cuffs for the ultimate in versatility. Don't miss our skinny jeans, which provide casual outfits with a sleek, contemporary edge and our authentic Selvedge Jeans offering a touch of vintage charm.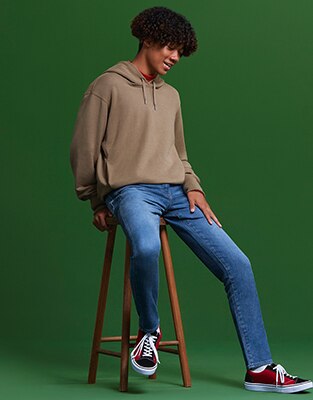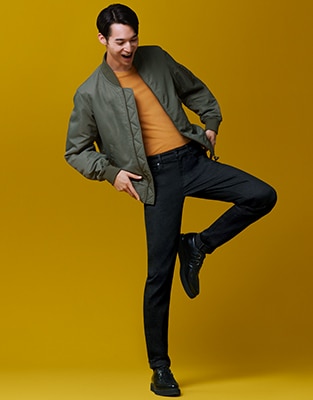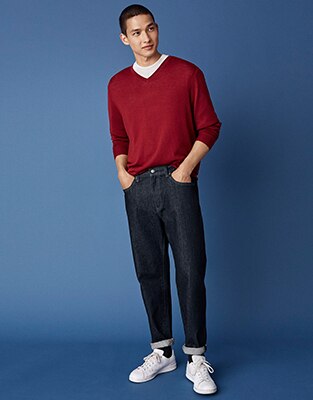 Our Selvedge jeans are cut from traditional, slightly stretchy Selvedge denim, making them as comfortable as they are stylish. Authentic detailing gives the denim a unique, vintage aesthetic perfect for embracing a little character in a classic pair of men's jeans.
Men's slim fit jeans are one of the most important elements of any complete contemporary wardrobe. A flattering fit can add a sleek, modern twist to any basic outfit with minimal effort. UNIQLO's slim fit jeans are cut from lightweight denim with a moderate stretch finish for long-lasting comfort.
---
The classic look of jeans meets the unrivalled comfort of joggers. Our men's EZY jeans boast an elasticated waistband and super soft material. EZY Jeans' dyeing process imitates that of denim for an authentic look, so you can indulge in the relaxed feel of loungewear without ever dressing down.
Reap the benefits of a smart 360 degree stretch design with our unique Ultra Stretch Jeans for men. Offering a flattering skinny fit with sacrificing the comfort of classic jeans, our Ultra Stretch designs taper through the leg for a fitted look and flat, smooth seams ensure long-lasting comfort.
The classic look of jeans meets the unrivalled comfort of joggers -- now upgraded with the charm and individuality of seasonal colour. Our signature EZY Colour Jeans come in a wide gamut of versatile colours, so you can pick that shades that suit your style.
A true classic, UNIQLO's regular fit jeans offer the ultimate in versatility. These timeless staples boasting a straight leg cut are ideal for dressing up or down according to your style and have now been updated for the brand new season to feature a subtle taper in the leg and redesigned stitching for improved comfort on the move. Pair with a UT graphic print T-shirt for a pinch of personality or with a smart button-down for a well put-together ensemble.
Top