Men's Accessories & Shoes
The secret of a great outfit lies in the details; carefully chosen accessories which convey personality without sacrificing function. Browse our range of men's accessories, including leather belts for men, sleek pure silk ties and stylish cashmere scarves. For casual wardrobes, check out our retro canvas backpacks, our classic summer hats and caps or try our on-trend trainers for effortless style from head to toe.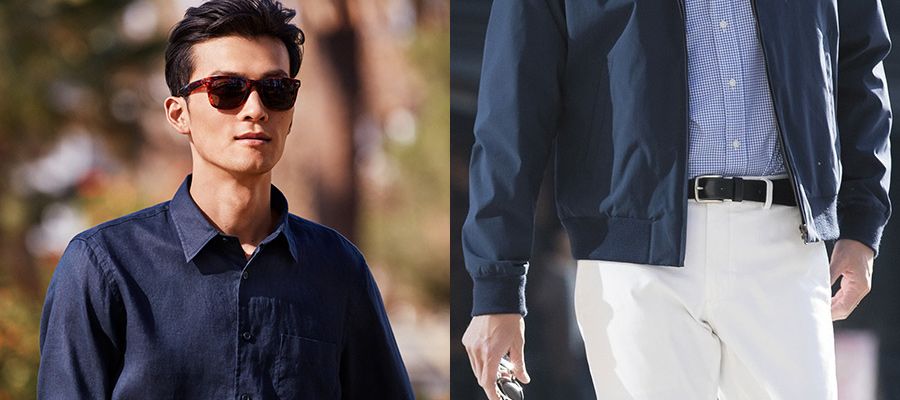 Buckle up, our collection of men's belts is here to give your favourite outfits a sleek and stylish finishing touch. Choose from gorgeously grained leather, stretch mesh designs and casual woven construction for a flattering fit, no matter what your style.
No modern man's wardrobe is complete without an array of ties for a variety of occasions, whether it's for polishing your professional look in the office or putting a final touch on a formal ensemble. All UNIQLO ties are made from pure silk and feature timeless solid colours, striped patterns and dotted prints.
Everybody needs a reliable and stylish pair of sunglasses, whether you're facing a heatwave or a surprise sunny spell on a cold day. Protect your eyes while enhancing your everyday ensemble with UNIQLO's range of men's sunglasses. Compatible with every look under the sun.
Simple, modern shapes meet sleek, functional designs: a range for the contemporary gentleman who wants to get the most out of his bag. Choose from classic backpacks in a host of complementary colours, unique single strap backpacks for a striking look or even a clever three-way bag which can be carried as a backpack, holdall or messenger bag.
When it comes to cold weather, there's no need to put your neck on the line. UNIQLO boasts a selection of incredibly soft, premium cashmere men's scarves in a versatile palette of simple, muted colours and traditional patterns.
There's nothing like coming home, putting on the kettle and slipping into a pair of UNIQLO's men's slippers. Cosy fleece lining and cushioned insoles make our room shoes and slippers indepensible home comforts ideal for lounging and relaxing.
Look the part from head to toe with our selection of sleek, streetwear-inspired men's shoes. Choose from ultra light trainers with HEATTECH insulating technology and versatile chukka boots for smart or casual ensembles - perfect for getting one step ahead of the crowd.
Top