Tackling plastic pollution with a goal of zero waste, Keiji Okada, a sustainability manager at UNIQLO, chatted with Kenichi Mamitsuka of Spo-Gomi about turning litter-picking into fun and games.
Kenichi Mamitsuka

Head, Social Sports Initiative

Keiji Okada

Leader, Global Environmental Management Team Sustainability Department Fast Retailing, Inc.
Spo-Gomi:
a competitive sport in which uniformed teams of three compete to collect litter within an allotted time, receiving points for the amount and type of litter collected. Spo-Gomi exercises both mind and body, and leaves the streets looking clean.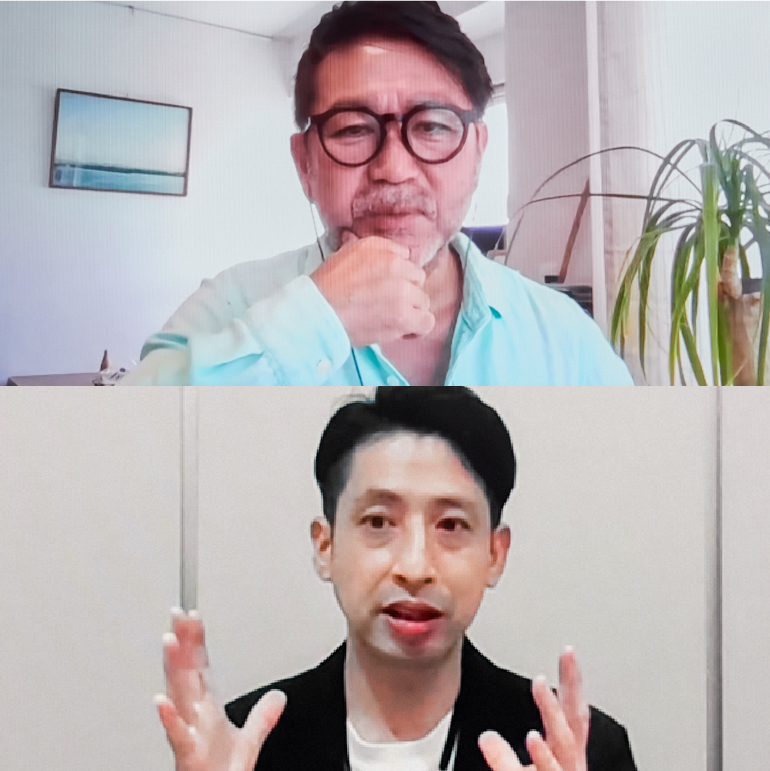 "Litter is fun!"
UNIQLO's goal of zero waste
OkadaI've been looking forward so much to our talk today, Mamitsuka.
MamitsukaSame here. Since the launch of the Spo-Gomi x UNIQLO partnership, I've been awestruck by the enthusiasm of your staff. I'm excited to see everyone in action again today.
OkadaSince our goal at UNIQLO is "generating zero waste," we couldn't be more thrilled to be working together. About 60% of the waste produced by UNIQLO and GU stores in Japan consists of cardboard used for shipping. The plastic used for packaging accounts for another 20% to 30%, while the remainder is from paper products.
MamitsukaSo the bulk of it is recyclable cardboard.
OkadaThat's right. We also make an effort to reuse the boxes that we circulate internally. If customers can sort and recycle their cardboard in accordance with local requirements, the recycling process continues. Our activities are focused on that pesky 20% accounted for by plastic trash. We're currently investigating options for eliminating or reusing the plastic bags used for shipping.
MamitsukaI hear you. Spo-Gomi puts a premium on collecting plastic waste.
Around 70% of customers decline bags
OkadaAs a neat and tidy packaging for clothing, plastic is a convenient material. Carefully wrapping goods for customers is a longstanding tradition in Japanese culture. But in the past few years, we've received more and more feedback from people asking, "Why so much plastic packaging, when it just turns into trash?" We've since reassessed the kinds of plastics we've been using and, since 2019, we've made an effort to systematically reduce the amount of plastic waste we generate.
MamitsukaBans on plastic bags have been making headlines lately, too.
OkadaYeah, but we've continued providing paper bags for customers who need them, while offering cotton reusable bags for purchase. We're also using in-store posters and brochures to explain how we've been addressing the plastic dilemma. Beyond the walls of our stores, we've partnered with local authorities who are intent on heightening awareness of these problems, and have dispatched UNIQLO store managers to schools for special assemblies. Using the problems posed by shopping bags to illustrate the impact of this waste on our ecosystems and our oceans, we've been pleasantly surprised to hear from students who have gone the extra mile and started carrying their own shopping bags or water bottles. Three years into this endeavour, around 70% of customers at UNIQLO and GU decline shopping bags. At this point, people think of carrying their own bag as a matter of course.
MamitsukaThat's a really strong percentage.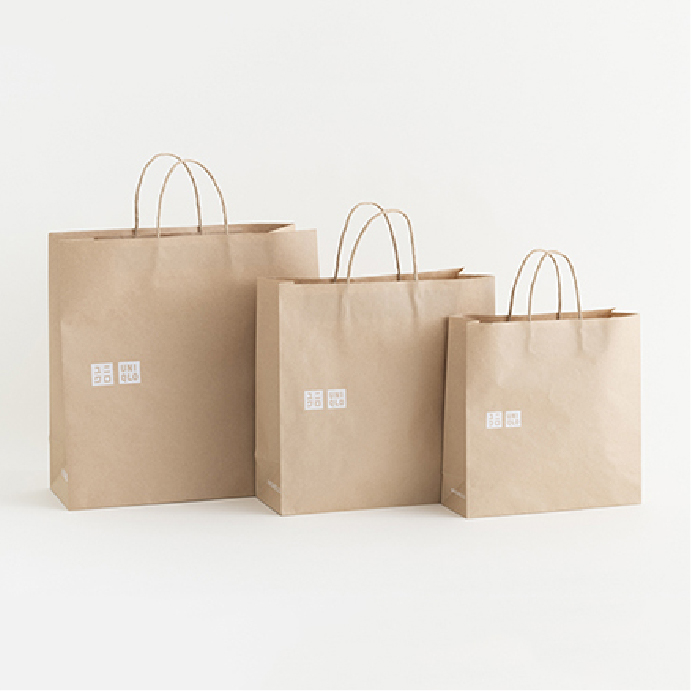 Litter-picking as a sport
OkadaJust as we were looking to broaden our efforts, I heard about Spo-Gomi. Approaching litter-picking as a sport is such a fresh idea.
MamitsukaSpo-Gomi started fifteen years ago. This was before anyone was talking about sustainable development goals or the like. I've always been a fan of sports and exercise, and on my daily morning runs, I couldn't help but notice that the streets were strewn with litter. I should have just picked some of it up, but I second-guessed myself, reasoning that "one less piece of trash won't make a dent," so I just let it go.
But one day, my thinking changed;
I realised that every piece of litter that you pick up is another step towards solving the problem. So I reached down and grabbed a piece of trash. Then I started running and giving myself small challenges, like "Grab that bottle without slowing down," or "Focus on your thigh muscles as you extend your arm." This made things even more fun. Pretty soon, I was excited to find trash! Reframing trash collection as a sport was all I needed to enjoy the task.
Around 2007, I started thinking about ways of turning this idea into an actual sport or game. So I considered different rules and came up with the basic framework of having teams of three collect litter in a fixed area and timeframe, competing for the most points.
A game for all ages
OkadaI think Spo-Gomi has such broad appeal because it's just plain fun. I'm struck by the newness of bringing people to this place of social consciousness through sports.
MamitsukaIn the beginning, I got frustrated when people told me that what we were doing, combining sports and trash collection "was just a game, not really helping the environment." But when the games were over, the contestants went home with smiles on their faces and a different perspective on handling litter in their daily lives. Seeking objective validation at the federal level, I visited the National Institute for Environmental Studies in 2010. Some researchers took a special interest in the project and were kind enough to start a study of Spo-Gomi. For two years, they conducted surveys of Spo-Gomi participants, asking them questions before, just after, and one month following a competition, then analysing the findings. This data gave us a way to empirically reinforce our personal assumptions about changes in participant behaviour. From that point on, I think people have been taking us more and more seriously. In any case, it takes a while for something like this to catch on.
OkadaHave you seen any changes in the age range of participants?
MamitsukaDepends on the locale. In a Yokohama suburb, we've had boys and girls come from their baseball and soccer teams in crowds of two or three hundred kids. In a smaller town way out in the country, it's sometimes only older folks that join. It's a different story everywhere we go, but that's what keeps it interesting.
OkadaHave you noticed any differences when teaming up with larger agencies or companies?
MamitsukaSince we work directly with individuals, it doesn't really change that much, but I will say that we're hearing more from companies who want to use Spo-Gomi as an icebreaker, or a way of fostering communication between different departments.
A world championship for litter-picking?
MamitsukaFrankly, what I've loved about working with UNIQLO is how involved everybody gets. They don't just expect us to do the dirty work. They roll up their sleeves and dig in. It's evident how much the company values genuine connections with their customers.
OkadaWe appreciate you noticing that. As you say, these events have been an invaluable way for us to build connections with our customers in their communities. As part of JOIN: THE POWER OF CLOTHING—a campaign launched in summer 2022—we've passed along a portion of our sales to Spo-Gomi. Could you tell us about any new ideas that you have in mind?
MamitsukaWe'd like to take this to the global level. As the most environmentally friendly sport there is, Spo-Gomi has tremendous potential. Before long, we might have ourselves a world championship for trash collecting.
Kenichi Mamitsuka
Head, Social Sports InitiativeMamitsuka was born in Kagoshima Prefecture. In 2008, he came up with the idea of incorporating sports into volunteer trash collection efforts, ushering Spo-Gomi into being. At the same time, he established the Social Sports Initiative. Continuing his work under the theme of "solving national and local social issues using sports," Mamitsuka has broadened his scope beyond environmental conservation, leveraging sports to make a difference in society. His work has been celebrated with awards from the Japan Sport Tourism Alliance (2013) and MEXT (2021) and has received the Cool Japan Matching Award (2016) from the Cabinet Office and the Good Life Award (2019) from the Ministry of the Environment.
Keiji Okada
Leader, Global Environmental Management Team Sustainability Department Fast Retailing, Inc.Okada began working at UNIQLO in 2001, as a part-time worker opening stores. Thereafter, he advanced to store manager and supervisor before joining the products division in 2009, where he helped launch MY UNIQLO as a managing director. Joining the sustainability department in 2014, he turned his focus to refugee support (hiring and aid) and other socially-minded business projects. Since 2019, he has advocated for a goal of "zero waste" through initiatives like fees for shopping bags and reduced packaging.