Plastics make up 60-90% of ocean garbage. What can we do to reduce plastic waste created in the making, selling, and wearing of clothes?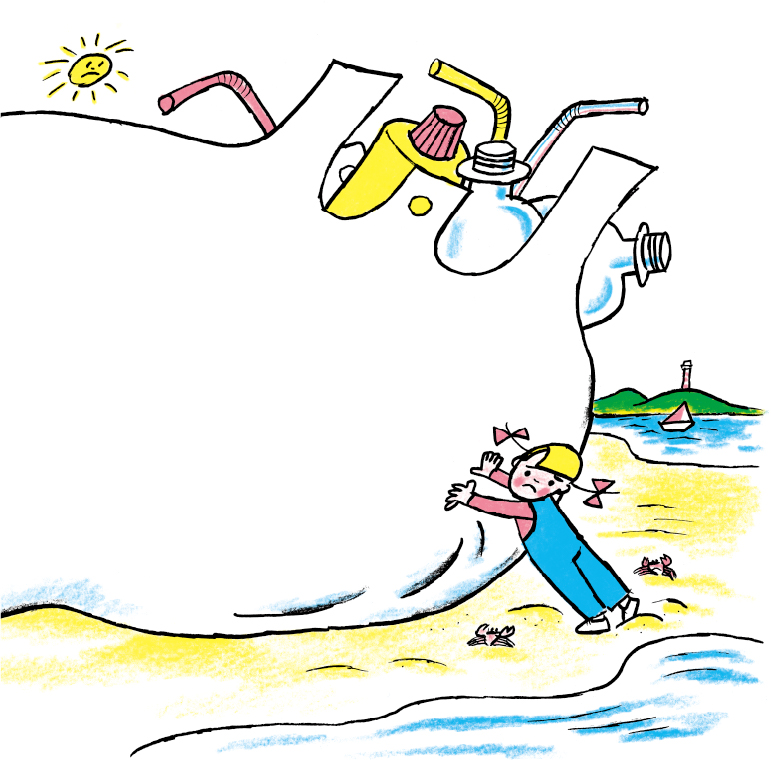 Did you know that 80% of ocean garbage comes from the cities we live in? As much as 11 million tons of plastic waste that cannot completely decompose once it has been washed into the sea flows into our oceans every year. As a result, 60-90% of ocean waste includes various forms of plastic.
Source
"Some facts about ocean garbage."https://www.uniqlo.com/eu/en/contents/sustainability/jointpoc/
Initiatives for reducing plastic waste
The clothes that you wear every day will have created a variety of plastic waste when they were made and sold. UNIQLO is working hard in many ways to help reduce this.
Reducing plastic waste in the manufacture of clothes
There are many different types of plastic. Synthetic fibres such as polyester and nylon are a type of plastic made from petroleum. PET bottles are perhaps the most well-known items of ocean plastic. However, we can use these bottles to make clothes if we can separate them carefully and recycle them.
UNIQLO in action
① The Fast Retailing Group aims to use 50% recycled materials by 2030. 100% of the fabric for our fluffy fleece is made from polyester yarn recycled from PET bottles.
② Clothes-to-clothes recycling through RE.UNIQLO The recycled nylon used in this season's recycled down jackets is made, in part, from fabric taken from secondhand Ultra Light Down items collected from customers.
Reducing plastic waste in the sale of clothing
UNIQLO uses many different plastics in its stores, from product packaging to hangers, stickers, and shopping bags. We are reviewing such items and working hard to replace them with alternative materials and products.
Shopping bags
Clips
Product packaging
Hangers
UNIQLO in action
① Replace plastic shopping bags with paper bags
UNIQLO switched to paper shopping bags (made from Forest Stewardship Council (FSC®) certified paper or recycled paper) in September 2020. We started charging for plastic bags from September 1st, 2020.
② Replace plastic packaging for products with materials that are more conducive to a recycling environment
We stopped using packaging for our slippers in autumn 2021, and we are switching to packaging made from recycled plastic for some items. We are also reducing the number of hangers, shirt clips, and size labels we use wherever possible, while also earnestly researching alternative products.
③ Further promote recycling activities to help achieve zero waste
We started switching to one single type of packaging material in 2020 to make it easier to recycle the packaging used in transporting our products. We started demonstration experiments on the separation, collection, and recycling of packaging materials at stores in some areas in 2021.
Reducing plastic waste in the wearing of clothes
Microplastics is a general term that refers to plastic pieces, particles, or fibres of less than 5mm in diameter. Most microplastics come from trash discarded in our towns or at the seaside, but microplastics also find their way into the seas from our clothing. Very fine fibres flow into the water when we wash clothes.
Initiatives for reducing microplastics
The ultimate aim is to minimise the impact of microfibres on the natural environment. The Microfibre Consortium was launched to help develop solutions across the whole apparel industry. Research has begun to create solutions that transcend national and corporate boundaries, and to encourage the application of academic research results to textile production processes, with a commitment to a future in which the release of microfibres into the natural environment is properly managed. Specific solutions are being provided to individual brands, retailers, and suppliers to protect ecosystems.
UNIQLO joined the Microfibre Consortium in September 2019. We cooperate with the consortium's research by providing data and fulfilling other tasks, signing the Microfibre 2030 Commitment to work towards zero impact from microfibres on the natural environment by 2030. UNIQLO is also a member of the Japan Clean Ocean Material Alliance (CLOMA). We are researching how to care for and wash clothes together with major washing detergent manufacturers.
How we can all work together to minimise the impact of microfibres
Putting clothes in a laundry net when you wash them can reduce friction and help clothes last longer. Laundry nets have also been found to be effective in reducing the release of microfibres. (Source: The United States Environmental Protection Agency (EPA))
2
.
Carefully select your washing machine
Drum-type washing machines rank highly in terms of water-saving performance and are thought to be more effective at preventing the release of microfibres. Some research suggests drum-type washing machines can reduce microfibre emissions by roughly 70%. (Source: The United States Environmental Protection Agency (EPA))
3
.
Reconsider how often you wash clothes
Do you wash your clothes more often than you need to? While you might want to wash T-shirts and innerwear more frequently, you can reduce the number of microfibres you generate by simply reducing the number of times you wash clothes that don't come into direct contact with your skin.
4
.
Look after your clothes and wear them for a long time
The more you wash your clothes, the less microfibres they shed, so taking care of each piece of clothing and wearing it for a long time will help reduce plastic waste.
We also introduce some tips and ways to care for your clothes so that you can enjoy wearing them for a long time on the UNIQLO sustainability website.