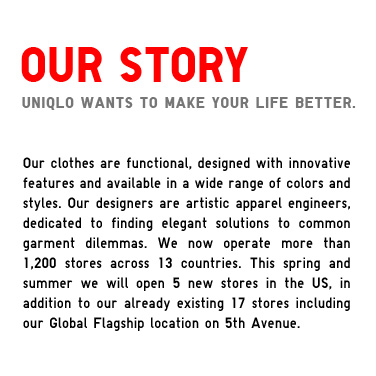 Past, Present and Future

Hi, we're UNIQLO. We were born in Japan but we soon started going global...

The first UNIQLO opened in 1984 in Hiroshima. Our name is a combination of the English words "unique" and "clothing". We think it's a simple and clever handle — just like the clothes that we make. After becoming a household name in Japan, we branched out into the rest of Asia and then even further abroad.

Watch Our Brand Video

and we came to America...

Since 2006 we've opened 17 stores here in the U.S. Next time you're in New York City, check out our Global Flagship at 53rd and 5th Avenue. It's quite something.

View our US locations

We're perfecting jeans...

Our Takumi team—a group of Japanese textile masters with over 30 years of experience—oversees each aspect of our denim from start to finish. The extra care and attention results in jeans that are flawless in every detail, while maintaining totally authentic.

SHOP WOMEN SHOP MEN

using only the finest cotton...

UNIQLO is proud to use Supima® cotton. This fine cotton is soft, strong, and 100% American made. It also brilliantly holds all of UNIQLO's vivid colors.

SHOP WOMEN SHOP MEN

revolutionizing clothing...

AIRism is the ultimate in high tech innerwear. It wicks away perspiration, fights odor and always stays luxuriously smooth and stretchy. It's climate control for your daily life.

SHOP WOMEN SHOP MEN

and always keeping creativity in mind.

UT = UNIQLO T-shirts. These creative T's, made with partners like Disney and Peanuts as well as renowned artists, let you express just how you're feeling. UT is wearable art!

We work with people who care about the world...

because we feel the same way.

From tsunami relief back home in Japan to our extensive aid to the victims of Superstorm Sandy in New York City, UNIQLO is always there for our neighbors in times of need.

Since 2006, our All-Product Recycling Initiative has collected and redistributed over 25 million pieces of gently used UNIQLO clothing to people in need

Stay connected and we'd love to hear from you.

Yes, you. We're going to be an active and engaged part of your community, and we'll be relying on you to tell us just how. So this is an open call.

Email us at social@uniqlo-usa.com.

Tweet us @UniqloUSA

We're all ears.